BWW Review: TREASURE ISLAND at Synetic Theater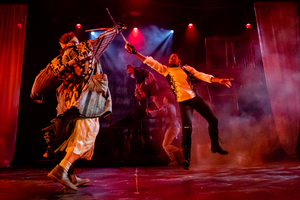 Synetic Theater brings its unique spin to the high seas with Robert Louis Stevenson's Treasure Island. The adaptation, by Tori & Dallas Tolentino, is much more inclusive than Stevenson's original, notably in the creation of Jane Hawkins (the character is Jim Hawkins in the novel) and the welcome casting of several women in traditionally male roles. The Tolentinos have condensed the novel's action and cast of colorful characters down to a much tighter and more manageable level.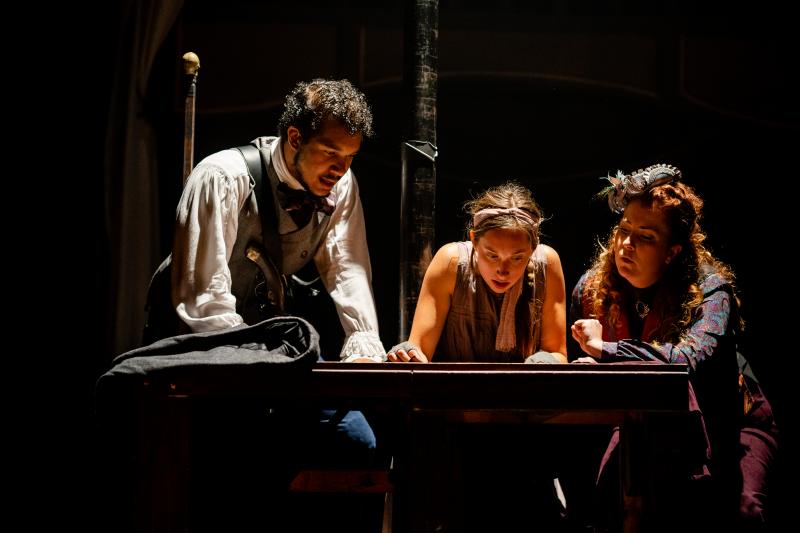 The cast of this production is stellar and features many actors making their Synetic Theater debuts, including Chris Daileader (Long John Silver), Karina Hilleard (Squire Trelawney), Da'Von T. Moody (Dr. Livesey), and Billie Krishawn (Captain Smollett). Company member, Anne Flowers, shines as Jane Hawkins, growing up and into herself as the play progresses. Daileader is deliciously manipulative as the villainous Long John Silver. Karina Hilleard and Da'Von T. Moody make for a warm and hilarious pair, watching over young Jane, while indulging their own thirst for adventure. Billie Krishawn is somewhat under-utilized as Captain Smollett, but delivers an impressive performance nonetheless.
Phil Charwood's scenic design is exquisite, anchored by a moveable ship's hull that at times evokes Les Miserables' famous barricade. It makes the perfect setting for Dallas Tolentino's invigorating choreography and is complemented by the atmospheric lighting design of Paul Callahan. Resident Composer Konstantine Lortkipanidze's original music, in collaboration with Thomas Sower's sound design, strikes just the right note, whether in grand swash-buckling scenes or more intimate moments. There were a few slight issues with overlapping audio on the night I attended, but would hope it is worked out in subsequent performances. Jeannette Christensen's costume design ensures that each actor's look both serves their character, allows for significant and strenuous movement, all while not distracting from the overall story.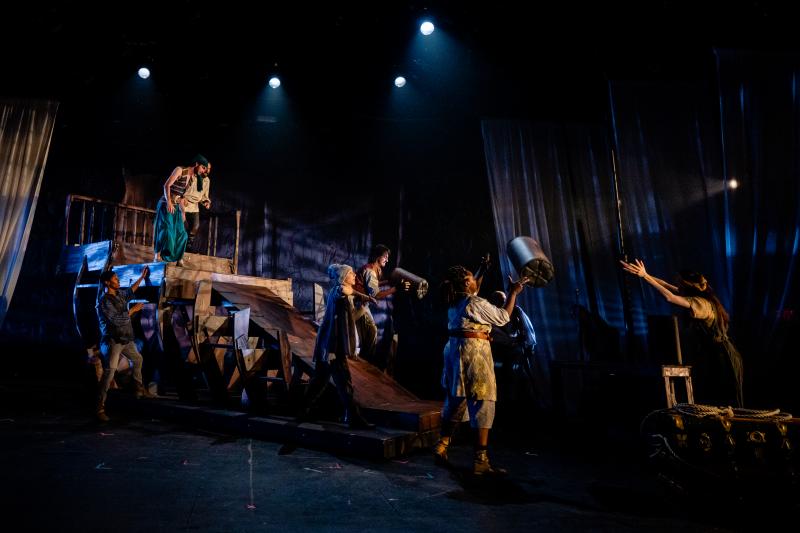 Tori Tolentino's love of the Stevenson tale is evident in her adaptation and direction of this production. She balances a respect for her source material with a keen desire to create a response to it that is more inclusive and immersive. On the evening that I attended, there were several young children in the audience. Tolentino's work gives them a vision of adventure that is open to all.
Synetic Theater's Treasure Island runs through August 18, 2019 at their Crystal City theatre. Run time is approximately 90 minutes with no intermission. For more information and to purchase tickets, visit synetictheater.org.
Jane Hawkins Anne Flowers / Long John Silver Chris Daileader / Squire Trelawney Karina Hilleard / Dr. Livesey Da'Von T. Moody / Captain Smollett Billie Krishawn / Billy Bones, Israel Hands, and Ensemble Lee Liebeskind / Ben Gunn, Clem, and Ensemble Scott Whalen / Innkeeper, Morgan, and Ensemble Anna Lynch / Pew, Merry, and Ensemble Raven Lorraine / Black Dog, Tommie, and Ensemble Irene Hamilton / Flint, Gates, and Ensemble Conor Donahue / Abraham Grey, Tarth, and Ensemble Darius Johnson / Understudy, Jane Hawkins Emily Whitworth / Male Swing Thomas Beheler / Female Swing Suzy Alden
Director Tori Tolentino / Movement Director Dallas Tolentino / Resident Composer Konstantine Lortkipanidze / Adapters Tori & Dallas Tolentino / Scenic Designer Phil Charwood / Costume Designer Jeannette Christensen / Lighting Designer Paul Callahan / Sound Designer Thomas Sowers / Properties Designer Kelli L. Jones / Resident Stage Manager Marley Giggey / Production Manager Phil Giggey Sr.
Related Articles View More Washington, DC

Stories

Shows