Click Here for More Articles on REGIONAL - WASHINGTON, DC
BWW Review: THE PRICE at Arena Stage Offers Up Wonderful Acting in a Classic American Drama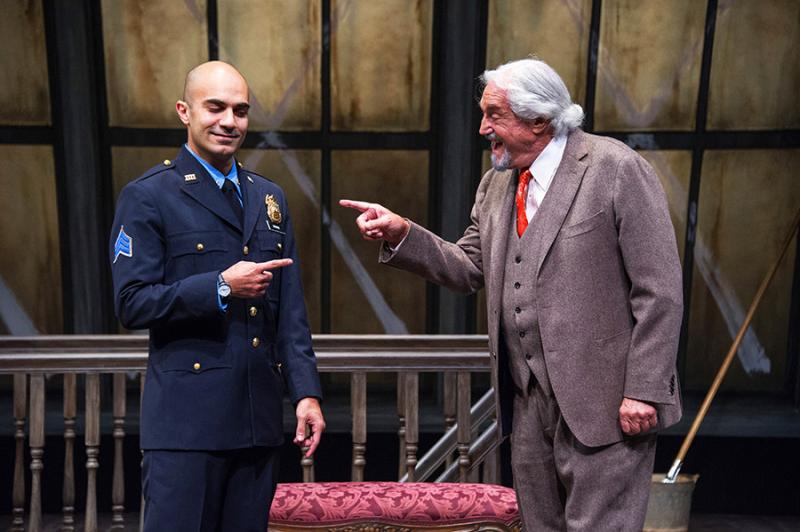 Washington, DC is experiencing its own little Arthur Miller festival at the moment. Area theatergoers have the opportunity to catch a tremendously acted production of Death of a Salesman at Ford's Theatre and an equally well acted production of The Price at Arena Stage. The Price may be lesser known, by most standards, but is more than worth the trek to the revitalized Waterfront area.
Broadway and television's award-winning actor Hal Linden, as the elderly furniture appraiser/dealer Gregory Solomon, may be the star name in the production, but the entire cast that Director Seema Sueko has assembled is certainly his equal. Attention must certainly be paid especially to Maboud Ebrahimzadeh (playing the role of Victor Franz through November 5). He's delivered a number of wonderful performances on area stages in the past few years (his performance in Round House Theatre's Bengal Tiger at the Baghdad Zoo was particularly memorable), but his work at Arena surpasses all of that. It's that sensational. Nuanced yet explosive acting when required, he reveals all of Victor's many layers with considerable skill.
Like Death of a Salesman, The Price is a family drama. Victor, a policeman nearing retirement age, has returned to his parents' Manhattan brownstone ready to sell off the old furniture piled up in the attic (exquisitely designed by Wilson Chin). His father has been gone for some time and there's no more time to wait because the building is about to be destroyed. His image conscious wife Esther (Pearl Sun, showing she's an equally capable dramatic actress as she is musical theater actress) has joined him. Their relationship is a bit messy at the moment, in part due to finances and other related issues. Victor found a furniture appraiser/dealer in the phone book. Memories bubble up as he's waiting for Gregory to arrive. When Gregory does appear - and Hal Linden puts his natural comedic talent to use - Victor realizes the process is not going to be as easy as he anticipated. The appearance of Walter (Rafael Untalan), his doctor brother whom he has not seen in years, complicates matters even further. Secrets, resentment, and painful memories of the past brim to the surface in this family drama. It's a story of sacrifice and the price you pay for the choices you make - both financial and otherwise.
While The Price has a bit of a slow start (no fault of the actors or the direction - it's Miller's script), it's worth the slog through the first twenty minutes to get to the meat of the play. Linden's comedic zingers, from the outset, add some spice to the proceedings, and he has great chemistry with Ebrahimzadeh, which makes the buyer/seller scenes great fun. Believable dramatic performances by Ebrahimzadeh, Untalan, and Sun draw us into their tangled pasts later on in the play.
And the acting is reason enough to hurry on over to Arena Stage for this gem of a production. It's classic American theater at its finest.
Running Time: Two hours and 35 minutes, including one intermission.
THE PRICE plays at Arena Stage at the Mead Center for American Theater - 1101 6th Street, SW in Washington, DC - through November 12, 2017. For tickets, call the box office at 202-488-3300 or purchase them online.
Caption: (L to R) Maboud Ebrahimzadeh as Victor Franz and Hal Linden as Gregory Solomon in The Price; by Colin Hovde