BWW Review: Striking AN INSPECTOR CALLS at Shakespeare Theatre Company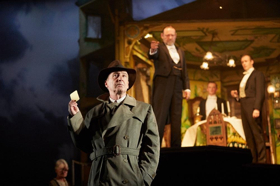 Until director Stephen Daldry rediscovered J.B. Priestley's "An Inspector Calls," it had been relegated to dull British backwaters as ho-hum sub-Agatha Christie drawing room fare.
But seizing on its searing social commentary and stuffing it into a skewed, jeweled Edwardian doll house perched precariously above heaving cobblestones gave it a crazy immediacy - connecting the post World War I class differences first depicted in the 1945 original to post Thatcher realities.
As a result, his 1992 National Theatre revival, kicking off a U.S.tour at the Shakespeare Theatre Company, became a hit. It was one of the longest running revivals in history, moving to the West End for years, and then to Broadway, where it won four Tonys, and revived again in England a couple of times. The latest UK version, in 2016, starred Liam Brennan, who is on the case in D.C., direct from a British tour. He plays the skeptical Scot who invades the self-satisfied engagement party in this weird, weird house.
Only through the windows, we hear the first bits of dialog emanating from an engagement party that also has the trappings of a business merger.
The striking production by Daldry, known for bringing "Billy Elliot" to the screen and to the stage as a musical, and for directing the first couple of episodes of "The Crown" on television, is dominated at first not only by the fog that engulfs Sidney Harmon Hall, but by sheets of rain effectively part of the cracking design by Ian MacNeil, lit by Rick Fisher.
There's no hiding how small this Edwardian mansion is - the characters poke heads out of one window and hold a drink out of another. It's as if the family's lack of self-knowledge extends to their housing.
Once the mysterious inspector shows up, with his stern, disapproving line of questioning, the attention falls away from this marvelous house, which opens up on hinges, just as the inner secrets of these swells are eventually similarly pried open.
A struggling working class woman is dead, the inspector tells them; did they know her? Each of them, in their, way did, and an indictment is found of the callousness of the rich to the struggling working classes they so easily abuse, dismiss and forget every day.
What might have been a mid-20th century commentary remains vital and sharp in 2018, not just in England, but in Washington, D.C., where economic divisions have worsened and the country is run by one of these blindered businessmen who also happens to have a son named Eric.
"An Inspector Calls" remained a popular play to produce over the decades - even before the eye-popping current production - because each cast member gets a chance to show their stuff under the individual questioning.
It begins with the huffy Birling Family patriarch (Jeff Harmer), who had dismissed the woman in question for asking for a living wage; Christine Kavanagh is a regal Mrs. Birling, who shunned her from her charity; Lianne Harvey as their daughter Sheila may have insisted the woman in question be fired from her retail job for a petty reason, but is at first most open-minded to the hypocrisy in her family - particularly since it is her fiancé Gerald (Andrew Macklin) who was first shown to have been unfaithful.
It's the wastrel son Eric (Hamish Riddle) who may have caused the greatest harm to the unseen victim, though, like his sister Shiela, he's open to admitting his wrongs, unlike his parents.
It doesn't end so neatly, though. In fact, everything they thought they knew explodes before their eyes - and ours. Part of this is the reignition of spectacular stagecraft (even amid more subtle touches such as Shiela's white evening gown getting dirtier as the night drags on). But there is a good deal is at the meat of the 73-year-old play that Daldry has adapted so expertly.
It allows Priestley to fit nicely among the classic British fare at the Shakespeare Theatre Company, and is a fitting way to celebrate the 100th birthday of the show's patron, Sidney Harman.
Running time: One hour, 45 minutes, no intermission.
Photo credit: Liam Brennan in "An Inspector Calls." Photo by Mark Douet.
"An Inspector Calls" runs at the Shakespeare Theatre Company's Sidney Harman Hall, 610 F St NW, through Dec. 23. Tickets at 202-547-1122 or online.