Click Here for More Articles on REGIONAL - Virginia - Northern VA
BWW Review: ROOMS: A ROCK ROMANCE Returns to MetroStage with Energy and Enthusiasm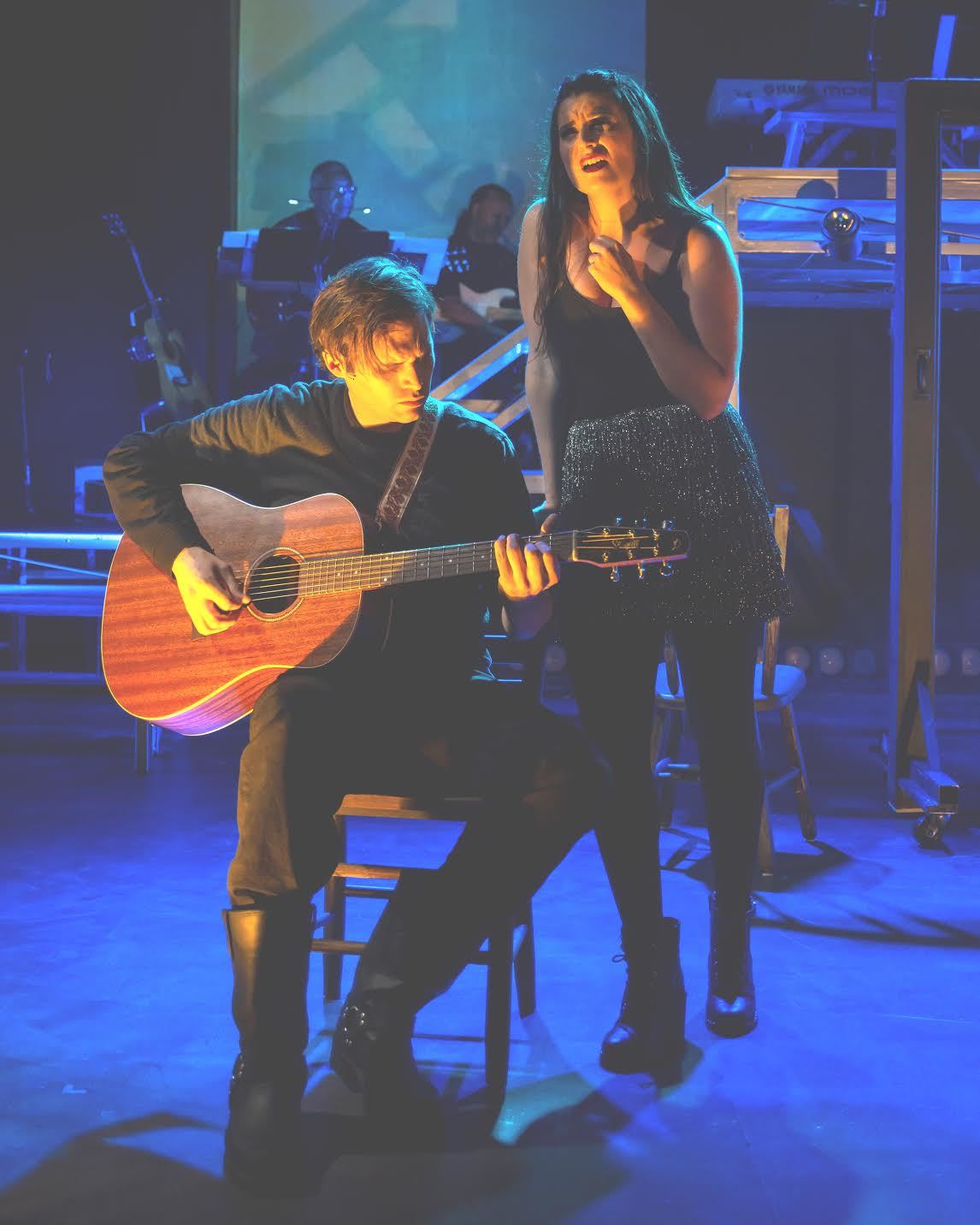 Returning to MetroStage for its tenth anniversary, ROOMS: A ROCK ROMANCE boasts an enthusiastic two-person cast and energetic backing band. It's exactly as described, a simple girl-meets-boy tale steeped in 1970s musical flair. But instead of boiling the romance down to timeless emotion, the book's simplicity and pat ending make this a bit of a tough sell.
Ambitious singer-songwriter Monica (firecracker Candice Shedd-Thompson) meets reclusive guitarist Ian (a brooding Matthew Schleigh) in Glasgow 1977. Monica tasks Ian with setting her slightly racy lyrics to music for a local bat mitzvah, where they team up for a musical performance delivered with sharp comic timing. Their burgeoning musical career leads them to London and then the punk scene of New York City in quick succession.
Artsy projections (Patrick Lord) onto an appropriately minimal, industrial set (Carl Gudenius) transport us between locations. By the time we reach New York, Monica and Ian's relationship finally, inevitably turns romantic. But there's trouble in paradise as Ian's excessive drinking sabotages Monica's whatever-it-takes attitude towards her career. The book (Paul Scott Goodman and Miriam Gordon) leans into even more melodramatic clichés before neatly tying up every loose end.
To make up for the light plot, the serviceable, varied score (Goodman) gives Shedd-Thompson and Schleigh a vehicle for their solid voices. Shedd-Thompson sings "Bring the Future Faster" as a personal anthem filled with moxie, while Schleigh shines on "Clean", which details his eventual steps to sobriety. They're backed by a highly enjoyable five-piece rock band led by music director and keys player Matthew Stephens.
There are some truly delightful moments in this production, in particular a couple of fierce, leather, Union Jack-embellished punk costumes (Alex Keen) and a few fun references to the ridiculousness of punk band names. But all this isn't enough to completely redeem some ineffective elements, including the distractingly uneven Scottish accents and somewhat unconvincing chemistry between the two actors.
The pop music romance schtick has been done more romantically by ONCE and more edgily by RENT, but there's something to be said for an original rock musical on an intimate scale. The heart of ROOMS: A ROCK ROMANCE, like those of its cast and creative team, is in the right place.
Running time: approximately 85 minutes with no intermission.
ROOMS: A ROCK ROMANCE runs through November 11, 2018, at MetroStage, 1201 N. Royal St., Alexandria, VA 22314. Tickets can be purchased at www.metrostage.org or by calling (703) 548-9044.
Photo: Matthew Schleigh as Ian and Candice Shedd-Thompson as Monica in ROOMS: A ROCK ROMANCE; photo by Chris Banks, courtesy of MetroStage.