BWW Review: NextStop Hits the Mark with ASSASSINS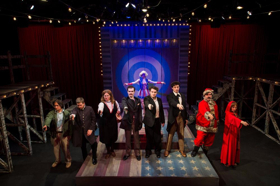 You have to give Stephen Sondheim and John Weidman credit, few would ever think of creating a musical about presidential assassins. Then again, these were the men who turned the westernization of Japan into the most underrated musical of the seventies with Pacific Overtures. And yet, there is something darkly alluring and strangely hypnotic about this tale of the nine men and women who would, or attempt to, kill the nation's chief executive. Part history lesson, party fantasy, all-around study of when the American dream goes disastrously wrong, NextStop Theatre's aim is ambitious with Assassins and they not only hit the target, they nail the bullseye.
Now those political cynics who think NextStop's production is in response to the current administration will be disappointed. Not only does Producing Artistic Director Evan Hoffman disavow that notion with his Director's Note in the program, theatre companies plan their seasons years in advance, and it is doubtful anyone could have predicted the outcome of the 2016 primaries or the general election.
The musical is set in a carnival of disillusionment, if you will, where a mysterious proprietor, a seductive Mackenzie Newbury, beckons a cast of misfits to solve life's problems by killing a president. One by one they step forward to claim one of the eight guns which are center stage before the audience. Set Designer JD Madsen features facemasks of the eight presidents who were subject to assassination or an attempt, above the stage. Below a painted bullseye, just like your average carnival game, except here the targets are more consequential.
The musical uses a revue-style format to tell the stories of these killers. Sondheim's score is delightfully wide and varied in its musical style ranging from the John Hinkley and Lynette "Squeaky" Fromme eighties pop ballad "Unworthy of Your Love" to the evangelical spiritual "The Ballad of Charlie Guiteau." By using this format it provides the audience with a chance to become better associated with several of history's forgotten assassins and their disillusioned vision of, or for, America.
Only one character, the would-be assassin Samuel Byck, uses a monologue rather than a song to channel his anger. However, Weidman's does something extraordinary with this moment by giving the audience a chance to connect with Byck. For we learn his reason for wanting to kill Richard Nixon is the continued back-and-forth of both political parties and their tendency to blame each other for the nation's problems. Who amongst us, especially in the nation's capital, hasn't felt that frustration? Alex Zavistovich is chilling in this moment as Byck and knows that he has struck a nerve with the audience.
Weidman's book mixes fact and fiction. There are several scenes that have the assassins meeting, advising and collaborating together. And while this may seem like artistic license, the meaning is factual. Several assassins where highly influenced by their earlier counterparts.
Assassins is narrated by the Balladeer, a character who you could argue is also the musical's conscious. Played by a youthful, yet at first confident, John Sygar, the Balladeer is often correcting each assassin's demented vision, such as when he serves as a counterpoint in "The Ballad of Booth" to John Wilkes Booth. There's a twist involving the Balladeer with the show's climax that while not convincing, does feature an especially poignant effect involving the Zapruder film.
What fuels this production is a creative trifecta led by a solid cast, Director Jay Brock and Music Director Marc BrYan Lilley. Each actor has studied their character and seems to relish playing society's fringe lunatics. Andrew Adelsberger's Charlie Guiteau's eyes contain a fire and passion that makes his "The Ballad of Guiteau" come off like a demonic sermon, complete with parishioners at the gallows.
Bobby Libby is perfectly charming and yet chilling at the same time as Booth, channeling the assassins' prior career as an actor. It is his mixture of charisma and determination in ensuring that history does not forget about him that leads to the surprising revelation about the Balladeer. To not spoil the surprise, do not read the cast list in the program till after the show!
Jaclyn Young and Katie McManus, play the Lucy and Ethel of presidential assassins as Lynette "Squeaky" Fromme and Sara Jane Moore. As President Gerald Ford's would-be assassins, their black humor provides the comic relief for the show. Their inability to get the simplest details of an assassination right, like whether the gun is loaded or not, break an otherwise tense moment, demonstrating their ineptitude.
A sulking Mikey Cafarelli is Ronald Reagan's would be killer, John Hinckley, Jr. A sense of desperation seems to hang around Cafarelli's Hinckley, who also comes off as the group's loner. So when Hinckley fails to kill the president, and Newbury's Proprietor starts mocking him with Reagan quotes, we can't help but feel that this guy was bound to fail.
Leon Czolgosz did not fail in killing President William McKinley, and Daniel Westbrook channels his rage with a quiet and determined spirit. Westbrook really benefits from Weidman's decision to spread-out Czolgosz's story, so we can see the anger build up inside Westbrook and watch this factory worker become a killer.
Finally, Brice Guerriere portrays the evening's most forgotten character Giuseppe Zangara. I mean who remembers that there was an assassination attempt on Franklin Delano Roosevelt when he was president-elect. The role gets the least attention from Sondheim and Weidman, however his reasons for the assassination attempt are clear and lack logic, a trend we see with his other cohorts.
Brock's direction is smart and economical. He embraces the musical's revue style, allowing each character to come and go, at times seeming to stalk the midway of the carnival setting. By having the characters lurk around there is a sense that each is trying to make their case for history.
KrisTina Martin's costume design takes inspiration from each character's respective time period, ranging from Wilkes Booth's Civil War-era suitcoat and pocket watch to Hinkley's thick speckles and eighties casualwear. Although it's not the clothes that make these killers, it is their weapons.
Timing is everything in theatre, and while NextStop's production is running, a new trove of previously classified documents relating to the Kennedy Assassination will be released. Perhaps the most famous of the murders featured in the musical, it is a reminder that the scars left on the country by these characters never quite heal. While it may be easy for lesser creative teams to get carried away with the concept, Sondheim and Weidman remind us early and often, "Angry men don't write the rules and guns don't right the wrongs."
Now, is that not a message worth hearing?
Assassins runs thru November 12th at NextStop Theatre Company - 269 Sunset Park Drive, Herndon, VA 20170. For tickets please call (703) 481-5930 or please click here.
Photo: Presidential assassins and would-be killers in "Assassins" at NextStop Theatre. (L-R: Mikey Cafarelli, Andrew Adelsberger, Katie McManus, Bobby Libby, Brice Guerriere, Daniel Westbrook, Alex Zavistovich, and Jaclyn Young; Rear: proprietor Mackenzie Newbury) Credit: Lock & Company.