BWW Review: MUSICAL THERAPY at Capital Fringe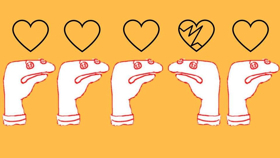 Producing a show in a festival setting can be a harrowing experience. There are many things that can get in your way. Things like a small playing space, bad acoustics and everyone's favorite, a fifteen-minute set up and strike time.
For producer/director Jessica Dubish's first Capital Fringe production, Musical Therapy, she has all those things going against her, plus the show is a musical - which presents its own set of challenges. Despite having to stage the show on a church alter with a cross as part of your backdrop, Dubish and her very talented band of performers and musicians do the impossible and give us a delightful offering, which features a strong score and 101 names for the male sex organ. Bet you didn't know there were that many. Plus there are sock puppets...what more do you need?
Dan Hass' book tells the story of Theresa (Katie Rey Bogden), a relationship therapist whose method involves the use of sock puppets. The couples can talk to each other as the sock puppet to work out whatever is wrong with their relationships.
Theresa has some rather interesting clients to say the least. There's Darcie and Tim (Marissa Kovach and Michael Bertone). Both are strong-willed. Then there is Liz and Ryder (Hayley Dandreaux and Jeffrey Samuel Trent Jr.). Ryder has more names for his phallus than humans should be allowed to have and some are really incredible. You'll have to see the show because titillation and published reviews don't go together.
Theresa has a big something going on for William Wonderful (Jacob Thompson) who works down the hall. Theresa is so obsessed with him that she actually disguises herself as a ficus tree and follows him wherever he goes. Unfortunately for Theresa, William has a girlfriend named Beth (Skye Lindberg).
Theresa comes up with a plan to get William for herself. Even though Beth and William are totally happy they are convinced to take one of Theresa's therapy sessions. Theresa will intentionally get them to break up and William will be hers. As unorthodox as it sounds, this method is also used on the other two couples.
I'm leaving it here. You need to see the show in order to know how all of this turns out.
One of the big highlights of Musical Therapy is the score written by Chicago-based composer/lyricist Joey Katsiroubas. It's a real musical theatre score. A few examples include Theresa's 'I Want' song "Someone Who's There for Me" and the killer finale "It Takes a Little Crazy."
Performance wise the cast is uniformly strong, but for me there are a few standouts.
First off is Katie Rey Bogden at Theresa. Even if you don't believe in what therapists do, you would probably consider taking a session with her. Bogden commands the stage throughout.
Jeffrey Samuel Trent Jr. makes a huge showing as the manliest of men, Ryder. His "Begging You" performed with Bogden and the equally talented Hayley Dandreaux was a definite highlight.
Skye Lindberg as Beth proves that you can be talented at multiple things and do them all well. You see, by day Lindberg is part of the Media Relations team at Arena Stage where she does a fine job dealing with us crazy press types. Here we get to see her onstage as a very talented actress and singer. Songs such as "My Heart Gave In" and "Mr. Wonderful" prove this point.
Director Jessica Dubish's staging uses every ounce of the alter and aisles of Westminster Presbyterian Church to full advantage.
Musical director James Woods (no, not that one) did a fantastic job as the cast sounded stunning from beginning to end.
If you're in the mood for a musical that delivers in all departments check out Musical Therapy for sure. Strong cast, good score and book, fine direction, and again, there are sock puppets.
Running Time: 95 minutes with no intermission.
Musical Therapy runs through June 29, 2018 at Westminster Presbyterian Church: Peppermint, which is located at 400 I St SW, Washington, DC.
For tickets, click here. For all things Fringe, click here.
Related Articles View More Washington, DC

Stories

Shows
Elliot Lanes has been working in theatre for over 20 years as a PSM, Sound Designer, Board Op....you get the idea. He has had the (read more...)