Review: H.M.S. PINAFORE at Olney Theatre Center - Bring the Kids and Enjoy This Spoof of the Famous Gilbert and Sullivan Operetta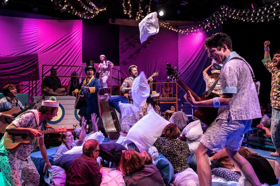 I do not believe I have ever seen a more "kid-friendly" theatrical event than the Olney Theatre Company's H.M.S. PINAFORE. Olney has welcomed back "The Hypocrites" Chicago based troupe (they last appeared during the summer of 2016) who have taken their productions of both PINAFORE and PIRATES OF PENZANCE previously to The Pasadena Playhouse, and the Skirball Center in New York. "The Hypocrites", founded in 1997 by Artistic Director Sean Graney have taken their repertories all over the country. "The House Theatre of Chicago" has become the fiscal agent of "The Hypocrites" and now serves as a co-producer.
Do not plan to attend PINAFORE just before the starting time. Please, please...arrive thirty minutes early for the "Pre-Show". When you arrive, you will be stunned to see the intimate 125 people Mulitz-Gudelsky Theatre Lab turned into a slumber party with a mosh pit in the middle of the space filled with pillows, a single bed, a bunk-bed, an ersatz deck of the ship (with portholes) which features a usable slide which leads into the mosh pit. (visit www.OlneyTheatre.org/promenade).
Patrons have a choice to choose an orchestra seat or a "promenade" ticket in which there are numerous choices to experience this event. One can sit in the pit filled with pillows (look out for pillow fights which are encouraged, sit on either of the two beds, on ship's deck, benches or floor. There are directions that if you sit in the "promenade" seats, be prepared to be nudged gently to make way for an actor. You will be asked to remove your shoes for the most pit and they will be place in a refrigerator which has a sign on it that says, "No Swear Words".
All the actors play musical instruments a la the recent Broadway production which had each actor play an instrument during SWEENEY TODD. You will observe actors on guitars, mandolins, a ukulele, a fiddle, an accordion, a flute, a clarinet, a toy piano, and a snare drum.
In the pre-show you even hear "Sweet Dreams are Made of These" (by the Eurythmics) and Aerosmith's "Dream On". By the way, the actors are in colorful pajamas and adorable slippers. Great work by Costume Designer Alison Siple. She even outfits the two stage hands in teddy bear pajamas. The actors do use the slide from the ship's deck into the mosh pit with alacrity. Credit Set Designer Tom Burch for a job well done.
Take notice that there is a "one minute" intermission but take heart there is a well-stocked bar available throughout the show and patrons are encouraged to imbibe during the 80 minute show.
The great lighting which adds to the festive atmosphere is by Heather Gilbert. The superb sound is by Kevin O'Donnell. The Co-Adapter and Music Director is Andra Velis Simon.
Kudos to Sean Graney Adaptor, Director, and "The Hypocrites" Artistic Director who is responsible for gender reversals. "Sweet Little Buttercup" has been transformed into a bearded man (Matt Kahler). Ralph Rackstraw is now Ralphina (Dana Saleh Omar). The Captain's daughter Josephine is now son Joseph (Mario Aivazian). The whole ensemble is just plain superb and are filled with enthusiasm. They include: Shawn Pfautsch, Tina Munoz Pandya, Eduardo Xavier Curley-Carrillo, Steven Romero Schaeffer, Lauren Vogel, Leslie AnnSheppard, and Aja Wiltshire.
You will by the way hear the famous PINAFORE songs that we all remember...just done differently.
This parody is not to be missed. There is a Post-Show discussion on August 18. PINAFORE and PIRATES OF PENZANCE run until August 19, 2018.
Next season starts August 31 with SOUTH PACIFIC. ELF THE MUSICAL runs Nov. 9 to January 6, 2019. LABOR OF LOVE begins Sept. 26. The American Premiere of OIL runs Feb. 27 to March 31.
The Tony-winning musical ONCE opens Feb. 6 to March 10. Ken Ludwig's A COMEDY OF TENORS opens April 10 to May 12. Frederic Schiller's MARY STUART runs May 8 to June 9. The comedy TIGER STYLE runs July 17 to August 18. And, Roald Dahl's MATILDA runs June 21 to July 21, the DC Resident Professional Premiere.
Make note of three noteworthy one night only concerts: ANYONE CAN WHISTLE (October 12, 2018), FINIAN'S RAINBOW (March 15, 2019) and CHILDREN OF EDEN (July 26, 2019).
If you are looking for some free theater, head to Signature Theatre's Open House all day Sunday in Shirlington, VA. You will get a preview of their new season which opens with Stephen Sondheim's Tony-winning musical PASSION which runs August 14 to September 23.
Look for my review of the Arena Stage's new musical DAVE which runs until August 19.
Another Sondheim hit musical SWEENEY TODD heads to the Rep Stage in Columbia running September 6 to September 23.
MAMMA MIA! continues at Toby's Dinner Theatre until September 9. I highly recommend the new film.
SMALL MOUTH SOUNDS is at Round House Theatre from August 29 to September 23, 2018.
The Kennedy Center continues with HAMILTON (until September 16) and THE COLOR PURPLE (until Aug. 26).
Speaking of THE COLOR PURPLE, the Broadway star for it and Tony-winning British actress Cynthia Erivo will be performing at the Baltimore Symphony's2018 Gala Concert Saturday night, September 15 at 8:30 p.m. Tickets start at $50. Call 410-783-8000.
cgshubow@broadwayworld.com