Click Here for More Articles on REGIONAL - WASHINGTON, DC
BWW Review: DON JUAN at Taffety Punk Theatre Company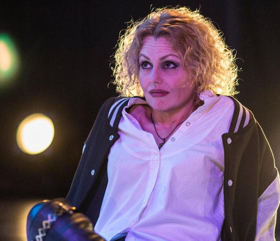 The company that makes great theater for everyone is at it again. Taffety Punk Theatre Company's mission is, and always will be, to put out a good product while making it affordable for everyone. Tickets are $15 and there are also "pay what you can" performances. The current production, well worth the ticket price and then some, is a knockout version of Moliere's tale of the great lover Don Juan. It stars the superb DC actress Tonya Beckman in what, so far, is the role of her career.
Stephen Wadsworth's adaptation starts with a prologue expertly delivered by Louis B. Davis. It is then we meet Don Juan (Tonya Beckman) and her lofty servant Sganarelle (Paul Reisman). After Don Juan abducts his wife Donna Elvira (Chelsea Mayo) from a convent he drops her like a hot potato. The adventures just get better and better from there. Don Juan ends up rescuing Donna Elvira's brother Don Carlos (Stefany Pesta) who up until this point wanted to get revenge on Don Juan for what he did to his sister. Then there is the Darth Vadery Statue of Viceroy The statue appears as a projection (designed by Patrick Lord) with voicing by Louis B. Davis. Don Juan killed Viceroy previously, but somehow thinks its ok to invite the statue to dinner. The statue also figures in the end of the story, but, of course, we can't give it all away.
Director Dan Crane makes the show all about the acting. There is virtually no scenery, and only a few chairs and an ottoman. The production is well paced and keeps you engaged from beginning to end.
I said at the beginning of this review that Tonya Beckman gives a performance of her career so far. Beckman commands the stage from first entrance through her big monologue towards the end of the show and beyond. I don't get excited easily, but I can honestly say Beckman as Don Juan IS one of the best performances of the season.
Paul Reisman as Sganarelle is endearing as Don Juan's servant. He has wonderful comedic timing and the chemistry between him and Beckman is priceless.
The ensemble features Briana Gibson Reeves, Chelsea Mayo, Stefany Pesta, and Louis B. Davis and they have their work cut out for them. They play everything from peasants to thieves. Reeves gives a standout performance as Don Juan's father Don Luis.
While Lord's projections are sometimes washed out by Paul Cailahan's otherwise minimal, but well-designed lighting, you can forgive it because it's only the bottom third of the projection surface. This execution is by no means optimal, but given the constraints at Capitol Hill Arts Workshop, it's a good effort.
Don Juan, as presented by Taffety Punk Theatre Company, is a definite must-see for lovers of good acting and good theater in general. Beckman's performance is reason enough to go. The minimalist approach brings out the best of all the artists involved and the story.
Running Time: Two hours and 30 minutes, including one intermission.
Don Juan runs through April 21, 2018 at Capitol Hill Arts Workshop, which is located at 545 7th Street, SE in Washington, DC. For tickets, click here.