BWW Review: BLOOD AT THE ROOT at Theater Alliance
From the second we step through the doors of Anacostia Playhouse, we're asked to join the world of Dominique Morisseau's Blood at the Root - not just as observers but participants. Every corner of the lobby has been decked out like the hallways of a high school - in this case, Cedar High, located somewhere north of New Orleans. We glance upward and see a banner prominently featuring their mascot, the Pelican. There's a bulletin board littered with flyers and posters - Keep Calm and Wear Your Uniform. And just next to the entrance of the theater is a pair of lockers covered with real-life photographs of the young cast in their natural habitats - school, church, family reunions, summer camp. There's a lot to explore.
Before the show begins, Colin Hovde, previous Artistic Director of Theater Alliance, appears in a short, VHS glitch-effected video to welcome us, and to acknowledge the Piscataway and Nacotchatank, two tribes indigenous to Anacostia. In doing so, he immediately takes us to the heart of Blood at the Root - everything that surrounds us has context. Everything we do is connected to events that have already taken place. As we're told later, "Way some people talk the way they talk, or hang out with who they hang out with, or love who they love, or hate who they hate-all got roots."
Then the ensemble arrives, and we're treated to Ms. Morisseau's Rules of Engagement, a staple of her shows including Detroit '67, Paradise Blue and Skeleton Crew. Written to encourage and celebrate vocal audience reactions during performances, the Rules are often provided via a leaflet inserted in the program, a sign outside the theater entrance, et cetera. In this production, director - and newly appointed Artistic Director - Raymond O. Caldwell has his actors address the Rules directly to us. This choice - a powerful one among many made for this production - melts away any comfort we might've found in the icy, invisible wall meant to separate us from the show and meaningful engagement. We're ready to see, to hear and to respond.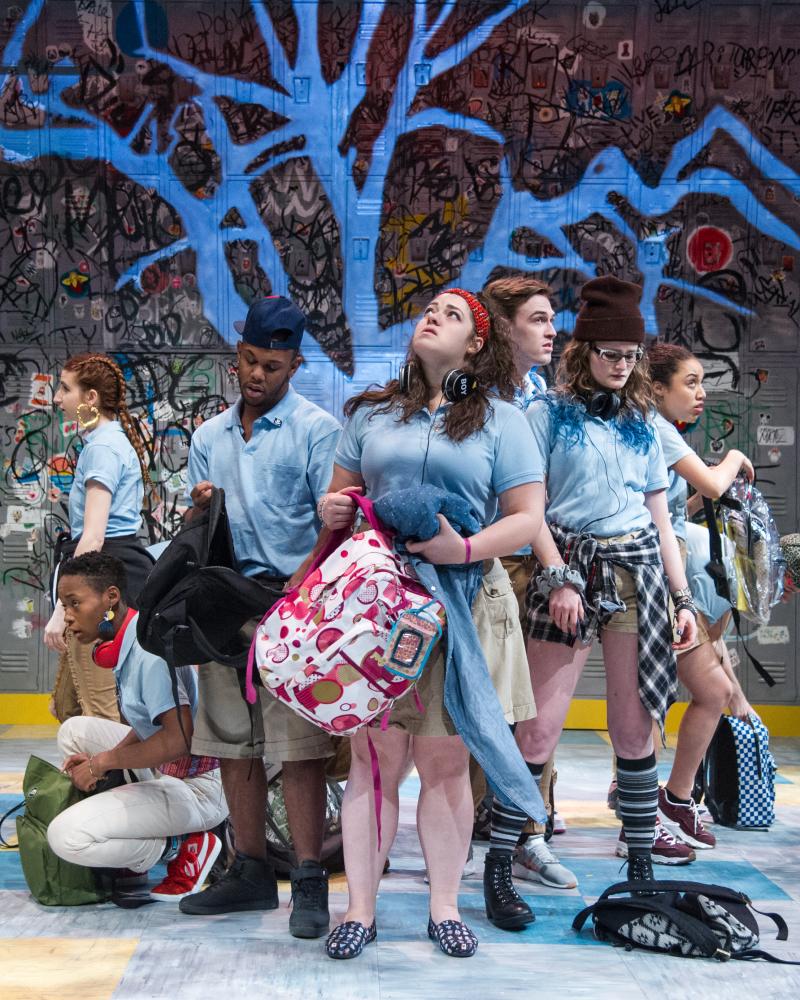 Written originally for Penn State's MFA Acting program, Blood at the Root is based on the Jena Six: six black teenagers arrested and charged after assaulting a white student in Jena, Louisiana in 2006. This was prefaced by a number of escalating occurrences steeped in southern racial tension, among them nooses mysteriously hanging from a tree in the Jena High School courtyard. These two events and the setting, transplanted to the fictional Cedar High School, provide the skeleton for Ms. Morisseau's muscular play, a choreopoem that magnifies the inherent ties between race, bias and justice, and how we articulate those ties to each other and ourselves.
Mr. Caldwell's direction, alongside Tiffany Quinn's choreography, keeps Blood at the Root moving yet always gives it room to breathe. In two dozen or so short scenes, we witness and connect with the students of Cedar High through movement, dance, poetry and song, investigating the conversation at the center of the play through dramatic expression. The effect is almost like living inside of language, experiencing its many twists and turns on a visceral level rather than simply hearing it. Short moments of more traditional, though no less impactful, dialogue help to peel back the layers and provide deeper understanding and context to their words and actions. Everything has roots.
The performers - many of whom are college students or recent graduates - create a community of teenagers whose inner lives are so richly drawn that watching their stories connect is genuinely thrilling. Across six central characters - an impressively economical feat - Ms. Morisseau gives a wide sketch of the student body. At the center of it all is Raylynn in a passionate, multi-layered performance by Billie Krishawn. Raylynn is a born leader, determined to become her school's first black student president. Earlyn in the play, Raylynn questions and upends the status quo by sitting under a tree usually populated by privileged white kids. The next day, three nooses hang from the tree, and Cedar's harmoniously tacit segregation begins to unravel. Raylynn challenges those around her to engage with the complexities and contradictions of their world, even if - especially if - it means saying the wrong thing and learning the hard lessons.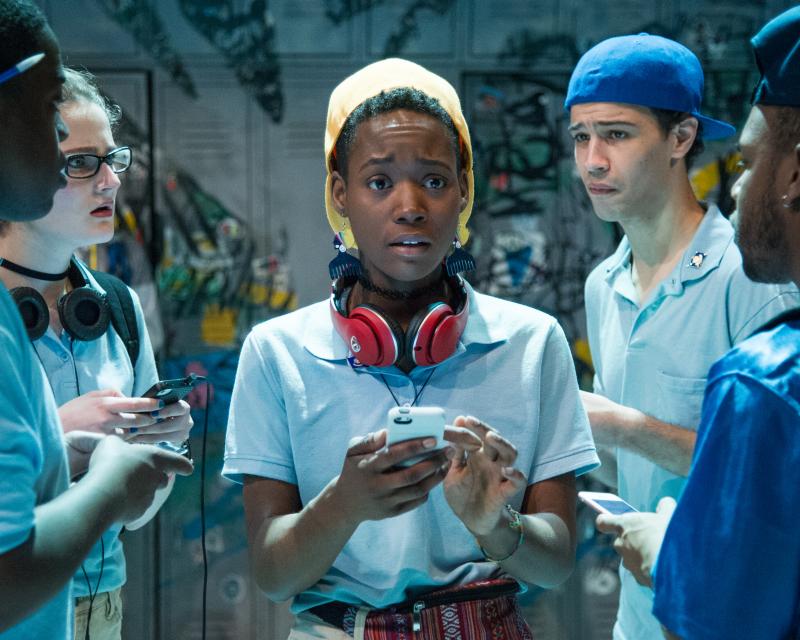 Emmanuel Kyei-Baffour is De'Andre, Raylynn's brother, a charismatic football star who dreams of going pro and escaping his hometown. Colin, one of De'Andre's teammates played by Paul Roeckell, is a white student new to town who befriends Raylynn. Without spoiling how their characters collide, Mr. Kyei-Baffour and Mr. Roeckell have a moment together late in the play, an explosive, dream-like dialogue that exposes their differences and similarities, that shatters any trepidation an audience member might have about the Rules of Engagement. Molly Shayna Cohen portrays Asha, Raylynn's affable best friend. A white girl raised by a black woman, Asha walks one of the trickier lines in the play. While she spends most of her time with the black students, she shrugs off the noose incident as a harmless prank. Her vain attempt to intellectually connect with her friends' struggle is at odds with her love for them.
Finally, there's Justin and Toria, played by Deimoni Brewington and Stephanie Wilson. Justin is the black editor of the school newspaper, and Toria a white reporter. Constantly at odds, Toria probes Justin to allow her to write a story that highlights Cedar's hitherto unspoken racial tension; Justin, meanwhile, goes out of his way to avoid controversy. In a cast full of standouts, Mr. Brewington finds unexpectedly devastating depths to Justin, whose pain at being isolated from both the black and white communities is buried under his desire to remain anonymous. The main cast is supported by a robust ensemble consisting of Imani Branch, Charles H. Franklin IV, Jordan Clark Halsey, Maria Mainelli and Alex Turner. They provide real texture to the world of Cedar High - and are all incredible dancers.
The scenic design by Jonathan Dahm Robertson - a back wall of multipurpose lockers and a tiled floor - that evokes bleak wasteland of a high school that somehow still feels too crowded when pressures rise. The costumes by Amy MacDonald establish the students as individuals with unique tastes and sensibilities, yet the light blue and khaki uniforms are always there to remind us of an unspoken, rigid social more. Projections are a tricky element to pull off successfully, but Alexandra Kelly Colburn uses them to envelope us in the lives of these teenagers, utilizing a myriad of multimedia designs to explore the way teenagers communicate. Theater Alliance's blog delves a bit more into Ms. Colburn's design; it's highly recommended reading.
The title comes from "Strange Fruit," Billie Holiday's 1937 protest song: "Southern trees bear strange fruit / Blood on the leaves and blood at the root." Despite its apt summation, Ms. Morisseau chose the title long before she knew what the play would be about. The tree, a prophetic symbol for what Blood at the Root would become, only exists with the roots underneath it. Raylynn begs her community - her classmates and her audience - to drag inequality into the light and to fight for context as a tool for education and justice. As the last Rule of Engagement states: "This is community. Let's go."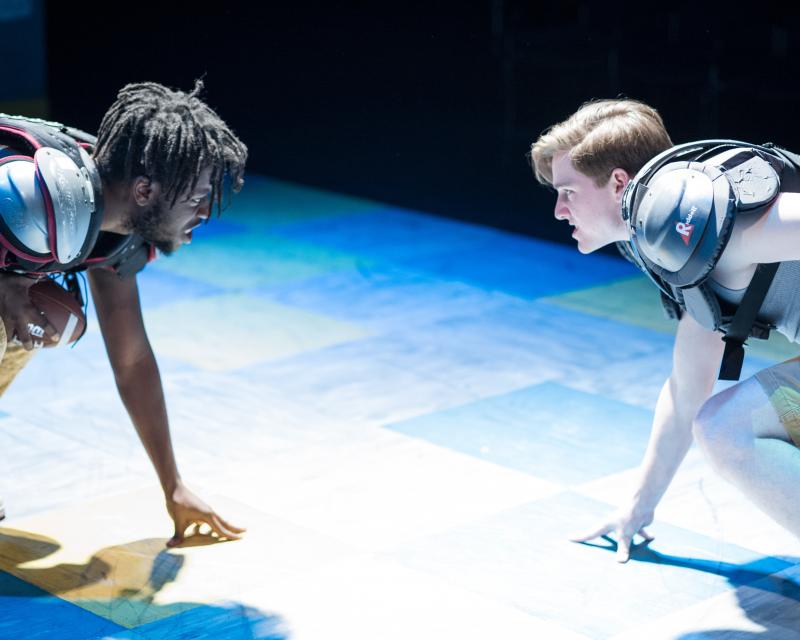 Running Time: 90 minutes with no intermission.
Blood at the Root runs through March 24, 2019 at Theater Alliance, located at Anacostia Playhouse - 2020 Shannon Place SE Washington DC, 20020. For tickets, visit Theater Alliance's website.

Related Articles View More Washington, DC

Stories

Shows