BWW Review: BERNSTEIN ON BROADWAY at Kennedy Center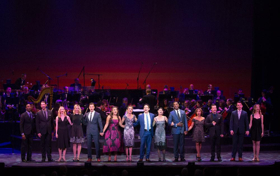 Leonard Bernstein was arguably one of the most versatile musicians the world has ever known. If you are a lover of classical music, you know that his recordings and compositions were the stuff legend is made of; and if you are a musical theatre geek, you know that Bernstein wrote some of the most innovative and genre-merging theatrical scores that still have not been topped to this day.
In celebration of Bernstein's centennial, the Kennedy Center assembled some top-notch talent, a Tony Award-winning director, a revered theatrical conductor and a 40- (yes 40) piece orchestra to stage a concert known as Bernstein on Broadway. The concert, as you might have guessed, concentrated on the seven scores Bernstein wrote for the stage.
Conductor Rob Fisher started things off with the overture to Wonderful Town as orchestrated by Don Walker. It should be noted that this show was one one of two times times that Bernstein did not collaborate on the orchestrations for one of his shows.
Following that, Bernstein's daughter Jamie gave us a full run down of what the first half of the program held in store and OH MY, what was in store.
Before Kander and Ebb's song there was a show in 1944 called On The Town which featured lyrics by Betty Comden and Adolph Green with its own "New York, New York." Max Clayton, Kevin Quillon and Anthony Wayne sang the roles of the three sailors on a 24 hour leave. It was a good way to start the the evening's musical journey complete with the original orchestration by Bernstein, and either Hershy Kay, Don Walker, Ted Royal, or Elliott Jacoby. Yes. It took five people to score this masterwork. Brilliance doesn't happen by itself folks.
Bernstein wrote about New York a lot in his musicals. With Wonderful Town, Bernstein - again with Comden and Green - tells the story of two sisters from Ohio coming to the big city. Perhaps because the evening's Tony Award-winning director/choreographer and conductor Rob Fisher collaborated on a Broadway production of Wonderful Town the show was heavily represented in this concert. The two sisters were played by Laura Osnes and Beth Malone. Their rendition of "Ohio" was a definite highlight as was "Conga" performed by Beth Malone and the male ensemble. We also heard "It's Love" as performed by the great Broadway star Norm Lewis and recent Julliard graduate Mikaela Bennett supported by a strong ensemble.
Other vocal highlights included Beth Malone's "I Can Cook Too" from On the Town (not Wonderful Town as the projection by Greg Ernetaz indicated). This song is all belt and Malone definitely had what it takes to put the song over. On the Town was also represented by Santino Fontana's terrific rendition of "Lucky to be Me."
Mikaela Bennett's haunting rendition of "Somewhere" was one of the best I've heard anywhere. The song is scored quite sparsely. It starts off with a solo cello, in this case, played by Amy Frost Baumgarten, and then adds a solo violin (concertmaster Ko Sugiyama). The rest of the orchestra then follows. Sometimes it doesn't take much to create some theatrical magic.
In 1971, Bernstein and Stephen Schwartz were commissioned to write a piece for the opening of the Kennedy Center. The result was Mass. The most recognizable song from the score is "Simple Song," which was performed here by the very talented Matthew Hydzik.
For us musical theatre geeks, West Side Story and Wonderful Town are two shows that are heavily featured in concerts and in the seasons that theaters around the globe put together. Folks like me (not many) always like hearing things that you don't necessarily get to hear elsewhere.
There were a few examples of this, thankfully, in the concert.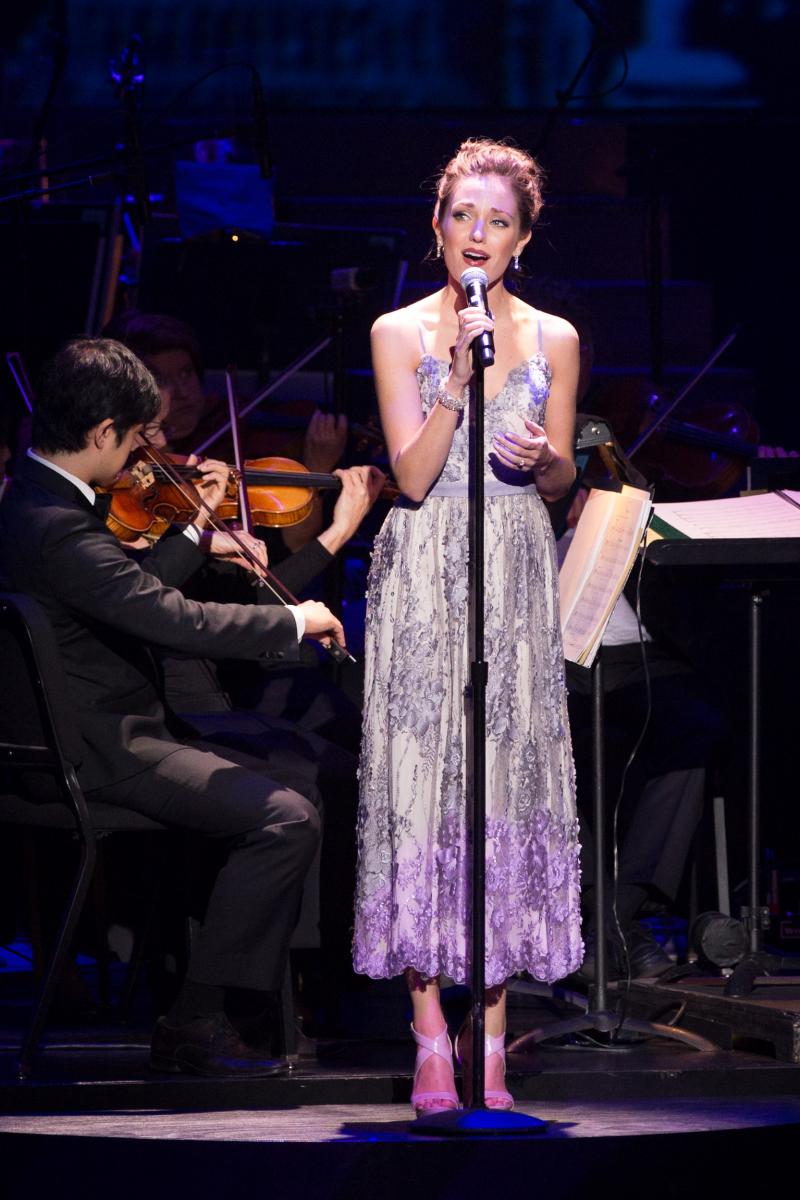 Laura Osnes, as far as I am concerned, can hold us spellbound with anything she sings, so it was refreshing to hear her rendition of "Who Am I" from Bernstein's 1950 stage version of Peter Pan. In this case, Bernstein did his own lyrics with Hershy Kay providing the orchestration.
The concert's other example of lesser known songs was a stunning choral arrangement of "Build My House" from Peter Pan and "Take Care of This House" from Bernstein's ill-fated 1976 collaboration with Alan Jay Lerner called 1600 Pennsylvania Avenue. It was performed by the Choral Arts Society, which is one of the area's best vocal groups. With this number, the audience had chance to learn for themselves why this is true.
Candide is a cult classic for many theatre lovers, but it never seems to fully work in production. However, this concert's finale, a beautiful rendition of Make Our Garden Grow, made you think it's the greatest musical ever. It combines opera and musical theatre effortlessly. The lyrics by Richard Wilbur and the orchestration by Bernstein and Kay have yet to be surpassed.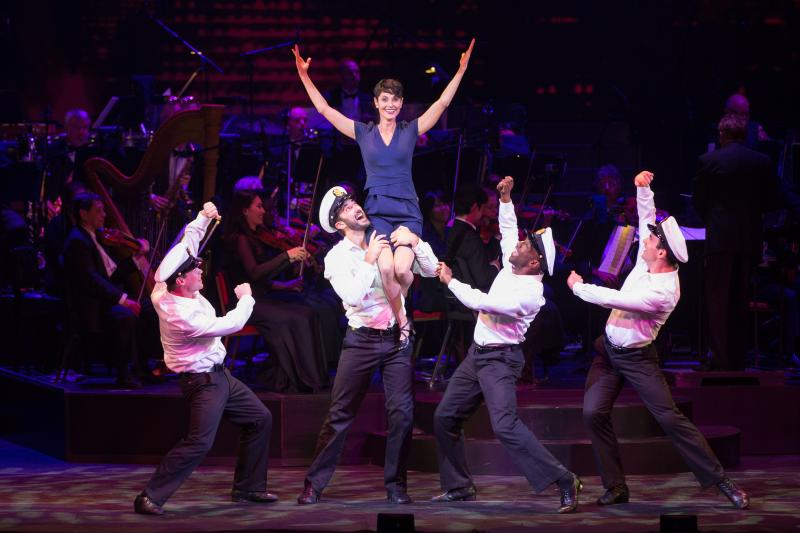 Because Bernstein's dance music was always integral to his shows, maestro Fisher and the orchestra swung Latin style with "Mambo" from West Side Story featuring the legendary orchestration by Bernstein in collaboration with Sid Ramin and Irwin Kostal. This delightful number was made complete with a screaming trumpet solo by assistant principal trumpeter Dave Detweiler and the killer percussion section made up of John Spirtas and Danny Villanueva. The "Ballet at the Village Vortex" from Wonderful Town was fully staged with Marshall's usual brilliance. I actually was hoping for one of the dances from On the Town, but you can't have everything I guess.
A special shout out to house sound mixer Joe Foley for expertly keeping the show sounding great throughout with, what I imagine was, very little rehearsal. When you're a pro like Foley is, this is not surprising.
Overall, Bernstein on Broadway provided a fitting musical tribute to one of the last century's finest musicians and musical artists. A concert of Leonard Bernstein's theatrical music, well "It's Love" my friends.
Running Time: One hour and 45 minutes with one intermission.
Bernstein on Broadway was a one night only presentation on September 22, 2017 in the Eisenhower Theater at the Kennedy Center.
For upcoming events in the year-long Leonard Bernstein at 100 celebration, click here.