Click Here for More Articles on REGIONAL - DC Metro Area Virginia
BWW Review: AIN'T MISBEHAVIN' at Signature Theatre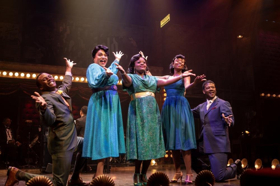 It's hard to believe that it's been over 40 years now since a little revue that started at New York's Manhattan Theatre Club took Broadway by storm. The show was Ain't Misbehavin' and if you didn't know who composer Thomas "Fats" Waller was before, you did after seeing this show. It also made Nell Carter a star and garnered her a television series called Gimme a Break. Besides Carter the cast was comprised of Charlaine Woodard, Armelia McQueen, Andre De Shields, and Ken Page. When the original cast returned for a Broadway revival of the show in the 80's, Nell Carter received star billing even though the show is truly an ensemble piece. Ah, the power of television.
As we all know, Signature Theatre is the premiere house for producing musicals in the DC area. With its flexible performance spaces, a small show such as Ain't Misbehavin' can become a truly immersive experience for the audience. Indeed, it's clear upon entering that scenic design goddess Paige Hathaway has turned the MAX into a nightclub complete with table seating for some of the audience. She doesn't stop there though. Her set allows a glimpse of not only the outside of the nightclub, but also the dressing rooms. As such, while the show is happening onstage. Director Joe Calarco gives us a glimpse of the offstage happenings as well.
The songs and the cast were two of the reasons this show originally won many Tony Awards including one for best musical. Some were miffed at the time that a revue could beat out a serious musical like On the Twentieth Century or a Bob Fosse spectacle called Dancin'.
For the most part, Signature Theatre's production boasts a strong cast featuring Nova Y. Payton (Nell Carter track), Iyona Blake (Armelia McQueen track), Korinn Walfall (Charlaine Woodard track), Kevin McAllister (Ken Page track). and Solomon Parker III (Andre De Shields track). The five performers tear the house down with such crowd-pleasing ensemble turns as "Handful of Keys" and the radio broadcast finale section. However, it's their solo turns that really make this production score.
In her best performance to date (in my opinion anyhow), Nova Y. Payton holds you captivated with "Mean to Me" and the flashier "Cash for Your Trash".
The delightful Korinn Walfall with her youthful charm and spunk wows in "Keepin' Out of Mischeif Now" and "Yacht Club Swing". This performance could turn Walfall into a big star - and deservedly so.
Kevin McAllister flat out stops the show with his rendition of "Your Feet's Too Big". His "Honeysuckle Rose" duet with Payton is another one of the show's highlights.
Solomon Parker III nails the "The Viper's Drag" complete with Jared Grimes' sensual choreography.
Iyona Blake unfortunately is the sole weak link as her portrayal feels too schticky for most of the proceedings. Even her solo turn "Squeeze Me" feels longer than it should.
One of the other components that make Ain't Misbehavin' a good show from the outset would be the orchestrations by the late great Luther Henderson who also served as the show's original pianist. His musical adaptations of Waller's tunes turned them from songs just heard on the radio and records (remember them) into true theater pieces. Let's also keep in mind that Henderson did this using all acoustic instruments, making the songs sound as authentic as possible.
The band kicks from beginning to end under the direction of Mark G. Meadows whose piano is center stage for the entire show. There is no doubt that Meadows is a brilliant musician, but a few of the tempos felt a bit under to me. The act one closer "The Joint is Jumpin" is one example where I felt a brisker speed would have given the number more kick.
Meadows' work however really shines with "Black and Blue" preserving William Elliott and Jeffrey Gutcheon's vocal arrangement with audible bliss.
Henderson scored the show in such a way that each musician has a quick solo feature. Meadows' band features Michael Bowie (upright bass), Carroll "CV" Dashiel III (drums), Ed Walters and Grant Langford (Reeds), Kieron Irvine (trumpet), and Christopher Steele (trombone). All I can say is that Luther Henderson is smiling down because his charts are being well cared for here.
While I admire Joe Calarco's vision for giving us a backstage glimpse of the performers - at least for me - it started to detract from the actual songs after a while.
Jared Grimes' choreography is full of energy throughout with the finale being the killer finishing touch.
I must say in a show that only needs audible enhancement and not true amplification, Ryan Hickey's sound design is simply too loud for most of the show. It takes you out of the show's period and is unnecessary.
Despite my reservations stated above, Ain't Misbehavin' is well worth seeing for some fine performances, great songs, and snazzy production values.
Maybe Signature Theatre might consider presenting Thomas "Fats" Waller's almost never produced 1943 Broadway musical called Early to Bed in a future season. There is only one song from it in Ain't Misbehavin' ("The Ladies Who Sing with the Band") and it would be interesting to hear the whole show. Signature Theatre is certainly the right house to try it.
One never knows, do one.
Running Time: Two hours including one intermission.
Ain't Misbehavin' runs through March 10, 2019 at Signature Theatre, which is located at 4200 Campbell Avenue in Arlington, VA. For tickets, click here.

Related Articles