Click Here for More Articles on REGIONAL - DC Metro Area Virginia
BWW REVIEW: CHRISTMAS AT THE OLD BULL & BUSH at MetroStage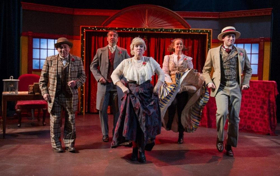 Some pieces of theater require your undivided attention because of some deep underlying message that the playwright doesn't want you to miss. This is not the case for MetroStage's return holiday engagement of Catherine Flye's Christmas at The Old Bull & Bush and that's totally ok. This British Variety Music Hall Entertainment is full of music, good performances, and some really corny jokes. In other words, it is everything you would expect from a show set in 1918 in Hampstead, London.
The Old Bull & Bush Public House is one of those places where you go for some good pints and fine entertainment. The festivities are headed up by The Chairman (Brian O' Connor). His job is to keep the show moving and introduce the other performers - and what a group of performers they are. We have the cute as a button Miss Daisy May (Katherine Riddle), the dashing tenor Mr. Percival Pennyfeather (Jimmy Mavrikes), the beloved music hall star Miss Florrie Forde (Sherri L. Edelen), and our lovable lush with the corniest joke repertoire you will ever hear Mr. Bertie Ramsbottom (Albert Coia).
To give you an idea of the groaners you might hear, a typical exchange will go something like this.
Bertie: Hey Mr. Chairman.
Chairman: What is it Mr. Ramsbottom?
Bertie: A guy came up to me and said he hadn't had a bite in weeks.
Chairman: What did you do?
Bertie: I bit him.
The artists are accompanied by Maestro Peabody (Michael Lodico at my performance). He plays the black notes, the white notes, and possibly the cracks in between too. The show is musically directed by Joseph Walsh.
The audience can also participate in the festivities - not just by applauding, but by stamping their feet in appreciation. Be sure to purchase a Christmas cracker at intermission for maximum fun in act two. You are also encouraged to share your vocal abilities as you sing along to such fun ditties as "The Lambeth Walk" and of course the song that made Miss Florrie Forde famous "Down at The Old Bull and Bush."
The cast of performers under the direction of playwright Catherine Flye (who can currently be seen in Billy Elliot at Signature Theatre) are very likable and make this production so much fun to watch.
British Music Hall entertainments always have plenty of double entendres and this is no more evident than in a song that features Brian O'Connor's Chairman entitled "Spotted Dick." He also has a hilarious feature with Albert Coia in which they play a ventriloquist and his dummy. The song is called "Sonny Boy."
Speaking of Albert Coia, here you have a performer who has a long history with this show and with British Music Hall entertainment in general as he is a member of the famed British Players. You will never see The Scottish Play in the same light ever again after hearing Coia deliver "The Night I Appeared as Macbeth." You also just might fall out of your chair from sheer hilarity because Coia can put over even the corniest of the corniest jokes with such ease.
Katherine Riddle's Miss Daisy May delights with a small medley of "Oh Mr. Percy/The Boy in the Gallery." Her mere presence on stage puts you in a festive mood to be sure.
Jimmy Mavrikes' lovely singing voice comes through full throttle in "I Dream of Daisy with the Light Brown Hair." He along with O'Connor performs the most serious section of the show. It is a tribute to the end of WW1 which just had its 100th anniversary. It is here where you see the humanity that Flye is going for in between all the fun and merriment. Let us never forget those who served in our and other countries, especially around the holidays.
Last, but definitely not least, we have Sherri L. Edelen's classic performance of Miss Florrie Forde. She knocks numbers like "Please Don't Touch My Plums" out of the park. She also appears in a particular costume (designed by Michael Sharp) for one number that will leave you rolling. Ms. Griffin of The Old Bull and Bush management has asked that I don't disclose what it is, but trust me you'll laugh hard at its first sighting.
The appropriately charming modest set evokes the spirit of the old music halls and pubs of the time.
Alexander Keen's lighting really shines in the WWI section (sorry folks, couldn't resist). Up to that point in the show the lighting is pretty much general area types of things. In this one particular section Keen captured the darkness of war by keeping the two performers isolated in their own spots. It's actually quite haunting.
Grab a sausage roll (on sale in the lobby with other treats) and get on over to MetroStage this holiday season. Christmas at The Old Bull & Bush will keep you laughing and singing all the way home. God bless us everyone! Ooops wrong show!! LOL.
Running Time: Two hours including one intermission.
Christmas at The Old Bull & Bush runs through December 30, 2018 at MetroStage, located at 1201 N. Royal St in Alexandria VA. For tickets, call the box office at 703-548-9044. For info on upcoming events at MetroStage, click here.