Click Here for More Articles on REGIONAL - DC Metro Area Virginia
BWW Interview: Go Under The Sea with Prince Eric Kunze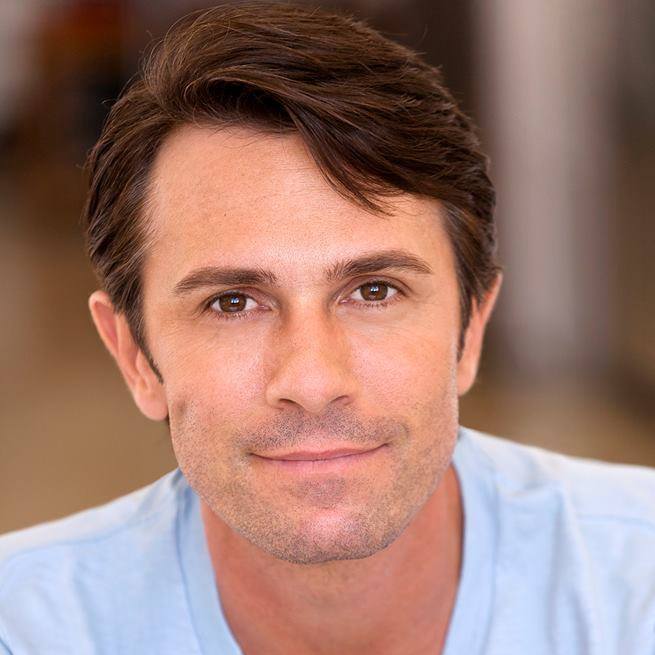 Disney's The Little Mermaid is coming to Wolf Trap from June 29 - July 2. The smash musical, based on the 1989 Disney film, will only be here for 5 performances. I had the opportunity to talk to Broadway Veteran, Eric Kunze, who plays Prince Eric.
Keith Tittermary: Thank you for taking the time to talk to me. So, tell me about yourself.
Eric Kunze: This is my third round of The Little Mermaid. I started doing theater in college in San Diego where I'm from. I went to UC Irvine. After UC Irvine I moved to New York and did a few shows. I had a good nine years of working in New York. Back then it was the 90s and [playing on Broadway] was the big workhorse musicals that ran for a long time. It was nice. Then I moved back to LA, and I've been touring a lot over the years.
KT: You made your Broadway debut as Marius in Les Miserables in 1993. Tell me about how you got that show.
EK: Les Mis was my first Broadway show right out of college. My senior class did an internship in New York and took classes. I had met the casting directors for Les Mis in LA [when I auditioned] for the Miss Saigon national tour. I was probably 19 or 20 then and they said come back in a couple of years when you graduate. So, I did that in New York and I ended up booking it. And that's how it all started!
KT: Then you did Miss Saigon after that?
EK: Yeah. I went on the national tour for a few months, then come back to New York for a few months, then they let me out for 3 months to [play Joe Hardy] Damn Yankees. There was a lot of continuous work with amazing shows. I was blessed to be able to work.
KT: This is not your first time to the Washington DC area?
EK: I was recently here with "Do You Hear The People Sing" with Lea Salonga at the Kennedy Center. That was the most recent thing I've done in DC.
KT: You recently did Fun Home in Manila with Lea Salonga.
EK: Last spring I did it in Manila and it was so successful they brought it back for a repeat limited run in the fall. I've been to the Philippines twice now.
I played the father [Bruce Bechdel] and Lea was my wife [Helen Bechdel]. That all came about, which is sort of how the business is, you never know. I was in New York with Lea doing a concert at Carnegie Hall, "Do You Hear The People Sing" with the New York Pops and my agent called while I was there and asked if I had seen Fun Home, which I hadn't, so I went to see it since it was closing soon. So, I saw the show and of course fell in love with. I saw most of the original. Turned out that I got it, so I was able to get a work visa and do the show. It was an amazing experience. Not only the show, but being in the Philippines: the people, the food. The talent out there is phenomenal.
KT: Tell me about Prince Eric.
EK: Prince Eric. One of my favorite Disney princes of course, I'm a little biased! My first association with this production was in 2012 with Sacramento Music Circus with our director Glenn Casale and many of the company members that are still currently in our production now. We've been through various productions and versions of this and it all started then. From the Broadway production to now it's been revamped, reworked, reorchestrated, what not. I've had a real long history with and I've watched it evolve and grow into this gorgeous full-scale Broadway production, it's amazing. Our stay in Wolf Trap is brief, but hopefully people come out and see it and bring their kids and their relatives. It's a show for all ages. It really is. We have fathers in the audience who are tearing up at the end of the show. It strikes a lot of chords.
KT: If I remember the movie correctly, Prince Eric doesn't sing, but in the show you have 2 songs written specifically for the musical.
EK: Yes. "Her Voice" is a beautiful song. Prince Eric is nice baritone how its written, not a screaming tenor, which is nice that I don't have to do that! "One Step Closer" has quite a good dance break in there too where they sort of fall in love through dance and movement because Ariel can't speak. They did incorporate the gorgeous quartet, "If Only", where you get to Ariel sing right in the middle of act two, which is probably my favorite song.
KT: Diana Huey, who plays Ariel, is familiar to DC Audiences from her Helen Hayes winning performance in Signature Theatre's Miss Saigon. What is like to work with her?
EK: Diana Huey and I just met two weeks ago. She opened this last leg of the show at 5th Avenue in Seattle, and about 4 or 5 new cast members, including myself, just joined 2 weeks ago and we reopened the show in Kansas City. So, Wolf Trap will be our third stop. This leg of the tour is new. They had been off for a month and I had been out for a year, so we just put the show together then. She is on point. Crystal clear voice. She is probably a 4'10 bundle of dynamite. Her voice just sails and her voice is just perfect for Ariel and she is too.
KT: Besides, Prince Eric, what role in The Little Mermaid would you like to play?
EK: I would love to King Triton because he gets to fly! We've got several characters who get to fly, whether its underwater or in the air, like the seagulls. Paul Rubin who designed all of the choreography in the air and under the water makes this production in a league of its own! Triton gets some really nice songs, he gets to fly, he's the king!
KT: Do you have any bucket list roles?
EK: Yeah, I've got a couple. A lot of them are Sondheim shows. I'd love to play George in Sunday In The Park With George, Bobby in Company. I didn't see Fun Home coming, but I have to say, it was probably one of my favorite things I've done.
KT: Finally, is there something you do, like a special talent, that your fellow cast mates might find surprising?
EK: Well, people don't know that I have a business side of myself. I renovate homes. I've had my real estate license since 1996, about 20 years now. I started in New York, and I currently do it in San Diego. I grew up in a real estate family, so I guess have that in my blood.
KT: Thank you, Eric, for taking the time today to speak with me.
Don't miss Disney's The Little Mermaid playing at the Filene Center at Wolf Trap, 1551 Trap Road, Vienna, VA 22182, from June 29 - July 2, 2017.