Treat Williams and Stephen Adly Guirgis to Star in AMERICAN BUFFALO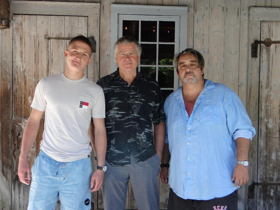 Dorset Theatre Festival capstones its 40th Anniversary Season with the Regional Revival of American Buffalo by David Mamet. American Buffalo, under the direction of John Gould Rubin (Artistic Director of The Private Theater), runs for a limited engagement of 11 performances between August 24 - September 2, 2017. All performances take place at the Dorset Playhouse, 104 Cheney Road, Dorset.
American Buffalo is one of Pulitzer Prize-winner David Mamet's defining works, instantly acclaimed when it opened on Broadway. Starring Treat Williams as Teach and Pulitzer Prize-winning playwright Stephen Adly Guirgis as Donny, Dorset Theatre Festival now takes a fresh look at a trio of misguided misfits who are a little out of luck and way out of their league as they plot the theft of a rare coin collection. American Buffalo crackles with explosive humor, frenetic energy, and surprising tenderness. Making his regional debut, Oliver Palmer (Shakespeare in the Square) will round out the cast as Bobby, Donny's junk shop delivery boy.
"This cast has amazing chemistry and depth. They bring a passion to Mamet's seminal work that invigorates the play," says Artistic Director Dina Janis. "Tony Award-winning scenic designer Christopher Barreca has also created a magnificent design for this show: audience members will get to take in the action from multiple seating perspectives for a truly immersive theatrical experience."
Treat Williams has had a long and happy collaboration with David Mamet. He has performed in The Water Engine (Film), Speed The Plow (Williamstown), Bobby Gould in Hell (Lincoln Center) and Oleanna (Off-Broadway). He directed the short film Texan, which won best film at three film festivals. Treat has been nominated for four Golden Globe Awards, an Emmy, two Screen Actors Guild Awards, and has won two Theater World Awards for his work in Broadway Musicals. Broadway: Grease, Over Here, Once In A Lifetime, Pirates Of Penzance, Love Letters, Captains Courageous The Musical, and Follies. Film: The Ritz, The Eagle Had Landed, Hair, Prince Of The City, Once Upon a Time In America, 1941, Smooth Talk, Things To Do In Denver When You're Dead, The Phantom, Deep End Of The Ocean, The Devil's Own, Hollywood Ending, Miss Congeniality 2, What Happens In Vegas, 127 Hours. TV: A Streetcar Named Desire, Dempsey, The Late Shift, Everwood, Law And Order SVU, The Simpsons, White Collar, Chicago Fire, Hawaii Five-O, CSI, and Blue Bloods, Confirmation. He currently stars as Mick Obrien in the Hallmark series, Chesapeake Shores. He is an avid reader, gardener, skier, pilot, husband, and father. He lives in Vermont with his wife Pam and children, Gill and Elinor.
Stephen Adly Guirgis is a member and former co-artistic director of LAByrinth Theater Company. His plays have been produced on five continents and throughout the United States. His most recent play, Between Riverside and Crazy premiered at Atlantic Theater Company, moved to Second Stage Theatre, and garnered numerous awards including the 2015 Pulitzer Prize for Drama. Other plays include: The Motherf***er with the Hat (6 Tony nominations, including Best Play), Den of Thieves, Dominica The Fat Ugly Ho, as well as Our Lady of 121st Street, Jesus Hopped the 'A' Train, In Arabia, We'd All Be Kings, The Last Days of Judas Iscariot (Public Theater) and The Little Flower of East Orange (Public Theater) - all five world premiered at LAByrinth Theater Company. In London, his plays have premiered at The Donmar Warehouse, The Almeida, The Hampstead, and at The Arts Theater in the West End. As an actor, he has appeared in theater, film and television, including roles in Birdman, Margaret, Palindromes, and Jailbait. He co-created and executive produced Netflix's The Get Down. Other awards include: the Yale Wyndham-Campbell Prize, The Harold & Mimi Steinberg Award, PEN/Laura Pels Award, Whiting Award, TCG fellowship, Fringe First Award, NY Drama Critics Circle, L.A. Drama Critics Prize, and a Lucille Lortel Award. A former violence prevention specialist and H.I.V. educator, he lives in New York City.
The creative team includes Christopher Barreca (Scenic Design), Kate Fry (Costume Design), Stephen Strawbridge (Lighting Design), Ryan Rumery (Sound Design), Michael F. Toomey (Fight Choreography) and Sarah Perlin (Stage Management).
David Mamet is the award-winning author of numerous plays, including Oleanna, Glengarry Glen Ross (1984 Pulitzer Prize for Drama; New York Drama Critics' Circle Award), American Buffalo, Speed-the-Plow, Boston Marriage and November. Mr. Mamet has written the screenplays for The Verdict, The Untouchables, and Wag the Dog, and has twice been nominated for an Academy Award. He has written and directed 10 films, including Homicide, The Spanish Prisoner, State and Main, House of Games, Spartan and Redbelt. He has authored the novels The Village, The Old Religion and Wilson: A Consideration of the Sources, and was co-creator and executive producer of The Unit on CBS. Festival awards for original play, music and lyrics) and several choral works published by Final Score Music.
DORSET THEATRE FESTIVAL
Dorset Theatre Festival, sponsored for its 40th season by Manchester Designer Outlets, creates bold and innovative theatre that engages a diverse, multi-generational community: enlightening, entertaining, and inspiring its audience through the celebration of great plays produced with the highest degree of artistry.
Dorset Theatre Festival's 2017 mainstage summer season includes Downstairs by Theresa Rebeck, running June 22-July 8; Ken Ludwig's Baskerville: A Sherlock Holmes Mystery, running July 13-29; The Legend of Georgia McBride by Matthew Lopez, running August 3-19; and American Buffalo by David Mamet, running August 24-September 2. All performances take place at the Dorset Playhouse, 104 Cheney Road, Dorset, VT.
Single tickets and subscriptions for the 2017 Summer Season are on sale. The box office may be reached by calling (802) 867-2223 ex. 2 Tuesday through Saturday 12-6pm (8pm on performance days). For more information, or to purchase tickets and subscriptions online, visit Dorset Theatre Festival's website at dorsettheatrefestival.org.