Tobacco Factory Theatres Announces Cast For MACBETH and A VIEW FROM THE BRIDGE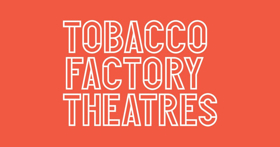 Tobacco Factory Theatres is delighted to announce the casting of its Factory Company - the resident professional ensemble that will perform new in-house productions of Shakespeare's Macbeth and Miller's A View From the Bridge at Tobacco Factory Theatres between February and May 2018. Drawn from across Bristol and further afield following an extensive open casting call, the Factory Company will create dynamic and fresh productions of two of the most dramatic plays you could hope to see, both perfectly suited to the atmospheric Factory Theatre.
Jonathan McGuinness (Bodies, Royal Court; Love's Sacrifice, RSC) will play Macbeth and Katy Stephens, stunning as Emilia in 2017's Othello at Tobacco Factory Theatres, will play Lady Macbeth. The role of Banquo will be played by Stefan Adegbola (Titus Andronicus, RSC) and Macduff by Joseph Tweedale (The Rise and Fall of Little Voice, Clwyd Theatre Cymru).
Katy Stephens
will also play Beatrice in A View From the Bridge, opposite
Mark Letheren
(The Crucible, Bristol
Old Vic
) as Eddie. In her professional debut, Laura Waldren (13, Bristol
Old Vic
Theatre School) will play Eddie's niece Catherine and
Simon Armstrong
(Living Quarters, Tobacco Factory Theatres and Shakespeare at the Tobacco Factory) will play the lawyer/narrator Alfieri.
For the full cast list and cast biographies, see tobaccofactorytheatres.com/casting-announced-inaugural-factory-company-season/
Macbeth plays in Bristol from Thu 22 February - Sat 07 April and A View From the Bridge from Wed 18 April - Sat 12 May 2018. See below for further details on both productions.
Directing the cast of Macbeth will be Adele Thomas (National Theatre, Royal Court, Shakespeare's Globe). A View From the Bridge will be directed by Mike Tweddle, Artistic Director of Tobacco Factory Theatres, in his first production for the theatre. Adele and Mike will lead a creative team of local and national artists for both productions, including Designer Anisha Fields (The Remarkable Case of K, Young Vic), Sound Designer Max Pappenheim (Blue Heart, Tobacco Factory Theatres and Orange Tree Theatre), Lighting Designer Matthew Graham (Othello and Waiting for Godot, Tobacco Factory Theatres) and Movement & Fight Director Kev McCurdy (Macbeth, Shakespeare's Globe).
Tobacco Factory Theatres is grateful to The JMK Trust, who has worked in partnership with them to offer an Assistant Director Bursary to Charlotte Marigot for Macbeth.
The season also incorporates Get Involved events connecting the productions with the local community, artists and audiences. See the Tobacco Factory Theatres website for more information:
tobaccofactorytheatres.com/project/children-and-young-people-programme/get-involved/
The Factory Company Season solidifies the reputation of Tobacco Factory Theatres as a producer. Its repertoire has most recently included Waiting for Godot in October 2017, Othello in Spring 2017 (co-produced with Shakespeare at the Tobacco Factory and English Touring Theatre) and Caryl Churchill's Blue Heart with the Orange Tree Theatre and The Weir with the Sherman Theatre in autumn 2016. Tobacco Factory Theatres's Christmas productions and co-productions are renowned and the theatre has just enjoyed its most successful Christmas ever with its co-production of Beauty and the Beast with NIE and Cambridge Junction.
Macbeth
Thu 22 February - Sat 07 April 2018
Macbeth speaks to a world we find ourselves living in now; a world in which politicians lie to our faces but no one can plaster over the truth that the planet is threatening to turn on us.
Exposing the fragility of the human notions of language and destiny, Macbeth conjures something bloody and primal. Battling elemental forces and their own blind ambition, Macbeth and Lady Macbeth are at odds with the natural world, haunted by three unearthly witches and inspired to commit terrible, unnatural acts. Their quest for power for power's sake leads their bodies and minds to turn against them.
A View From the Bridge
Wed 18 April - Sat 12 May 2018
A View From the Bridge is a gripping tragedy that is as powerful and pertinent as ever. Eddie Carbone is an honourable, hard working man who has raised his niece Catherine like a daughter and loves her like nothing else. When his wife's cousins arrive from Italy he's proud to offer them safe harbour, but when Catherine falls for one of them, Eddie's dark and dangerous struggle begins to surface.
In this fascinating and provocative exploration of a complicated man and the unravelling of his world, Miller exposes a society that values different people in tragically different ways.
Alongside the professional cast for A View From the Bridge, Tobacco Factory Theatres has enjoyed recruiting a fantastic group of adults to attend a 10-week theatre course with Tobacco Factory Theatres Artistic Director Mike Tweddle, before they join the rehearsals of his production of and take on small ensemble roles in the show.
Tobacco Factory Theatres produces and presents excellent art in unique, intimate spaces at Tobacco Factory Theatres in Bristol, as well as off site in Bristol and in venues across the country. It presents a jam-packed programme of diverse and exciting shows, workshops and events, from classic and contemporary theatre, to theatre for families, comedy, dance, music, opera and puppetry. It also runs an expanding programme of engagement, participation and development opportunities for young people, artists and audiences.
Related Articles View More UK Regional

Stories

Shows
More Hot Stories For You