This Weekend's Liverpool Pride March Route And Speakers Confirmed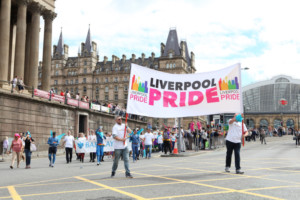 Liverpool Pride Festival returns this weekend (Saturday 29 July and Sunday 30 July), when the city is transformed into all things rainbow coloured.
Liverpool Pride March officially starts the proceedings at lunchtime on the Saturday, when young and old take to the streets to march with pride and celebrate all things LGBT+.
Organisers have confirmed the Liverpool Pride March route and there's still time to get involved - official registration has closed but you can still take part in the march by coming along or by showing support by joining the thousands of spectators lining the route.
The theme of the eighth annual Liverpool Pride is International Love, highlighting LGBT+ lives around the world. The theme coincides with the city's wider 50 Summers of Love festival, which celebrates 50 years since the decriminalisation of homosexuality.
March participants are encouraged to support this year's theme by celebrating Liverpool's diversity and global links by dressing up and carrying flags to complement the theme.
The Liverpool Pride March leaves St George's Plateau outside the iconic St George's Hall Liverpool at 12pm on Saturday 29 July. Participants are encouraged to gather from 10.30am and are advised that extra security checks will be in operation and checks will move much faster if participants arrive without bags.
Shortly before march is due to set off, a group of special guests and dignitaries will take to the Plateau stage to officially welcome the crowd to Liverpool Pride 2017.
Guests include the newly announced Liverpool Pride Patron the Bishop of Liverpool Paul Bayes; Liverpool City Region Metro Mayor Steve Rotheram; Deputy Mayor Ann O'Byrne, Merseyside Police Chief Constable Andy Cooke; Mark Armario from Barclays, LGBT+ writer Linda Riley; and LGBT+ poet Gerry Potter.
Muster entertainment will be provided by the Royal Court Community Choir; Liverpool singer Daisy Gill, who appeared on X Factor; and ukulele band D'Ukes of Hazzard.
As always, the festival coincides with the anniversary of murdered gay teenager Michael Causer, who tragically lost his life on 2 August 2008.
Liverpool Pride was specifically created in Michael's memory in 2010 as a community response and a positive way to celebrate his life, while empowering the LGBT+ communities.
The Liverpool Pride March will be led by members of Michael Causer's family.
The Bishop of Liverpool, Paul Bayes will also walk in the march with members of Open Table, an ecumenical community for LGBT+ Christians, based at St Bride's Church, Percy Street. He will be the first Church of England diocesan bishop to join a Pride march.
Local artists Ben Youdan, Brian Hanlon, Oly Bliss and Sophie Green have been specially commissioned by Liverpool Pride to create a series of banner artworks. Working alongside internationally renowned banner artist Ed Hall, who famously created the Liverpool Dockers banner, the artists have engaged local LGBT+ organisations to create unique banners which will be unveiled at the march.
The organisations involved in creating the banners are Many Hands One Heart; Alternative Fashion Festival; Wirral Brook 'Work It Out'; and Knowsley Youth Mutual LGBT+ Group.
The Liverpool Pride March will leave St George's Plateau with a sea of rainbow and international flags and banners and head towards Roe Street and Hood Street. The march will continue along Whitechapel, Lord Street, Derby Square, Castle Street and Dale Street.
The procession will then move along North John Street and Victoria Street to the city's Stanley Street Quarter, where rainbows adorn the street signs all year round in a visible support for Liverpool's LGBT+ community.
The march will be led up Stanley Street before returning to Dale Street. From here, the crowd will make its way towards and across the Churchill Way flyover before returning to its starting point of St George's Plateau.
Once the march concludes, Saturday's entertainment will begin on the Barclays Main Stage with appearances from Kym Mazelle, Livin' Joy and Austin Armacost - who are joined by headline act Atomic Kitten.
The Pride celebrations continue on Sunday 30 July with the second annual We Are Family fun day of LGBT+ celebrations. Activities for children include fun inflatables, fairground ride, and arts and crafts. Sunday's musical offering includes X Factor finalist Marcus Collins, who will be joined by an eclectic line up guaranteeing something for everyone at this year's Pride.
Joan Burnett, a Trustee of Liverpool Pride, explains: "This year we expect our March to be bigger than ever. Our International Love theme means we look out across the world and celebrate Liverpool's diverse cultures with flamboyance and joy. We will also remember the places where is it extremely dangerous, if not deadly, to be LGBT.
"We'll be carrying flags the of nations where things are still difficult. Our four artist banners inspired by Ed Hall, maker of the famous Liverpool Dockers banner, will help get our message across with beauty and dignity. We extend the Liverpool Pride invite to everyone - come along, march with us or line the route, and share in the theme of International Love."
Liverpool Pride 2017 is supported by headline sponsor Barclays, who are embarking upon a 12-month community partnership which will provide access to employment and financial services, as well as access to training for digital and financial awareness supported by the many Barclays colleagues across its branch network and contact centres in Kirkby and Wavertree Technology Park. Barclays is proud to be a Stonewall Top Global Employer and to be recognised as the Stonewall Top Global Ally Programme 2017.
Further support for the Liverpool Pride Festival 2017 also comes from Manchester Airport as the official Airport Sponsor; Radio City as the official Media Partner; Homes For Everyone; and Signature Living as the official Hotel Partner.
Keep up to date with Liverpool Pride announcements at:
Website www.liverpoolpride.co.uk
Facebook LiverpoolPride
Twitter @LiverpoolPride