New Festival of European Theatre Celebrates the Influence of Europe on UK Culture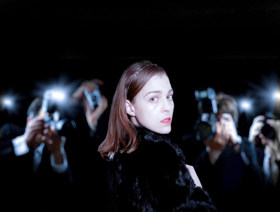 As the UK prepares to exit the EU, The Actors Centre and Voila! Europe have announced today a brand-new festival, A Piece of the Continent, celebrating cultural links and theatre from our neighbours from across Europe.
A Piece of the Continent (8-27 Apr) will be staged at The Actors Centre's Tristan Bates Theatre, in the heart of London. The festival is designed tooffer a platform for artists from across Europe as well as extending a welcome to EU citizens who may feel isolated or disenfranchised following the passing of Article 50. The festival will Showcase Theatre from Italian, French, Polish, Greek, German, Dutch, Lithuanian, Austrian and Spanish artists based in the UK or overseas.
The nine works, each an hour-long, will be staged over the three weeks of the festival, exploring themes including gender equality, freedom of expression and the laborious process of becoming a British citizen. Each will offer a taste of the rich variety of theatre and live performance being made by European artists today.
In the first week, Panta Rei Theatre will present Don't You Dare! (8-13 Apr) a multilingual political satire about a famous actress accused of witchcraft. Set in 1601, the production draws on Commedia dell'arte to interrogate the way propaganda has been used against women across the centuries. Director Chiara D'Anna is known for her work with writer and director Peter Strickland on the films Berberian Sound Studio and The Duke of Burgundy.
On similar themes, A Voice (8-13 Apr) is a one-woman musical from Anglo-French company Yosis Theatre exploring the exploitation of women at the hands of powerful men. Written in light of the #MeToo movement, it highlights the corrupt and often sexist worlds of music and celebrity through the story ofthe rise and fall of 1960s pop star Angèle, drawing on the courageous work of women's rights activists of the 60s.
Exploring the final moments of the life of a dementia sufferer, Dark Matter (9-13 Apr) dives into the world of Alfie, an elderly astrophysicist nearing the end of his life. Using Bunraku Puppetry, a form of traditional Japanese puppet theatre, live microcinema and physical storytelling, Dark Matter from London-based pan-European company Vertebra Theatre is a devised and puppetry performance about star constellations, black holes and a race against the clock to discover meaning.
In week two, audiences will be transported back to the era of the Spanish civil war for The Copla Musical (15-20 Apr) to unearth the story of drag artist La Gitana. The Copla Musical takes audiences from her rescue from prison to becoming a drag cabaret sensation in the US, all the while struggling to merge her Spanish past with her American future. Placing traditional Spanish Copla (folk) songs into the context of a contemporary musical, English/Spanish company HisPanic Breakdown shares a story of love, freedom and identity.
Mortgage (15-20 Apr), a horror farce collaboration from Created a Monster and David Glass Ensemble, tells the story of Beatrice Gunta Mortgage, a murderess and failed stage manager suffering at the hands of two demonic drag doctors in a corrupt asylum. Infused with Theatre of Cruelty, slapstick and Film Noir, Mortgage is a haunting take on Dante's Divine Comedy, touring Europe this year.
From Exchange Theatre, Noor, a true story of Liberté (16-20 Apr) is based on the true-life story of Princess Noor-un-nisa Inayat Khan, a British secret agent of Indian and American descent who fought tirelessly to overcome the tyranny of the Nazis during WWII. The first female wireless operator to be sent from Britain into occupied France, Noor's bravery outraged her German jailers and torturers, and she is widely considered Britain's first Muslim war heroine. Exchange Theatre specialises in bilingual works in English and French.
The third and final week of the festival opens with Berlin-based COSmino Productions. Drawing parallels between London during the Blitz and Brexit Britain, Dreams Die Hard (22-27 Apr) brings the diaries of actor and director Rachel Karafistan's grandmother to the stage. Combining projection and live shadow puppetry, and spanning more than 40 years across London, Liverpool, Cyprus and beyond, it asks questions of national identity and borders prevalent both then and today.
Collide Theatre will present the premiere of Metamorphosis (23-27 Apr), a brand-new dance-theatre work inspired by the classic Franz Kafka novella of the same name. It uses the tale's focus on a man turning into an insect to depict an ode against ostracism and a cry for parental acceptance of their children, no matter how different or unusual they are.
To close the festival, Diary of an Expat (24-27 Apr) confronts questions of national identity and citizenship, bringing to the stage theatre maker's Cecilia Gragnani's autobiographical experience of being an expat in Britain in the age of Brexit. Having left Italy for London - the city she now calls home - ten years ago, she is now faced with the possibility of being forced to return. Drawing on real-life testimonials and her own experiences, she explores the emotional and complicated process of becoming a British citizen, whilst staying true to her roots.
Speaking about the festival, Will Mytum, Theatre Programme Co-Ordinator at The Actors Centre said "A Piece Of The Continent was created to offer a platform of visibility and opportunity for European artists, who may feel a sense of alienation in the aftermath of Brexit and the antagonistic rhetoric that has followed. The incredible quality of the companies participating in the festival is a testament to how valuable European work is to the fabric of UK's theatre scene. Anyone questioning the value of collaboration with our European neighbours should come and try a Piece of the Continent!'.
Sharlit Deyzac and Amy Clare Tasker, founders of Voila! Europe said "A Piece of the Continent is an exciting evolution for Voila! Europe and for the artists we support. Our annual November festival offers 2-3 performance dates, an important step for work in development. Programming shows for a full week in the West End allows European companies to take their work to the next level. Three projects featured in A Piece of the Continent began at our Voila! Europe festival, and now are ready for a larger platform. Other shows in the programme are already touring around Europe, and we are proud to give them their UK premiere."