MUSCOM Return To Grand Theatre With Mel Brooks Musical THE PRODUCERS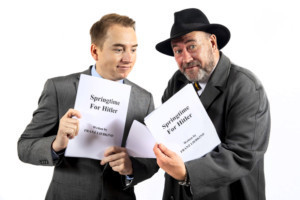 Wolverhampton Musical Comedy Company (MUSCOM) return to Wolverhampton this year with Mel Brooks' hilarious musical THE PRODUCERS from Tuesday 5 - Saturday 9 March.
The production stars Karl Steele as Leo Bloom and Greg Yates from the Grand Theatre's recent productions of Brassed Off and Ladies' Day as Max Bialystock.
Dan Smith will play Franz Liebkind, Dave Hayward plays Roger Dupree, Mike Astley is Carmen Ghia and Rosie Harper plays Ulla. The cast is completed by a talented ensemble of local performers.
Theatre producer Max Bialystock has a string of failures in his wake. But his downtrodden accountant Leo Bloom thinks that could be a good thing, a producer could make more money with a dud than a hit. They set out to find the worst script, the worst director and the worst actors in the industry, produce the biggest flop in Broadway history, and make a heap of cash in the process. What could possibly go wrong?
The hilarious musical is fit to burst with unruly characters and show-stopping songs such as Springtime for Hitler, I Wanna be a Producer and When You Got It Flaunt It.
With a truly hysterical book co-written by Mel Brooks and Thomas Meehan (Annie) and music and lyrics by Mr. Brooks, THE PRODUCERS skewers Broadway traditions and takes no prisoners!
Established in 1938, Wolverhampton Musical Comedy Company is a young, vibrant and exciting theatre company full of local, home grown talent. Over the past decade, MUSCOM has performed award winning musicals on the Grand Theatre stage including Grease, Footloose, High School Musical Copacabana, West Side Story, Sweet Charity and Half A Sixpence.
Tickets for THE PRODUCERS are now on sale at the Grand Theatre Box Office, by calling 01902 42 92 12 or online at grandtheatre.co.uk.
More Hot Stories For You