David Bernard and Park Avenue Chamber Symphony Turn Their 2017-18 Season INSIDE OUT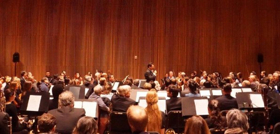 "Hidden inside every classical concert is an experience that is as captivating as the most brilliant, immersive events produced today. And until now, audiences have been mostly limited to a distant, diluted experience that not only keeps the music at arm's length, but also blocks access to the incredible process of music-making that occurs in real time onstage," says David Bernard, music director of New York's Park Avenue Chamber Symphony (PACS). "We will be changing this on a broad scale by revamping our entire 2017-17 season to our InsideOut format--bringing our entire audience onstage with the orchestra at all of our concerts. Sharing the thrilling experience that is usually only available to performers, audiences will not just hear great music, they will be surrounded and enveloped by it. It's an immersive experience that will blow their minds!"
A sold-out success in trials with PACS this past season, Bernard's 'InsideOut' concert positions audience members in the precise configuration of the orchestra, in other words, they are sitting inside the sections as though they themselves might be musicians, and the orchestra retains its shape. As with other close-up/immersive productions, InsideOut is a premium event, one which Bernard compared to the effect of IMAX on cinema-goers or Immersive Theatre on audiences.
InsideOut trial concerts have been met with enthusiastic media responses. NY1 News entertainment reporter Stephanie Simon attended InsideOut with her colleagues drawn from New York media and cultural institutions. Said Simon, "I loved it for...the fact that I felt like I was one of the orchestra members. It seems the only regret here is that every concert can't be "inside out."
Reporting for WQXR, James Bennett, II, felt that, "...it's where you sit that separates InsideOut from other live performances. Here, the conductor's back isn't turned to you, nor is the orchestra elevated on a stage on the other side of the room. Instead, the seats are with the players themselves, in the thick of the violins or right next to a harp. And to keep things interesting, the audience regularly rotates to sit with a different section. There's no separation here, just a mass of pumping hearts joined in a singular musical communion."
For the PACS 2017/18 season, David Bernard has planned three InsideOut events at the DiMenna Center For Classical Music, the orchestra's home. In addition, in the afternoon prior to each full event, the orchestra will offer a special, shortened family version designed for younger audience members. The three-concert season will include:
Program 1: HALLOWEEN, from the Inside Out (October 28th, 2017)
Works: Saint Saens, Danse Macabre; Berlioz, Symphonie Fantastique
The season begins with a wickedly enjoyable celebration of Halloween. "Saint Saens's hauntingly evocative Danse Macabre, featuring devilish violin solos and spine-tingling skeleton xylophone solos is the perfect way to set the Halloween mood." says Bernard. "We will then take our audience on a wild ride through cauldrons and witches with Berlioz's Symphonie Fantastique. Experiencing these works from inside the orchestra will bring the audience deep inside a mysterious world of dark magic and mysticism with incredible clarity and presence. You will not just be in your costume, you will be transported!"
Program 2: GOOD MORNING AND GOOD NIGHT, from the Inside Out (February 3rd, 2018)
Works: Ravel, Daphnis et Chloe Suite No. 2; Brahms, Symphony No. 2
What does it feel like to be inside a sunrise? Audience members will find out at this event, where the orchestra will perform Ravel's second suite from his ballet Daphnis et Chloe. "Composers have been obsessed with depicting sunrises through music, but the sound-picture of a sunrise, painted by Ravel in Daphnis as a prelude to a story of flowering sensuality, and love, is absolutely unforgettable." says Bernard. "We will then complete the day with Brahms' Second Symphony, a journey of sublime beauty and passion that also contains his well known lullaby."
?Program 3: THE WORLD, from the Inside Out (May 19th, 2018)
Work: Mahler, Symphony No. 1 'The Titan'
Gustav Mahler famously pronounced that, "A symphony must be like the world, it must embrace everything." He relentlessly delivered on this vision throughout his nine symphonies, drawing listeners in to whole new sound-worlds. "As engaging and evocative Mahler's symphonies are for audiences listening from afar, experiencing one from inside the orchestra is a transforming experience," says Bernard. "Audiences will experience the world as it emerges from nothingness, through nature, celebration, sorrow and blinding brilliance. Sitting inside the orchestra, they will ride the emotional roller coaster, feeling every twist and turn, resulting in an unbelievably brilliant climax!"
Says David Bernard of the PACS 'Inside Out' season, "These works have been carefully chosen to bring vivid experiences to audiences from within the orchestra. Experiencing from the inside, the intensity of Ravel's sunrise, the sheer force of Berlioz's dread, or the overwhelming sound worlds of Mahler is certain to reveal these works as never before. And being surrounded by the music itself, well, it's an unforgettable feeling!"
?He adds, "I'm also thrilled with the innovation of the afternoon family concerts. If the 'Inside Out' experience is so powerful for adults, imagine what it can bring to younger audiences. Through this format, we can deliver sensations more vivid and captivating than the mobile phones, video games and social media they are accustomed to." In comparison to the full evening InsideOut events, the family events will be specially designed for younger audience members, offering less music, more discussion and a shorter overall duration.
This new season announcement comes in the same month as the imminent Recursive Classics release of a new recording of Beethoven's Symphony No. 9 performed by David Bernard and the Park Avenue Chamber Symphony. Previously, Bernard and PACS released recordings of a new edition of Stravinsky's The Rite of Spring alongside Bartok's Concerto For Orchestra, of which Gramophone wrote, "committed and forceful...with thrilling moments."

ABOUT THE ARTISTS
David Bernard's conducting has received critical acclaim in the US and worldwide. Noted recent performances include Stravinsky's The Rite of Spring at Lincoln Center ("transcendent...vivid....expertly choreographed", LucidCulture) and Beethoven's Ninth Symphony at Carnegie Hall ("taught and dramatic", superconductor). Bernard's critically acclaimed catalog of recordings include a premiere recording of a new edition of Stravinsky's The Rite of Spring ("committed and forceful...(with) thrilling moments", Gramophone) and a complete cycle of Beethoven Symphonies praised for its "intensity, spontaneity, propulsive rhythm, textural clarity, dynamic control, and well-judged phrasing" by Fanfare Magazine.
A multiple First Prize winner of the Orchestral Conducting Competition of The American Prize, Bernard is Music Director of the Park Avenue Chamber Symphony and the Massapequa Philharmonic Orchestra, as well as a frequent guest conductor. Bernard has worked on the Edwin F. Kalmus editorial team with Clinton F. Nieweg, retired librarian of the Philadelphia Orchestra, developing new editions of Stravinsky's The Rite of Spring and The Firebird Suite-1919 Version, which was published in 2016. In addition, he has published his own editions of Mozart's Clarinet Concerto, K. 622, and Schumann's Symphony No. 2, Op. 61.
David Bern
ard is an acclaimed orchestra builder and is sought after for his artistic leadership and innovation in community engagement, including his new InsideOut format (seating audiences inside the orchestra) which hve been acclaimed by WQXR, NY1, Newsday, ClassicalWorld and the Epoch Times.
Related Articles View More UK Regional

Stories

Shows
More Hot Stories For You