Camden People's Theatre Presents FOG EVERYWHERE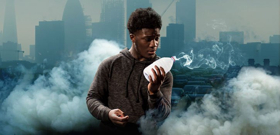 In 2017, London breached its annual limit on air pollution after just five days. In an urgent new production by Camden People's Theatre in collaboration with King's College Lung Biology Group and students from Westminster Kingsway College, the critical condition and consequences of London's dirty air are explored onstage as the headliner of CPT's Shoot the Breeze festival. Directed by CPT artistic director Brian Logan, Fog Everywhere premieres a week after the Mayor of London introduces a new toxicity tax - the 'T-charge' - for vehicles that pollute the most, part of a wide-ranging set of measures to clean up London's air.
The Mayor of London's website states: "Air pollution in London is a public health crisis and the Mayor has been forced to take hard-hitting action to tackle it head on. Currently over 9,000 Londoners die prematurely each year as a result of long-term exposure to air pollution - while 438 schools in the capital are in areas exceeding legal air quality levels".
As the UK government faces a third court case for failing to comply with clean air standards, new research has revealed the drastic effects of pollution on the lungs and on mental health, especially in children. Performed in the heart of our famously foggy capital city, this new production examines the perilous effects of the air we breathe and what we might do about it. Is being poisoned the price we pay to live in the Big Smoke? What do Dr Jekyll and Mr Hyde have to do with it? And if you're good at breathing, are you good at life?
Fog Everywhere will be presented as part of Shoot the Breeze, a fortnight of work addressing climate change and the environment. Over two weeks, some of Britain's most exciting theatre artists imagine the future, anatomise "eco-anxiety" and set about saving our beleaguered world. The programme includes six new productions as well as an evolving programme of walks, talks, workshops on air quality and more.
Director Brian Logan said, "Here at CPT, on the verge of Euston Road, one of London's most polluted thoroughfares, we see London's dirty air as a public health emergency, one that's seldom been addressed by theatre and the arts. While air pollution has recently been billowing up the news agenda, the voices of London's young people (who're more critically affected than anyone else) are too little heard when the issue is discussed. So we're delighted to be collaborating with a whipsmart team of teenagers from Westminster Kingsway on this theatrical response to the experience of growing up in a city that poisons you. We can promise you something vital and different, if not exactly a breath of fresh air."
Camden People's Theatre is a central London space dedicated year-round to supporting early-career artists - particularly those making work about issues that matter to people right now. Its mission is to refresh and strengthen the performance sector with a new generation of artists who bring a fresh perspective to contemporary concerns, and create new artistic forms with which to address them; and to present their work to a new generation of audiences.
CPT regularly stages festivals of adventurous theatre exploring contemporary social, political and cultural issues. Recent examples include: Hotbed: a Festival of Sex (2017), Whose London is it Anyway? (on the housing crisis; 2016) and annual feminism festival Calm Down, Dear (2013-18).
Learn more at www.cptheatre.co.uk,