BabyConcerts: Seasons - Autumn Comes to Sky Lounge Next Week
Performances are 12-13 November.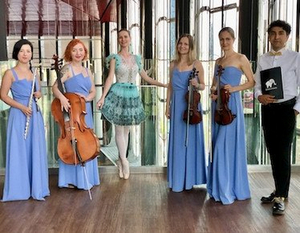 Are you ready to meet at Zorlu PSM in the new season with new content for children in the "BabyConcerts for Kids" series? The concert series that will take place at Zorlu PSM with the concept of seasons throughout the season starts with "Autumn"!
At the classical music concert, which will be held with the live performance of four musicians, little art lovers will have the opportunity to listen to the works of world-famous composers such as A.Vivaldi, WAMozart, G.Rossini, G.Bizet in an autumn fairy tale. In the program, which will feature pieces from Vivaldi's famous Four Seasons, the little ones will also get to know a real ballerina.
The "Autumn" program, which will start at 11:00, is planned for the participation of children aged 0-4, and will be open to all children of different ages without any obligation. The event will last approximately forty-five minutes. There is no seating arrangement. There are cushions and chairs.
Artists:
Didem Karakaya - Flute (Turkey)
He plays flute, piccolo and alto saxophone in many orchestras and ensembles. Being a member of the "Marsyas Flute Quartet" and "Trio ad Libitum" ensembles, Karakaya organized the "Flutistan" International Flute Meeting in 2015. He prepared a program for TRT Radio-3 for 10 years.
Alise Juska Savga - Violin (Latvia)
Educated in Amsterdam, he led Baroque orchestras across Europe and performed as a soloist in various ensembles. Savga taught early music interpretation at Jāzeps Vītols Latvian Academy of Music. He also worked with DJs and participated in shows with an electric violin.

Kasia Özdemir - Violin (Poland)
He graduated from the Poznan Academy of Music with a master's degree. He participated in music competitions and worked in a music agency in Italy. He played in various orchestras in countries such as Egypt, Tunisia, Qatar and China. Özdemir, who has a rich experience in international violin teaching, is active in both classical and popular music.

Feride Berin Öget - Cello (Turkey)
He graduated from Mimar Sinan Fine Arts University State Conservatory. She prepared her own programs on TRT Radio 3. He continues his recording and concert performances with various orchestras and ensembles as a pianist, arranger and cellist. He continues to work with the groups 'Fürûzan', 'Trio Tonne' and 'Tres Reinos', of which he is one of the founders.

Olga Yurukoglu - Ballerina (Azerbaijan)
She started her ballet studies in Baku at the age of 6, worked in Baku State Opera and Ballet, Bolshoi Theatre, Kremlin in Moscow, St. She performed at the Mariinsky Theater in St. Petersburg, AKM in Istanbul and Ankara State Opera and Ballet. Yurukoglu, who teaches at Mimar Sinan University Fine Arts Faculty, currently continues to teach in private institutions.
İbrahim Barulay - Narrator (Turkey)
After graduating from Atatürk University Performing Arts/Acting Major in 2014, she attended the Musicology Master's Program at ITU State Conservatory. Having mastered the guitar and baglama instruments, Barulay took the stage in many theater plays under Semaver Kumpanya.