Torrent Productions to Present PINOCCHIO: A Merry Magical Pantomime this Holiday Season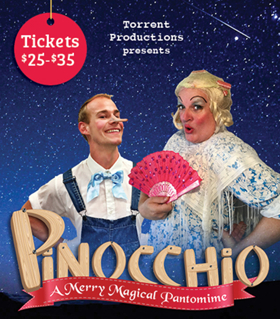 Something exciting is returning to the East End of Toronto this holiday season: Torrent Productions is thrilled to announce PINOCCHIO: A Merry Magical Pantomime premieres at the Royal Canadian Legion #001/042 (Coxwell Ave at Gerrard St East). PINOCCHIO opens on Friday, December 22 at 7pm and runs until Sunday December 31 (12 shows only). Tickets are available via 1-800-838-3006, www.brownpapertickets.com/event/2937916, or at the door.
A fantastic holiday treat for the entire family. PINOCCHIO: A Merry Magical Pantomime is packed with action and zingers with a couple of magical surprises tossed in for good measure. Come see Pinocchio, Gepetto and the gang for a fun night of laughs, sing-songs, who's behind you's and oh no they didn'ts!
Husband-and-wife team - and long-time residents of Toronto's East End -
Rob Torr
and Dora Award winning choreographer
Stephanie Graham
of Torrent Productions produce again after last year's successful run of ROBIN HOOD:A Merry Magical Pantomime in 2016. Featuring a sparkling cast of award winning musical theatre veterans with credits from across the country:
Kevin Aichele
(Million Dollar Quartet, Mamma Mia), RYAN BROWN (Shrek, Beauty and the Beast),
Greg Campbell
(Mary Poppins, Video Cabaret), STUART DOWLING (Hairspray, Spamalot); plus newcomers, CAMERON FRANCIS (Anne and Gilbert), CYNTHIA HICKS (Boys, Girls and Other Mythological Creatures),
Kelsey Verzotti
(Life After) and LUC TROTTIER (Perry Loves Mary). PINOCCHIO: A Merry Magical Pantomime is written by award winning playwright CAROLINE SMITH, Directed by
Rob Torr
, Choreography by
Stephanie Graham
. Musical Direction by NOAH MACDOUGALL. Lighting Design by JOE PAGNAN. Torrent has a history of successful productions under their belt, including 2017's ROBIN HOOD: A Merry Magical Pantomime , 2009's Hipcheck-The Musical (Patron's Pick and Best of Fringe) and their 2014 Next Stage Theatre Festival hit, Killer Business-The Musical. For more information about Torrent Productions please visit their website:
www.torrentproductions.com
More Hot Stories For You