Exclusive: Get A Look at First Rehearsal of Britta Johnson's LIFE AFTER
Britta's Johnson's LIFE AFTER hits the stage at the Berkeley Street Theatre September 23 - October 22, 2017. Broadway World was given an exclusive look at photos from the first rehearsal of the new musical.


The cast & crew of LIFE AFTER. Dahlia Katz Photography

Writer & Composer Britta Johnson (centre) with the cast & crew of LIFE AFTER. Dahlia Katz Photography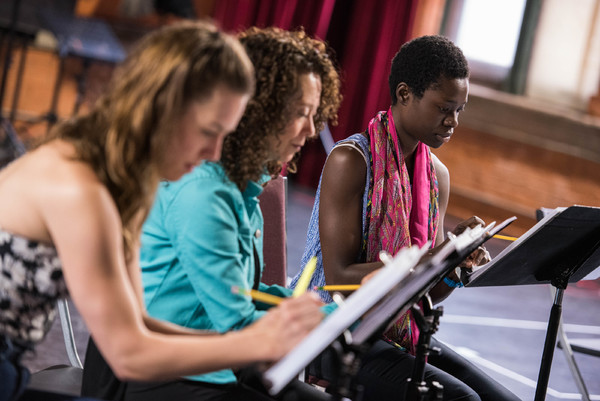 Anika Johnson, Barbara Fulton & Neema Bickersteth. Dahlia Katz Photography

Music Supervisor & orchestrator Lynne Shankel. Dahlia Katz Photography

Costume design by Ming Wong. Dahlia Katz Photography

Robert McQueen (Director) & Dan Chameroy. Dahlia Katz Photography
A funny and frank story of love, loss and vivid imagination,LIFE AFTER follows sixteen-year old Alice, left to navigate life after her father, a superstar self-help guru, dies in a car accident. The audience is plunged into Alice's overactive inner world as she tries to decipher the events that led to that fateful day.
The exciting new principal cast will be led by emerging star Ellen Denny who was recently seen on stage as the iconic Anne Shirley in the National Arts Centre presentation of Anne & Gilbert and understudy for the role of Young Victoria for Mirvish's presentation of The Audience.
Denny is joined by 2017 Toronto Theatre Critics Award-winner Dan Chameroy (Matilda), Rielle Braid (Ride The Cyclone), Tracy Michailidis (currently in the US Fun Home touring production), Kelsey Verzotti (CBC's "Over the Rainbow"), and Trish Lindström (The Wedding Party), with Johnson's sister Anika Johnson joining as the dramaturg and the production's ensemble along with Neema Bickersteth (Century Song) and Barbara Fulton (The Sound of Music).
Backstage, Robert McQueen, who directed the Fringe production, returns to the helm; longtime Musical Stage Company collaborator Reza Jacobs provides music direction; Linda Garneau choreographs, while orchestrations, arrangements and music supervision are by Lynne Shankel; set design is by Brandon Kleiman; lighting design is by Kimberley Purtell; costumes are designed by Ming Wong, and sound design is by Peter McBoyle.
---
LIFE AFTER will be on stage at the Berkeley Street Theatre, from September 23rd - October 22nd (Media night: September 28).
Performances run Tuesday, Wednesday, Thursday and Saturday at 8:00pm, Fridays at 7:00pm, and matinees on Wednesday, Saturday, and Sunday at 1:00pm (the October 14 matinee is a relaxed performance).
Tickets from $39 to $69 are available online, by phone at 416.368.3110, or in person at the Berkeley Street box office.
For details. visit www.canadianstage.com.