BWW Review: Martha Henry's Performance is Magical in the Stratford Festival's Production of THE TEMPEST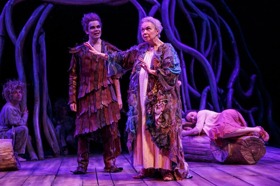 As the house lights went down in Stratford's Festival Theatre on June 10th and it became clear that director Antoni Cimolino's production of THE TEMPEST was about to begin, there were loud cheers of excitement and, quite frankly, relief from the audience-many of whom had been at the theatre for what was supposed to be Opening Night of the Festival just weeks earlier. All eyes were on the 44-season Festival veteran Martha Henry, who was already on stage. The anticipation among audience members was palpable. Everyone seemed excited that she finally had this moment that had been rudely taken away from her by a bomb threat on May 28th. And then, as is the case with all good theatre...those thoughts and emotions were swept away, as the audience became immersed in the story happening before them.
THE TEMPEST is unique from Shakespeare's other plays. It was the last one he wrote alone and it is sometimes heralded as the invention of science fiction. Sure, you can find magical characters in other Shakespeare plays, but this one takes place in a magical fantasy world, and the characters here that possess the magic do not simply use it to drive the plot, but also have their own complex, dynamic storylines. This play is also unique because it cannot be simply categorized. It has the makings of a tragic revenge play, but the protagonist's plan works every step of the way, and in the end, she chooses mercy. There is something very satisfying about this being Shakespeare's final play.
The play tells the story of Prospero (Martha Henry), the former Duke (in this production, Duchess) of Milan. She has learned some skills in sorcery and has been living on a magical island with her daughter Miranda (Mamie Zwettler. As Antonio's ship is passing by, she creates a storm, causing it to wash up on shore. She then has to decide in what way, if at all, she will exact her revenge. Also on the ship are Alonso, King of Naples (David Collins) his son Ferdinand (Sébastien Heins), as well as the court Jester Trinculo (Stephen Ouimette) and butler Stephano (Tom McCamus). Trinculo and Stephano end up on their own adventure with Caliban (Michael Blake)-half man, half creature, who plots to kill Prospero in order to take back the island. Ferdinand and Miranda quickly fall for one another, Trinculo and Stephano quickly get drunk, and Prospero wields her magic in order to ensure that everything she has planned comes to pass.
It has been widely publicized that in this production, the lead character of Prospero is a woman. I was excited to see Martha Henry in this iconic role and I was excited to see this character's story explored through the lens of a woman who had and lost power. I was not disappointed. Henry is masterful in this role. She commands the stage and has the audience hanging on to every word. Something that I had not considered ahead of time, that actually may have been my favourite thing about this casting choice, was how Prospero being a woman influenced the dynamic between Prospero and Miranda. The bond between these two characters as women, and specifically as mother and daughter is immediately different than what a father/daughter relationship would be. Not better or worse, but different. This adds layers to the character of Miranda and makes Shakespeare's text feel fresh and new.
The romance between Ferdinand and Miranda is delightful. Director Antoni Cimolino, and actors Heins and Zwettler find the perfect balance between heart-warming and sweet and awkward and funny as these characters embark on a young romance.
Part of the magic that Prospero wields is that of the spirit Ariel, whom she had previously rescued from a witch. Ariel helps Prospero with the goal of eventually gaining his freedom. André Morin is fantastic in this role. Has been impressive in other productions over the years and it is exciting to see him really get the opportunity to shine. If I'm not mistaken, Morin studied under Henry at the Birmingham Conservatory. That relationship of two people who formerly had a student/teacher relationship and are now peers, translates well into the Ariel/Prospero relationship on stage. Morin's Ariel is obedient and respectful to Prospero, but also desperate for his own freedom. He has some fun and moving moments as he comes into his own while thwarting Caliban's plot, and watching how Prospero's plan affects everyone on the island.
The element of fantasy and magic in this production is a key and designer Bretta Gerecke does incredible work here. The costumes are magnificent--especially when Roman Godessess Iris (Chick Reid), Ceres (Alexis Gordon), and Juno (Lucy Peacock) show up in colourful, flowing dresses with impressively long trains. The LED lights embedded in tree branches are used to great effect, and effects for the banshee (including Lighting Design by Michael Walton and Sound Design by Thomas Ryder Payne) are stunning. Also stunning is the music composed by Berthold Carrière.
Magic was in the air throughout the entire show. You should not miss Martha Henry's performance here. It is truly something special to behold.
THE TEMPEST continues in repertory at the Festival Theatre until October 26th.
Photo Credit: David Hou