Review: Drayton Entertainment's ROCKY: THE MUSICAL Is the Heavyweight Champion of Grand Bend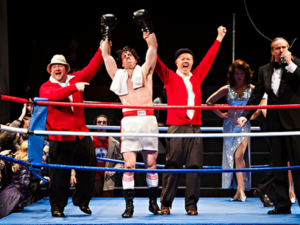 The Italian Stallion himself is currently tearing up the stage at Drayton Entertainment's Huron Country Playhouse in Grand Bend. ROCKY: THE MUSICAL premiered last week and audiences appear to be loving it. Based on the classic movie, with Book by Thomas Meehan and Sylvester Stallone, Music by Stephen Flaherty and Lyrics by Lynn Ahren; this Alex Mustakas directed beast of a show is sure to be thoroughly entertaining for the entire family.
Alex Kelly portrays ultimate underdog Rocky Balboa-a rough around the edges, simple kind of guy with a heart of gold who loves boxing and who always gets back up. He finds himself thrust into the spotlight when he is picked to be an easy match for Apollo Creed's (Christopher James) attempt at keeping his place as heavyweight world champion. Rocky is such a well-known character, and Sylvester Stallone's performance is so iconic, that it is hard to imagine that another actor can take on such a task. The balance between making the character one's own and paying homage to what Sylvester Stallone has done with the role in the past, is seemingly impossible and yet Kelly utterly nails it. The character of Rocky is such an authentic guy that it just wouldn't work if it felt like Kelly was doing an impression. Instead, he brings the heart and determination through his own new portrayal while still keeping the character recognizable. He's got a great singing voice, his chemistry with Jayme Armstrong's Adrian is electric, and he totally sells the fight sequences-right down to the flying sweat (did they seriously manage to choreograph the sweat?!?!?!?!)
Armstrong, a Drayton Entertainment fave, is great as the initially meek Adrian. Her blossoming love for Rocky and her transformative strength when she stands up to her brother Paulie (the also excellent Aaron Walpole) are wonderful to watch. Another standout performance is Jeremy Carver-James as Creed's Manager. This guy is clearly a smooth-as-silk salesman, and what's great is that Carver-James demonstrates that with his smooth-as-silk voice and dance moves.
You probably won't wake up the next day humming any of the new tunes from this musical, but the music is solid and the vocal performances are grand. You will however, undoubtedly find yourself singing Eye of The Tiger for the next week...and it is earned. Like Rocky himself, this musical has a whole lot of heart.
What most audiences will walk away talking about is the stunning fight sequence at the end which also allows for an immersive experience for some lucky audience members. The boxing ring is re-created to perfection, the fight direction by Joe Bostick, and the fight performances by Alex Kelly and Christopher James are gritty and great. Even if you don't have an affinity for boxing, you will still find the art of this choreography impressive.
It's rare that I have the opportunity to see a musical production that I am as unfamiliar with as I was with this one. It was a fun one to discover with the exact right amount of nostalgia for the movie. A true spectacle for the family to enjoy!
ROCKY: THE MUSICAL continues at the Huron Country Playhouse until August 3rd.
Photo credit: Aaron Walpole, Alex Kelly, Lee MacDougall and Company in Rocky: The Musical, Drayton Entertainment, 2019 Season. Director Alex Mustakas, Choreographer Phil Nero, Music Director Michael Lerner, Set Designer Brian Dudkiewicz, Costume Designer Adrienne Pink, Lighting Designer Kevin Fraser, Fight Director Joe Bostick. Photographer: Hilary Gauld Camilleri.