USU and Flying House Assembly present A DEAL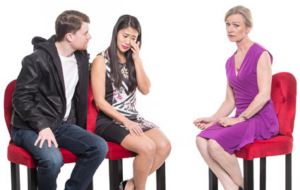 A DEAL by Zhu Yi, developed as part of "New Text - New Stage", an Ibsen International project for the development of new writing.
After its excerpt was staged at Hålogaland Teater, Norway, the play made its controversial debut off-Broadway in 2017,
defying the odds to win international acclaim - and multiple awards. Its subsequent Mandarin version was at the Jiangnan Theatre, China.
A young actress from China brands herself as an orphan and human rights victim to land a lead role on Broadway, meanwhile her parents smuggle one million dollars in cash from Shanghai to buy her an apartment in Manhattan. A DEAL is a dark comedy that confronts the issues faced by immigrants as they seek to find their place in a new country; it confronts the clash between the values of Chinese parents and their new world offspring.
Directed by Chinese-born director Shiya Lu for her fledgling Flying House Assembly theatre company (with support from the University of Sydney), it stars Abigail Coffey, Paul Chambers, Edric Hong, Suzanne James, Simon Lee, Katherine Nheu, Sally Williams, Susan Young and Shi-Kai Zhang. Design by Victor Kalka, sound design by Luna Y. Pan, stage manager Alex Liang, production crew Amy Sole, Simone Wang and Oliver Walton.
Zhu Yi is a New York-based playwright and screenwriter, born and raised in Shanghai, China. She received the First Prize at 2015 World Sinophone Drama Competition,
and Shanghai Drama Valley's 2015 Outstanding Playwright of the Year Award. She is a 2012-2013 Emerging Artist Fellow at New York Theatre Workshop, Youngblood alumnus at Ensemble Studio Theatre, a member of Ma-Yi Writers' Lab and The Royal Court Theatre International Playwrights Programme.
SHIYA LU is a Sydney-based theatre producer and director. Since withdrawing from a Mathematics degree from the University of Oxford, Shiya has worked in the arts around Europe and Asia. A recent AFTT (Academy of Film, Theatre and Television) graduate,
Shiya is currently studying Theatre Studies and Visual Arts at the University of Sydney. She has collaborated with artists all from backgrounds including Shaun Parker and at the Ibsen International, Helsinki, Exit, Shanghai International and Edinburgh International festivals. Shiya is a member of the European Festival Association's Festival Academy and writes various English and Chinese language publications. The season also includes a workshop on dramaturgy and cross-cultural storytelling
on Wed 21 August 2-6pm in Sydney University's Woolley Building (limited spots, by application only). Plus a public forum on Contemporary Chinese Theatre and Migration on Tue 20 August 5-9pm in Sydney University's Wallace Theatre. Bookings and more information:
www.flyinghouse.art
Flying House Assembly is a Sydney-based intercultural artist collective dedicated to performing arts and education programs.