Two Australian Premieres and More Slated for New Theatre's 2018 Season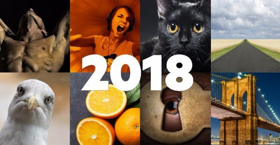 Today 27 November, New Theatre launches its 2018 Season.
We're presenting eight plays between February and December: an eclectic, exciting and entertaining mix, showcasing some of the best local and international writing, ranging from recent hits to contemporary classics.
You'll meet sexual adventurers, angst-ridden adolescents, deranged Irishmen, little black cats, drug-addled matriarchs, squabbling siblings, idiot gulls, lecherous princes, feisty actresses, cross-dressing coppers, blackmailing secretaries and wannabe comics.
We're thrilled to include two Australian premieres, one Sydney premiere, winners of Pulitzer, Tony and Olivier awards, plus the return of an award-winning contemporary Australian drama.
We kick off with the Australia premiere of Joe DiPietro's Fucking Men for the 40th Sydney Gay & Lesbian Mardi Gras, followed by a revival of Silent Disco by award-winning Australian writer Lachlan Philpott. Then comes a slew of international plays from the UK (The Lieutentant of Inishmore by Martin McDonagh and the Australian premiere of Nell Gwynn by Jessica Swayle, winner of the Olivier Award for Best New Comedy in 2016) and America (August: Osage County by Tracy Letts and the Sydney premiere of Stupid Fucking Bird, Aaron Posner's irreverent update of Chekhov's The Seagull ); and we round off the year with two very different classic comedies: What the Butler Saw by Joe Orton, and Neil Simon's Broadway Bound.
In 2018, we'll continue to fulfill our mission statement to give both emerging and established artists - actors, directors, designers and technical crew - the chance to display their work, stretch their skills and have their talents seen and appreciated.
Our directorial team for 2017 includes five women: Artistic Director Louise Fisher, Deborah Mulhall, Deborah Jones, Rosane McNamara, and Danielle Maas, making her New Theatre main-stage debut; and we're welcoming back Johann Walraven, who directed the acclaimed production of Consensual for us earlier this year. Recent NIDA MFA in Directing graduate Warwick Doddrell will make his New Theatre debut, and Mark Nagle takes on a main-stage production after directing for us during Sydney Fringe Festival last year.
Our Play Assessors panel of six read and report on around 100 plays per year, and advise our Artistic Director and Artistic Associate on those which might be suitable for production at New Theatre. Then it's a matter of creating a balance, securing rights (and unfortunately, that can mean red-hot favourites have to be dropped due to unavailability), and locking in directors, all of which takes months.
But it's worth it for the end result. Says Artistic Director, Louise Fischer, of the 2018 offering: "These are plays that will make you think, plays that will make you blush, plays that will make your belly ache from laughing, and plays that will give you a warm fuzzy glow."
---
6 February - 10 March
FUCKING MEN
By Joe DiPietro
What do you desire? Monogamous love or sexual freedom? Joe DiPietro's sharp and funny updating of Schnitzler's La Ronde follows ten guys looking for the answer in a chain of hook-ups.
Director: Mark Nagle
Australian premiere / Mardi Gras
20 March - 14 April
SILENT DISCO
By Lachlan Philpott
Two Sydney teens - a white girl and an indigenous boy - in love and trying to survive in a world of absent mothers, missing fathers, Red Bull and iPods. Winner: Griffin Award 2009 and AWGIE Award for Stage 2012
Director: Johann Walraven
24 April - 26 May
THE LIEUTENANT OF INISHMORE
By Martin McDonagh
A brazen and unapologetically blood-curdling farce combining comedy and violence in a darkly funny portrait of rivalries among Irish terrorists for whom killing, torturing and bombing are just day-jobs.
Director: Deborah Mulhall
5 June - 7 July
AUGUST: OSAGE COUNTY
By Tracy Letts
In an isolated Oklahoma farmhouse, a drug-addled matriarch and a set of squabbling sisters battle it out in this tragi-comic study of a family in chaos. Winner: 2008 Tony Award for Best New Play, 2008 Pulitzer Prize for Drama.
Director: Louise Fischer
11 - 28 July
STUPID FUCKING BIRD
By Aaron Posner
This irreverent and contemporary reboot of Chekhov's The Seagull pitches young against old, and past against present, to create a hilarious and moving mediation on love, life and art.
Director: Warwick Dodrell
Sydney premiere
7 August - 8 September
Nell Gwynn
By Jessica Swayle
A bawdy, exhilarating romp of a play, charting the rise of young Nell Gwynn, from her beginnings as an orange seller in the Restoration theatres to mistress of Charles II and the most acclaimed actress of her time. Winner: 2016 Olivier Award for Best New Comedy
Director: Deborah Jones
Australian premiere
2 October - 3 November
WHAT THE BUTLER SAW
By Joe Orton
Hysterically funny, perverse, naughty, sexually-charged, and full of triple-entendres, Orton's last play is a savage indictment of 'respectability', a caustic look at the abuse of power and a deliciously mischievous farce.
Director: Danielle Maas
13 November - 15 December
BROADWAY BOUND
By Neil Simon
The last play in Simon's quasi-autobiographical trilogy (preceded by Brighton Beach Memoirs and Biloxi Blues) sees young Eugene Jerome trying to make it as a comedy writer and escape the mundane world of his Brooklyn Jewish home, his philandering father and long-suffering mother. Director: Rosane McNamara
Full details online at www.newtheatre.org.au.
Related Articles View More Australia - Sydney

Stories

Shows
More Hot Stories For You