KINKY BOOTS Struts Into Rockdale This September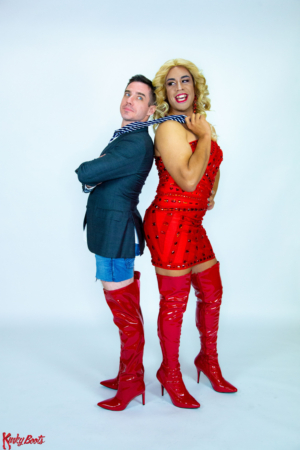 Tickets are now on sale to Rockdale Musical Society's production of KINKY BOOTS . This huge-hearted, high-heeled hit will be playing at Rockdale Town Hall from 6 September 2019 for 8 performances only and rounds out their incredibly successful 80th year celebrations.
With a book by Broadway legend and four-time Tony Award-winner Harvey Fierstein and songs by Grammy and Tony winning pop icon Cyndi Lauper, this joyous musical celebration is about the friendships we discover, and the belief that you can change the world when you change your mind.
Boasting the credentials of securing the NSW Amateur Premiere, Rockdale Musical Society has assembled a stellar creative team comprising of husband and wife directing team Carina and Rodney Herbert (Co-Directors), Tracey Blankenship (Choreographer) while Anthony Cutrupi and James McAtamney (Co-Musical Directors) while the cast comprises of 40 of Sydney's finest performers.
Marcus James Hurley and William Manukia portray the principal characters Lola and Charlie - the fabulous drag performer and the young man he inspires to revamp the family shoe business. Liana Hansen plays Charlie's domineering fiancée Nicola while Kate Xouris plays Lauren, the goofy factory worker who rather fancies Charlie. Playing the antagonistic and homophobic factory worker is Craig Winterburn while Neville Bereyne plays the role of factory worker George. Other featured cast members include Jenny Morrison as Pat, Julie Ryan as Trish, Tom Verschuer as Harry, Peter Adam as Mr Price, James Musumeci as the Referee and Mario Nowfal as Richard Bailey.
The child roles of Young Charlie and Young Simon are being played by Luke Antcliffe and Luca Gigante.
The male performers donning their heels as Lola's Angels are Tim Wotherspoon, Tim Wright, Barry Backhouse, Anthony Halpin, Vincent Holdom, Nathan Maynard and Joseph Nalty.
Completing the cast of 40 performers are Pamela Diaz, Samantha Germain, Venessa Hutinec, Nicole Shiels, Madison Kennedy, Ellen Fitzgerald, Ryan Bonacina, Kate O'Sullivan, Stephanie Boccanfuso, James Carraro, Sophie McGregor, Natasha Tsafis, Katie Vials, Olivia Harvey, Caitlin Whiter, Madeline Wilson, Rula Papadopoulos and Ana Lawford.
Co-Director Carina Herbert said KINKY BOOTS is a big-hearted musical that is a beautiful story of love and friendship, Its themes such as acceptance of one another, loving who you are and celebrating your individual identity are important positive messages that we are looking forward to sharing with our audiences. What better show to close out our 80th anniversary year!"
Inspired by true events, KINKY BOOTS follows the story of Charlie Price who has reluctantly inherited his father's shoe factory, which is on the verge of bankruptcy. Trying to live up to his father's legacy and save his family business, help arrives in the unlikely but spectacular form of Lola, a fabulous performer in need of some sturdy new stilettos. As they work to turn the factory around, this unlikely pair finds that they have more in common than they ever dreamed possible.
Bookings: http://www.rockdalemusicalsociety.com/.
More Hot Stories For You