Darlinghurst Theatre Co Announces Unexpected Christmas Comedy SILENT NIGHT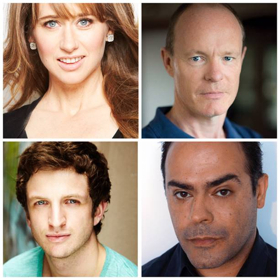 Ho no, Christmas is coming! But before you groan at the thought of 10km queues at the Fish Markets, negotiating your way through stacks of Coles Christmas puddings or that one spirited colleague excited for Secret Santa, stay with us, Silent Night is not what you expect.
In The Dapto Chaser Mary Rachel Brown took us to the dogs, in Silent Night she takes us to hell in this hilarious take-no-prisoners comedy for anyone who feels a mix of terror and affection about spending Christmas with family.
This new Australian work is a comic romp, exposing the underbelly of Christmas. It explores over consumerism, over eating, over drinking and the danger of unexamined religious beliefs lurking underneath that well hung Christmas tree.
Normally Christmas is a time for giving, but for the Lickfold family it's a time for winning! Every year for the past 12 years the Lickfolds have entered the ARCE (The Australian Regional Christmas Excellence Awards) a Christmas lights competition that is bristling with misguided community spirit and over participation. This year, the Lickfolds are determined to win the ARCE, at any cost, but their path to electric glory is thwarted by an unexpected and unwanted Christmas guest.
Directed by Australian comedy royalty, Glynn Nicholas (The Glynn Nicholas Show, The Dapto Chaser, The Big Gig) whose own comedic prowess illuminates the play's innovative physical vocabulary.
Cast with some of Australia's finest comic actors including, Michael Denkha (Here Come The Habibs!), Amanda Bishop (At Home With Julia),
Richard Sydenham (The Dapto Chaser) and Aaron Glenane (Drift),
Silent Night is the perfect antidote to those Christmas blues.
Darlinghurst Theatre Company produces and presents the world premiere of this new Australian work.
Silent Night was developed with the support of Playwriting Australia at the National Script Workshop 2015.
PLAYWRIGHT: MARY Rachel Brown
"If you are a Christmas hater, this play has your back, it understands your pain.
If you are a Christmas lover, come and watch those Christmas haters get their knickers in a knot. Everyone wins with this Christmas cracker."
- Mary Rachel Brown
DIRECTOR: GLYNN NICHOLAS
"I feel lucky and better looking directing Silent Night. We have a wonderful, albeit slightly mad script written by a very funny (and highly underrated) Mary Rachel Brown and the cast all have a very good understanding of the delicate intricacies of how comedy works. Simple things like facing front, hands out of pockets and not mumbling have not been an issue." - Glynn Nicholas
CAST
Amanda Bishop (At Home With Julia)
plays Anne Lickfold - The Mother
A competitive helicopter parent, whose favourite pass time is diagnosing her son with
fictitious syndromes. Anne always has to be in control, it's a hard way to live and has resulted in her becoming addicted to sniffing craft glues, which she also uses in her endless Christmas crafting.
Richard Sydenham (The Dapto Chaser)
plays Bill Lickfold - The Father
A deeply insecure doomsday prepper, with a hair-trigger temper.
Bill is a poor man's Baer Grill's, a self-ordained survival expert.
Bill's favourite saying is "Just do it", closely followed by "Why did you do it that way?"
Aaron Glenane (Drift)
plays Rodney Lickfold - The Only Child
A highly intellectual low achiever. A chemist cosmetics shoplifter, Satanist and self-taught taxidermist.Aesthetic wise think a cross between Marylyn Manson and Justin Bieber. Intellect, think Julian Assange (in a bad mood).
Michael Denkha (Here Come The Habibs!)
plays - The Uninvited Guest
Hobbies include barbeques, casual sex and day dreaming about world domination.
(You'll have to watch to find out more)
SEASON
Previews: 10 November - 12 November
Season: 15 November - 10 December
PERFORMANCE TIMES
Tues - Sat: 7.30pm
Sun: 5pm
Saturday Matinees: 2 December & 9 December at 3pm
Duration: 90 minutes
TICKETS AND INFORMATION
www.darlinghursttheatre.com / 02 8356 9987
TICKET PRICES
Standard $54, Concession $44, Groups (8+) $44, Industry* $38,
Under 30* $38, Previews $38 *Available Tue, Wed & Thu Only
SILENT NIGHT CREATIVE TEAM
Playwright: Mary
Rachel Brown
Director: Glynn Nicholas
Production Designer:
Hugh O'Connor
Lighting Designer:
Richard White
house
Sound Designer: Ross Johnson
Stage Manager: Isabella Kerdijk
Produced by Darlinghurst Theatre Company
ABOUT DARLINGHURST THEATRE COMPANY
Darlinghurst Theatre Company is a Creative Producer that produces professional artists' theatre production concepts- from concept to major production. Each year we undertake a public submission process and call out to professional artists for production proposals - from this we curate and develop our annual subscription season performed at our 200 seat theatre the Eternity Playhouse in Darlinghurst. We work closely and collaboratively with artists and we fund the production's entire budget including professional artist wages and creative fees. We are the only company and theatre in Australia working under an independent/curated theatre model to pay MEAA award wages and industry rates to all artists in its program. We work with established and emerging artists who have a track record of creating exceptional work. We undertake all aspects of producing the work including: realising designs, production management, casting, marketing, presentation and sales.
OUR VISION: Through our collaboration with artists our company explores the diversity and complexity of our lives through theatre. We seek out work and provocations that explore, discuss and engage with contemporary Australia and topical issues. We value freedom of expression, the discussion of ideas, different points of view and dialogue. It is this 'democracy of ideas' that drives our company and compels us to seek out and engage with many artists. We place artists' and their visions at the helm and we strive to create the strongest connection possible between audience and concept.
Related Articles View More Australia - Sydney

Stories

Shows
More Hot Stories For You