BWW REVIEW: UNQUALIFIED Is A Hilarious And Heartwarming Tale Of Comfort Zones and Coping As Two Women Find Themselves Wanting Work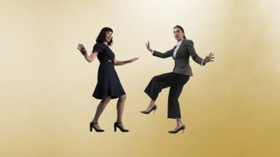 Wednesday 27th June 2018, 8:15pm Ensemble Theatre
Genevieve Hegney and Catherine Moore explore the challenges of female friendship and finding a career in their fabulously funny new Australian play UNQUALIFIED. Directed by Janine Watson, this 90 minute two hander is bought to life with simplicity and creativity by writer/performers Hegney and Moore.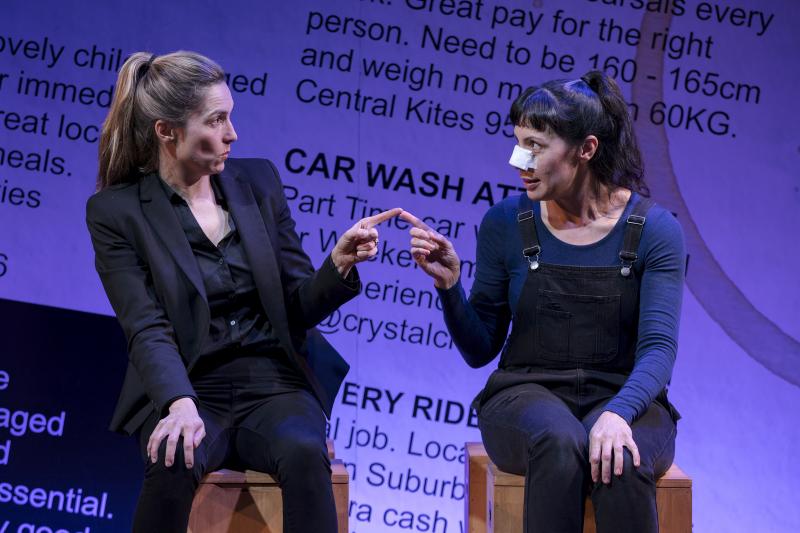 The premise of the work is that two, forty-something women meet purely by accident at a Centerlink office. The kind and perpetually optimistic Felicity Bacon (Catherine Moore) is the only daughter of a butcher desperate to find another career, not wanting to take over the butcher's shop when her father decides to retire. The brash and astute Joanne Truebody (Genevieve Hegney) gave up on any of her own post high school ambitions to marry her high school sweetheart only to have him run off with a bimbo once he shot to television fame so must now fend for herself with few skills aside from running his real estate agency. Thrown together the two fall into a plan to set up their own temporary employment agency but the jobs start rolling in with no staff to fill the positions, the two women have to adapt quickly, bluffing their way through their total unsuitability to any of the jobs required.
Given UNQUALIFIED is being presented in repertory with MARJORIE PRIME, Simon Greer's set serves both stories but with modifications to reinforce UNQUALIFIED's plot of searching for work with large newsprint of job advertisements lining the walls and hiding the stone feature wall. Greer allows the mime driven physicality of UNQUALIFIED to shine with minimal wooden props of a series of boxes and a makeshift wooden laptop. Minor additions to Joanne and Felicity's toned casual costuming allows changes in place and profession to occur with ease whilst still expressing the women's underlying nature, from the easy going and somewhat dorky Felicity in bib and brace overalls and Joanne in more current skinny jeans and black button down shirt.
The work moves at a steady pace with a good balance of clever text and fabulous physical humour and mime. The intimate space of the Ensemble theatre ensures that the nuanced expressions are easily captured ensuring that the audience is emotionally invested in the work to the point that one moment was met with a gasp and quite audible exclamation from an audience member that heightened the humour and horror of the moment. Scene changes in partial darkness are covered by an inspired choice of the ultimate unqualified opera 'singer' Florence Foster Jenkins to reinforce the notion that talent and skill, or lack thereof, should not be a deterrent to pursuing a dream.
It is wonderful to see female stories on stage, written, performed and directed by women. Whilst having a somewhat absurd plot, the program notes indicate that UNQUALIFIED was inspired by real events that Hegney and Moore experienced between acting gigs and it is clear that these two have a close friendship. They have crafted two intricate characters to remind the audience not to take people at face value and that even though someone can seem like a sheltered daddy's girl, they can be quite worldly and whilst another may seem to have it all, they really don't. They comment on contemporary society, popular culture and modern politics whilst showing relatable moments of dealing with the stress of finding work when ostensibly unqualified to do more than their current professions which are no longer an option for them. They navigate the challenges of friendships, relationships and determining who to please and prioritise, sometimes not realising that it should be themselves over others.
UNQUALIFIED is a delightful evening of roar out loud laughter filled with relatable moments and disbelief at the inevitable mishaps that happen as the two remain committed to make their new enterprise work. Brilliant for all audiences but particularly great for a girls night out and anyone looking for a heart-warming distraction with an engaging and important underlying message of how to take control of your life, have faith in yourself and others and accept people without prejudice.
Ensemble Theatre
22 June = 21 July 2018
Photos: Phil Erbacher
Related Articles View More Australia - Sydney

Stories

Shows
I am an International Flight Attendant with a love of Cabaret, Musical Theatre, and Live Performing Arts in general. I try to see as many (read more...)