Click Here to Visit the College Center

Blogs are the opinions of the authors and do not necessarily reflect the opinions of BroadwayWorld. BroadwayWorld believes in providing a platform for open and constructive conversation.

Student Blog: A 2020 Senior's 2021 Story
Nostalgia and Missed Experiences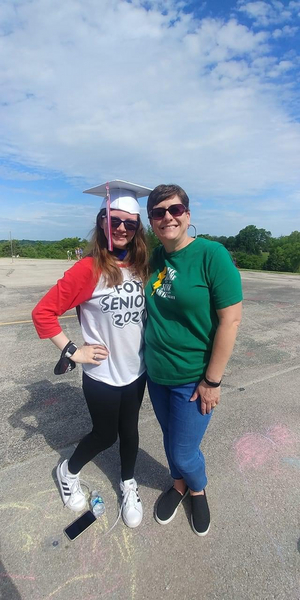 March 17, 2020: my unofficial official last day of senior year. "What comes next?"
The next couple months were filled with Zoom calls, video assignments, and the like, and soon enough, I was done with high school.
I didn't get to graduate until late July due to restrictions, after the date being pushed back twice from its original date in late May.
I started college last fall, and I saw on Instagram, Snapchat, and Facebook that some friends from cheer that were now seniors were getting all these things I didn't even get for my senior nights.
Now, I don't want to come off like I don't feel bad for their senior year, or lack thereof, but seeing them experience these things...made me yearn for mine back.
They got to go in-person for the rest of the year, and even had their senior spirit week on their last week of classes, which I wasn't able to get.
They also got to go back to their elementary schools to walk through, which I was allowed to do as well, as shown in this picture with my kindergarten teacher.
They even got to graduate on time, which I wish I had gotten to do.
The past year and four months hasn't been easy in any sense. I've longed for the impossible, for the clock to turn back and for my senior year to be redeemed.
As they say, though, the past is in the past. Congrats to this year's graduating class, and here's also to last year's, because I'm with you...this has been rough, but we made it through anyways.