BWW Review: Music Provides the Highlights for THE BODYGUARD at the Fox Theatre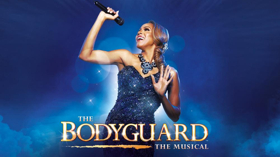 There have been some truly successful musicals that have been adapted from films, and there have been more than a few that just didn't work. Often, what plays well on screen simply doesn't translate to the stage, no matter how much technical wizardry you utilize. THE BODYGUARD isn't the worst musical taken from a movie that I've ever seen, there are certainly plenty of other contenders for that title, but it seems slightly misguided to me. It isn't a jukebox musical or a revue, and it's not authorized by the estate of Whitney Houston, although its score is made up of selections from the movie along with additional songs from Houston's catalog. But, maybe that would have been a better direction to take since the show changes so many key elements from the film (screenplay by Lawrence Kasdan, disappointing adaptation by recent Academy Award winner Alexander Dinelaris) that only act to weaken the story, not improve upon it. Fans of the flick, and particularly of Houston, will probably enjoy it for the musical performances more than anything, and in that respect I can see the appeal. Others may find it a bit flat and forced, a least in regards to the dramatic aspects.
Parts of the movie remain intact, but the book jettisons some of the more interesting aspects of the script so that a love triangle can be created between Rachel Marron, her sister Nicki, and the stalwart bodyguard, Frank Farmer. He's been asked to safeguard Rachel and her family because a stalker is getting progressively closer to her. It quickly goes from Rachel not caring for his strict rules to her falling hard for him after he staves off an attacker at a club date. Too quickly. There are a couple of times when I wandered why she didn't fire Frank due to incompetence, because the stalker, however capable his military training was, easily invades her supposedly secure home, interacts with her son, and later commits murder at the cabin Frank's taken the family away to for safety. Of course, the stalker is a combined character from the movie, also taking on the actions of the killer for hire that appeared in the original. An appearance at the Academy Awards by Rachel gives him his final shot And, I don't want to spoil it, but like the movie, Frank and Rachel don't wind up together. But, that's OK, because the entire cast returns for a rousing rendition of "I Wanna Dance with Somebody."
Deborah Cox, who's a powerhouse talent in her own right, pulls the role of Rachel off with absolute ease. She's an incredibly gifted singer who brings something of her own to Houston's work, and that serves the show particularly well. But she's better than this material. Judson Mills is also well suited to be Frank Farmer. He's a genuinely likable guy playing a part that provides him with plenty of opportunities for demonstrations of good humor and sarcasm, especially in regards to his singing, or purposeful lack thereof. Jasmin Richardson is a gifted vocalist and does a splendid job with the limited tunes she gets as Nicki. Her run through "Saving All My Love" is gorgeous. Sebastian Maynard-Palmer (or Kevelin B. Jones III depending on what night you're attending) is cute as a button as Rachel's son Fletcher, and shines early during a rehearsal of "I Wanna Dance with Somebody." Jorge Paniagua is properly menacing in a red hoodie and jacket as The Stalker, aiming a laser pointer on a prop gun over a suddenly uncomfortable audience at one point, or maybe it was just me who found that moment really disturbing. The supporting cast is fairly solid, but the book doesn't give anyone but the main three characters anything of real value or substance. Though I will give a shout out to Megan Elyse Fulmer, Dequina Moore, and Naomi Walley as the College Girls, who do a fun and over the top tune at a karaoke bar Frank stupidly takes Rachel to.
Director Thea Sharrock tries to have it both ways; she wants the show to have the dark cinematic bent that the script demands, and she wants all the glitz, down to the glitter cannons, that she can shoehorn in as well. Granted, that's how the script plays, but it all just rings hollow. There was a technical pause in the action the night I attended, and that certainly didn't help. This show relies on a number of key technical elements: Mark Henderson's concert lighting, and stark atmospherics, Duncan McLean's moody video projections (whose pictures of Frank show him with a light beard, while Mr. Mills is clean shaven throughout), Karen Bruce's throwback choreography, and Tim Hatley's overdone scenic design that's trying way too hard to make this musical look as much like a movie as it possibly can. And, really that's the problem. It certainly isn't the music, which musical director Matthew Smedal handles in fine fashion, even though some of the songs seem out of place.
THE BODYGUARD continues through October 15, 2017 at the Fox Theatre. Houston fans will encounter a trove of great songs and terrific vocal performances.
Related Articles View More St. Louis

Stories

Shows
Chris has been active in the local theatre scene for over 30 years and reviewing local theatre for over 11. In addition to his acting (read more...)