BWW Review: A CHRISTMAS STORY Relishes and Reveres Holidays of Old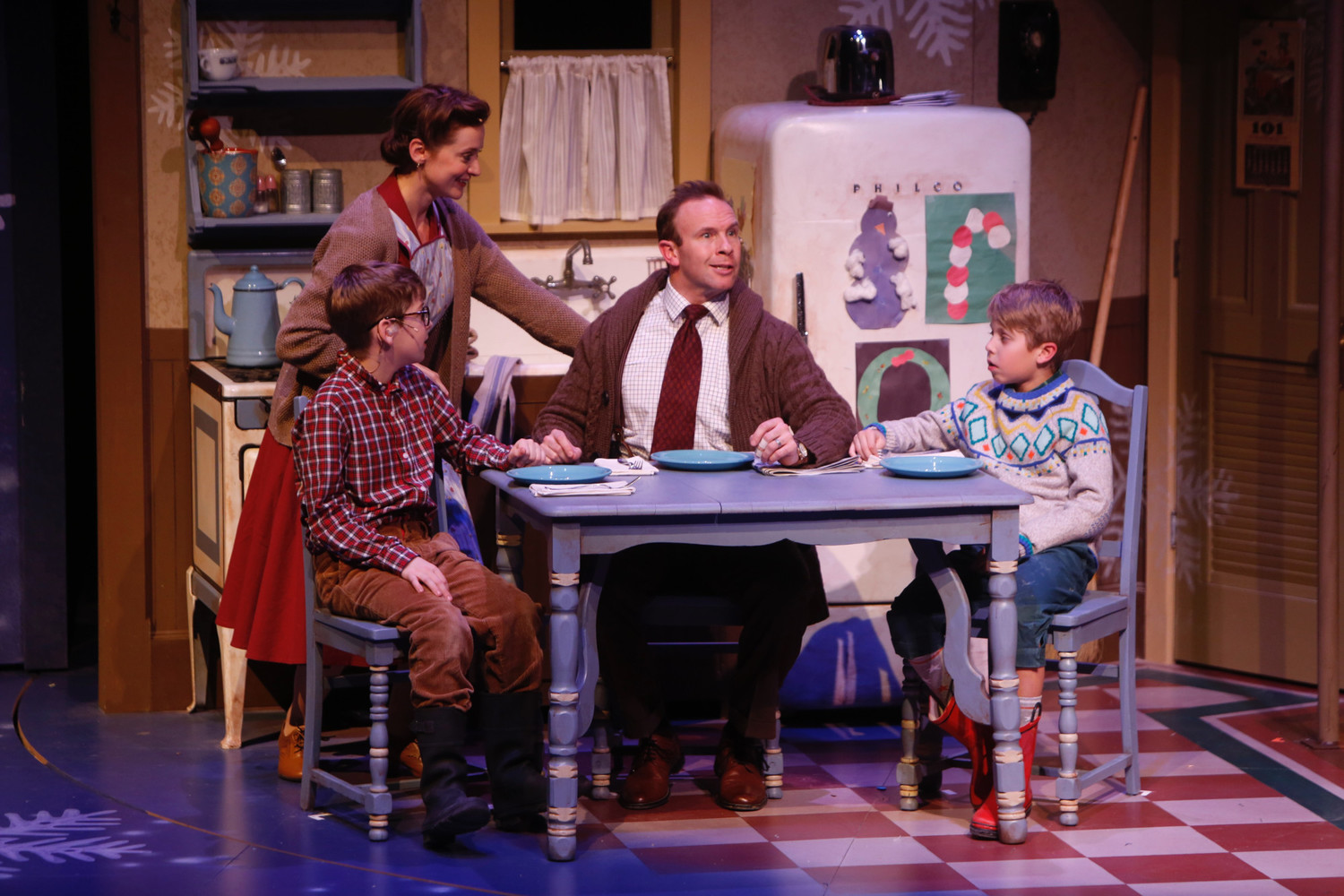 Whether you're 7 or 107, Philip Grecian's adaptation of the 1983 cult classic film, A Christmas Story, will likely tickle your funny bone and get you reminiscing about holidays past. You'll be greeted at your seat by evocative Christmas carols and a stage flanked with decked-out trees and shiny, wrapped gifts as Ralphie's quest to obtain a "legendary official Red Ryder 200-shot Carbine Action Range Model Air Rifle with a compass and this thing which tells time built right into the stock" begins.
The year is 1940 and Ralphie Parker (Charlie Mathis) lives in a working-class two-story home on Cleveland Street in Holman, Indiana, where holiday hijinks abound and wishes really might come true. Adult Ralph (Ted Deasy) narrates the story, sometimes from the audience, dripping with nostalgia as he reminisces about the best Christmas of his entire childhood. Ralph performs alongside young Ralphie, who is firmly planted in 1940. Both Mathis and Deasy move in and out of scenes together and separately, charming and amusing again and again with their expressive responses to the mischief and magic of this particular Christmas season. Portraying their old man is Brad Fraizer, who imbues the show with hilarious physical comedy, as well as several crafty swear-like words. "I'll be a dog-nabbed cinnamon dish!" and "Goat dandruff!" were favorites among the many. Laurel Casillo plays Mother with a charming likability, particularly sharp and astute with regard to the needs of her family. And Spencer Slavik makes an appropriately babyish kid brother Randy who balances Ralphie's maturing wit. Rounding out the cast are Ralphie's buddies Rhadi Smith and Dan Wolfe as Schwartz and Flick respectively, Gigi Koster and Ana McAlister as classmates Helen and Esther Jane, Tanner Gilbertson as the feared Scut Farkas, and Jo Twiss as their fabulous teacher, Miss Shields.
First produced at The Rep in 2009, this new production is directed by Seth Gordon, who not only assisted with the development of the script, but has also directed this show at seven other venues. Gordon, The Rep's Associate Artistic Director, clearly knows how to amplify the enchantment in its comedic genius, yielding wonderful performances from the adults and kids alike. The wonder of childhood is played out so believably here, and several dream sequences are captured adeptly in short vignettes that add depth, texture, and a just-right touch of hilarious melodrama to Ralphie's narrative.
The adaptation works better than expected onstage and includes all the moments you revere from the film - furnace clinkers, Little Orphan Annie decoder pins, major awards, triple dog dares, Lifebouy soap, bunny slippers, and of course its most famous line, "You'll shoot your eye out!" It also includes a lot more meatloaf and cabbage, plus a few other new and fun surprises inspired by the writings of raconteur Jean Shepherd, which mesh seamlessly into our beloved tale.
Featuring fantastic scenic design by Michael Ganio, who maximizes the use of The Rep's turntable stage with big bold sets, one scene includes a rendition of Higbee's department store that earns a round of enthusiastic applause on first appearance. Also worth noticing are the floating snowflakes that seem to shimmer and fall magically over the family's rooftop. Rusty Wandall's sound design brings giggles especially for its Bumpus hounds; Peter E. Sargent's lighting features strings of outdoor lights that, when illuminated, earn their requisite ooos and ahhs; and David Kay Mickelsen's costumes are perfectly authentic, including Randy's iconic arm-popping snowsuit.
A Christmas Story is a brilliant idea for an outing, and you can see it all this month at The Rep. If you're looking for an experiential Christmas gift, this is a marvelous choice. In fact, buy tickets for the entire family. You'll each have something wonderful to add to your post-show conversation. For tickets and/or more information, visit http://www.repstl.org/events/detail/a-christmas-story/.
Related Articles View More St. Louis

Stories

Shows