Review Roundup: IN THE HEIGHTS at South Bend Civic Theatre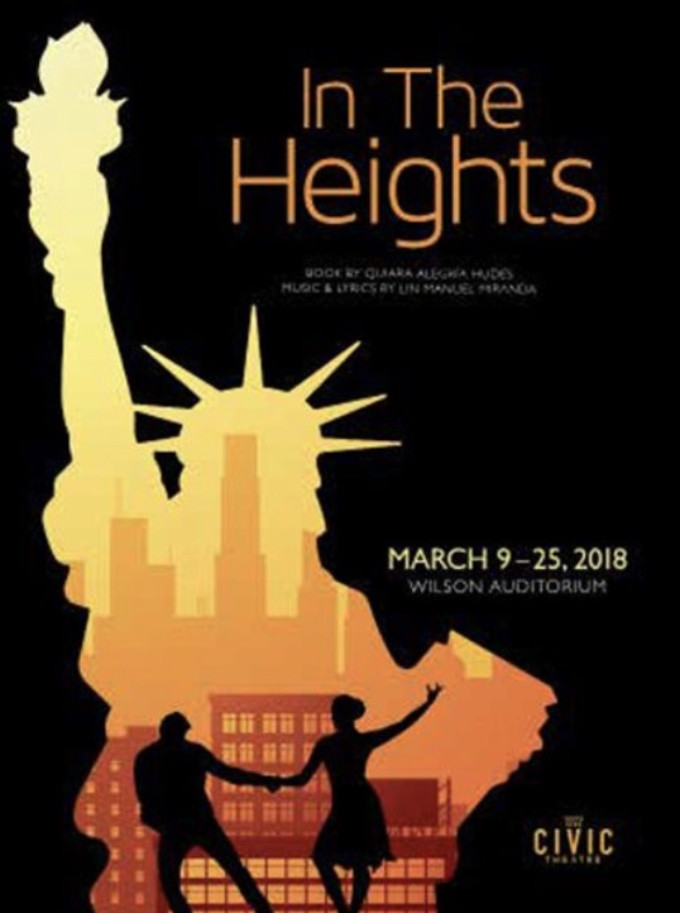 The reviews are in for South Bend Civic Theatre's production of IN THE HEIGHTS! With music and lyrics by Lin-Manuel Miranda and a book by Quiara Alegría Hudes, IN THE HEIGHTS won four Tony awards when it premiered on Broadway in 2008. South Bend Civic Theatre's production opened on March 9th, and will continue to run through March 25th.
IN THE HEIGHTS features the talents of Leah Isabel Tirado (Abuela), Samuel Jackson/Pierre Cooks (Benny), Shay Nothstine (Camila), Emma Magbanua (Carla), Kyrrah White (Carla Understudy), Brayden Lynam (Graffiti Pete/Young Kevin), Jeffrey Vilorio Santos (Kevin), Waldo Mikels-Carrasco (Kevin's Father), Mimi Bell (Nina), Cristian Marquez (Piragua Guy), Ralph Rivers (Sonny), Jorge Rivera-Herrans (Usnavi), Rachel Thomas (Vanessa), Andrea Deleon (Daniela), Annie Rhodes (Yolanda), Carlos Alejandro Centellas (Jose), and Annie Rhodes (Dance Captain).
The Dance Ensemble features Carlos Alejandro Centellas, Shay Nothstine, Jeffrey Vilorio Santos, Jayan Reyes, Ridge Alencar, Rian Hutamy, and Shane Inez. Benni Little provided fight choreography.
Angela R. de Jesus, Annie Rhodes, Austin Washington, Budda Hunt, DeOnte Putnam, Elena Lora, Geneviéve Carreño, James Johnson, Jennifer Gonzalez, Jordan Castillo, Norman Perez, Olivia Marentette, Sam Centellas, Conner Roberts, Waldo Milcels-Carrasco, Shane Inez, James Jackson, Benni Little, Pierre Cooks, Samuel Jackson, Emma Magbanua, and Kyrrah White round out the ensemble.
The Creative Team: Leah Isabel Tirado (Director), Paul Mow (Associate Director), Paul Bronkema (Music Director/Piano I and II), Joshua Goines (Orchestra Conductor/Piano I), and Jon Martinez (Choreographer).
For tickets and more information on IN THE HEIGHTS please visit http://sbct.org/shows/2018/in-the-heights/.
Let's see what the critics had to say!
Becky Malewitz, South Bend Tribune: Rivera-Herrans shines in his role as Usnavi, the neighborhood bodega owner with dreams of moving to his native Dominican Republic. The sophomore University of Notre Dame student portrays the lead character's awkward adorableness expertly, particularly when it comes to his crush on Vanessa. That adorable awkwardness eventually wins over Vanessa, played Rachel Thomas, a Saint Mary's College sophomore, who has the kind of voice that you both love and are completely jealous of at the same time. Many people in the cast and crew should be commended for the work they put in: the choreographer, Jon Martinez, who made the dancing on stage look effortless; members of the backstage crew who wheeled props on and off stage without distracting from the story; Emma Magbanua as Carla, who has such good facial expressions throughout the show you couldn't help but be excited when she was on stage; and Jeffery Vilorio Santos as Kevin, in his rendition of "Inútil (Useless)," where you could truly feel the emotion through each word he sings. There were several times during the Friday's performance where I felt myself getting the chills as parts of the story unfolded. The first and definitely not the last time this feeling came was thanks to Mimi Bell, as Nina. During her first song, "Breathe," Bell's voice washed over the audience as it finds out that Nina, who was first in her family to go to college, has dropped out after losing her academic scholarship because of the rigorous work schedule she needed to maintain in order to pay for things her scholarship didn't cover. Bell's performance, both acting and vocally, was extraordinary from start to finish, making it easy for the audience to cheer for Nina and her love interest Benny, played by the also very talented Samuel Jackson, who shares the role with Pierre Cooks.
Christopher Michael Kadden, BroadwayWorld: From the beginning of the show I fell in love with Jorge Rivera-Herrans version of Usnavi. He has taken the pure genius lyrics Miranda wrote and has brought them to life in a new way. With staying true to the character Rivera-Herrans also made it his own. Mimi Bell was a sheer joy to watch perform as Nina with the way she carried herself and sang each note with perfection. Andrea Deleon a South Bend Civic favorite once again wowed me with her star stunning voice and impeccable comedic timing. In every show there is a dancer who stands out and in this show that was Brayden Lynam who plays Graffiti Pete. From the moment he stepped on stage until the final bow he showered the audience with energy. The ensemble vocally was stunning and I was impressed with the amount of talent throughout the show. I would like to point out though from time to time the choreography and direction felt out of sync with the music and the story. I was underwhelmed with the energy of the ensemble during dance breaks and found that they could have used a bit of trimming. The orchestra during 96,000 was under pitch and was extremely quite but other than that the orchestra did a phenomenal job. Rachel Thomas (Nina) was underwhelming and did not fit the character at all. She from time to time was extremely pitchy and showed no emotion in her acting whatsoever. Samuel Jackson (Benny) has an incredible voice but the audience couldn't understand him he could have enunciated a bit more.
Related Articles View More South Bend

Stories

Shows
More Hot Stories For You