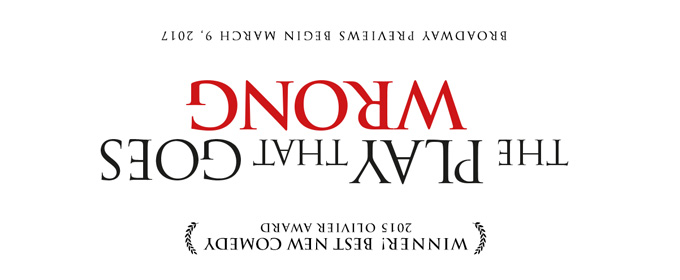 Click Here for More Articles on THE PLAY THAT GOES WRONG
BWW Interview: Five on Friday with THE PLAY THAT GOES WRONG's Sive Gubangxa
Born and bred in the Mother City, Sive Gubangxa completed her degree in theatre and performance the University of Cape Town in 2014 and promptly won the Fleur du Cap Theatre Award for the Most Promising Student the following March. Following a professional run of UHM, a new play created with her fellow graduates in which she played the role of a student trying to master a colonial language that masters its speakers, she has landed roles in HEART OF REDNESS, AFTER DARK, THE WHITE MAN'S GUIDE TO SACRIFICE and IN GLASS. Having recently broken the international television barrier with a role in the Christmas special of the BBC series, CALL THE MIDWIFE, she is currently busy performing in the local incarnation of an international theatrical sensation, THE PLAY THAT GOES WRONG.
David Fick: Although THE PLAY THAT GOES WRONG has been running in London for some years, its opening night on Broadway was only this month. What's it like to be performing in a local staging of a new play that by all accounts is taking the world by storm?
Sive Gubangxa: To be honest, I have never thought of this play in that way. I know it's successful in every right but for me, the most world-altering thing is the actors I get to work with. I mean, are you kidding me? I used to grow up watching these people, and now I get to share the stage with them. That, for me, has been the one defining factor and it has been incredible. I have learnt so much from each and every one of them and am continuing to learn so much about our craft, life and myself.
DF: Alan Committie is one of South Africa's comic treasures. What has it been like working on this production with him?
SG: Oh Alan, I have worked with better.... Only kidding. It has been a true joy. I cannot believe how much we achieved in the time that we had. I believe the British cast had six weeks of rehearsal; we did it in two and a half. I don't know if it's the South African way or if our director was just insane, but here we are. Working with Alan has been a complete and utter pleasure. I don't want to be cheesy or anything, but it really did feel like a group of friends coming together and having a laugh. He made us feel super comfortable, allowed us to explore and grow, and ate lots of sweets and nice things while the rest of us were in a dark theatre for hours sweating as he told us where to go. I remember auditioning for Alan. We laughed and I did a lot of falling - it was just fun. I felt like I was auditioning to be his friend and I made the cut - boom! No - he is unbelievable. A perfectionist, a master of his craft, and he won't let it go until he is satisfied. Alan went above and beyond. He made sure his actors were always okay and all right, and I felt that he was truly part of the show. If he could, he would play every role. I felt safe and free as an actor, but also it was difficult for me to get to grips with my character fully. Alan was patient and honestly believed in me and was convinced I would get it. I think I did.
DF: I first saw you onstage three years ago as a student in LION ON THE PATH, and then saw you later that year in UHM and CURL UP AND DYE. What has been the highlight of your career since graduating and tackling the theatre industry head on?
SG: Wow - to pick one highlight would be incredibly difficult. I have been so fortunate and with every job comes new and exciting experiences. I mean, I got to work with Nicola Hanekom and her incredible pool of actors. I was also fortunate to work with Neo Muyanga, who is a phenomenal South African composer and musician. I have been able to perform in a number of the theatres around Cape Town and South Africa. One special performance venue moment was when I was told that I was the first person of colour ever to perform in the NG Kerksaal when I was in the Groot Marico. UHM was also published. I got to work in children's theatre. It would really be difficult to pick one moment when it all seems so special. And now, here I am performing in THE PLAY THAT GOES WRONG, directed by Alan Committee and with a stellar cast. I remember watching my fellow castmates growing up, and today we get to share the stage together. For me, that is truly special. I am learning so much from them, and they inspire me to do better and achieve.
DF: What do you think is the biggest challenge facing South African theatre at present?
SG: I think that the biggest problem facing South African theatre at the moment is space. I think there is a lot of work being produced and people are becoming bolder and braver in creating theatre that speaks and breathes and lives in today's society. But there are not enough spaces which allow this body of work to exist and for it to come alive - theatre spaces which promote new work and encourage new actors and writers to create and do what they love. And this, in turn, is disheartening because there will soon only be these big international productions being performed at the theatre houses. And that is why I really enjoy places like the Alexander Bar because it does exactly that. I have seen new writing and styles which are riveting and exciting come from that space. And that excites me - because to see the level of talent that people are producing is incredible.
DF: In South Africa at this time, we have a huge mix of theatre legends and inspiring new artists right now. Who is your South African theatre hero?
SG: To just pick one is very difficult. We have so many incredibly talented people in our industry who we can really look up to. Faniswa Yisa has always been my theatre hero. She just is amazing. She is forever herself, powerful and just a powerhouse of a woman.
THE PLAY THAT GOES WRONG begins performances at Theatre on the Bay in Cape Town on 3 May and runs through 17 June, on Tuesdays to Fridays at 20:00 and Saturdays 16:00 and 20:00. Ticket prices start at R120 and bookings can be made online through Computicket or by phone on 0214383100. The show carries an age restriction of 8 years.
Related Articles
Born and bred in South Africa, David is an award-winning arts journalist who has loved theatre since the day he set foot on stage in (read more...)