BWW Interview: Christina Bianco On Playing ME, MYSELF & EVERYONE ELSE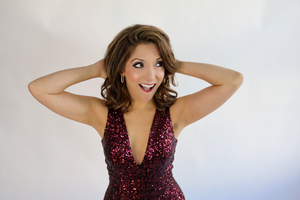 From The Ellen Degeneres Show to a starring role in Paris, Christina Bianco is as charming on stage and screen as she is talented. The New York native took time out in her final week as Fanny Brice in FUNNY GIRL to chat to BroadwayWorld about her iconic impressions and upcoming one day only show, ME, MYSELF & EVERYONE ELSE.
BWW: There's no doubt you're an incredibly talented impressionist on top of performing on stage and screen (I think this makes you a quadruple threat!). Where and how did your talent in impressions start?
Christina: I started doing impressions at a very young age but I honestly didn't know I was doing them! It was just something I did naturally. My mom tells me now that when I was little and I would sing along to The Wizard of Oz, she would hear me taking on the tone and style of Judy Garland. I was just a natural mimic. It wasn't until much later that I realized impressions were a real talent and that I could actually
make people smile or laugh. And it was still long after that, that I realized I could do anything professionally with them as a performer. In 2007, I auditioned for the long running Off-Broadway show, Forbidden Broadway. I could never have imagined that I would ultimately get the job and be blessed to get such great reviews and award nominations. It was only then that I realized I could do a lot more with impressions and really took ownership of it.
BWW: Having performed on international stages, screens and sound stages, what's the highlight of your career been so far?
Christina: I'm so fortunate that I've been able to do a lot of cool things in different areas of the performing arts. This is my way of saying I can't choose just one highlight! There are three things that stand out. The first is doing my solo symphony show. It's such an honor! Another highlight is performing my Christmas show 'O Come All Ye Divas' at the Sydney Opera House. This little New Yorker never imagined playing that iconic venue! And the final has to be playing Fanny in FUNNY GIRL. There's simply no other musical theatre role like it and the entire run here in Paris has been a dream.
BWW: You'll perform in South Africa straight from playing Fanny Brice in FUNNY GIRL in Paris. Tell us a bit about what that experience has been like.
Christina: I feel like I won the lottery, getting to play Fanny in this incredible production with the most wonderful cast and creative team... and... in PARIS! Everybody wants to play Fanny Brice, because she sings incredible songs and has such an incredible journey within the show. She ages about 10 years throughout so it's a great challenge to perform. The fact that this production has been received so well by critics and audiences and was extended, is icing on the cake. I'm so sad that it will end here in Paris but all our fingers our crossed that it isn't the end for this production!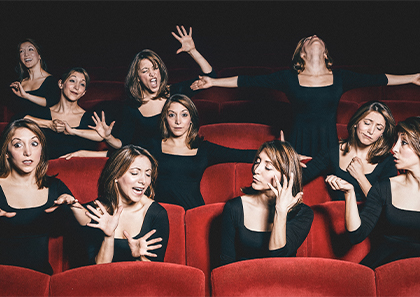 BWW: With your panache for impressions, how did you approach Fanny as Christina without falling into a bit of Streisand? Is it something you find difficult to do?
Christina: Everyone asks me this! I can answer honestly that I have never had a moment where I've found myself 'slipping' into a Barbra impression. I'm obviously a huge fan of Barbra Streisand. I grew up watching all of her movies, listening to all the albums, and of course singing along to FUNNY GIRL. But right away, I knew I had to find a way to distance myself from her performance. It's SO iconic! I just wanted to honor what she brought to the role, but also honor the real Fanny Brice, who I think is so often forgotten about. So I focused more on Fanny, plus bringing a lot of myself to the part.
BWW: Who's your favourite to impersonate?
Christina: I always say I can't choose, but then I always end up saying Celine Dion. It's so hard to choose, because I love doing so many of them, but it's no secret that I'm a massive Celine Dion fan and I find impersonating her is just so much fun and so gratifying. She's insanely talents, and is very distinct in the way she talks and the way moves and she has a certain pattern and funny mannerisms, so for an impression she is a complete package. She's not just a voice, you have to get the whole physicality and facial expressions, so it's really fun to try and embody her in
my 4ft 11-inch frame!
BWW: And who's the hardest?
Christina: The hardest impressions are the celebrities whose voices are most different from my own. This is usually more husky, raspy voiced women with some grit in their tone like Liza Minnelli. Also, deeper, big voiced women like Shirley Bassey or Whitney Houston. I always joke that I do a great Tina Turner when I'm sick. We all have our limits!
BWW: A showcase of your impressions, what inspired the creation of your show ME, MYSELF & EVERYONE ELSE?
Christina: I did it for love of the divas! With all my shows, I look for new and clever ways to showcase my impressions of various celebrities, in a way that also honors them. I've got all of these voices and characters within me and even though most of my audience members won't be impressionists themselves, I know that so many of these celebrities are a part of them too. These icons leave their mark on all of us. The show is really a love letter, celebrating the music and stars who have impacted us all.
BWW: And finally, in once sentence, what can your Joburg audience look forward to with ME, MYSELF & EVERYONE ELSE?
Christina: In one show, you can see all of your favorite female vocalists and pop culture personalities from across the ages, performing their material (and some of each others) on stage together!
There's much, much more I could tell you but hopefully that one sentence will entice the fabulous people of Johannesburg to come!
Photo credit: Supplied
---
ME, MYSELF & EVERYONE ELSE will be performed at Montecasino on Saturday 11 April at 3pm and 8pm. Tickets from R300 to R450 can be booked through Computicket or the Montecasino website.
Related Articles View More South Africa

Stories

Shows