Wisdom & Leadership Concert Highlights Collaboration Of Native American Community And Symphony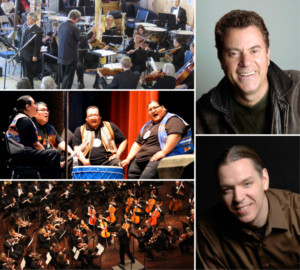 The South Dakota Symphony Orchestra (SDSO) presents a song cycle that tells the story of four great warriors on Saturday, March 9 at 7:00 pm in the Multi-Cultural Center of Sioux Falls, and Sunday, March 10, 2019 at 3:00 pm at the Sisseton Performing Arts Center.
The concert, titled "Wisdom & Leadership," features the Tiospa Zina Drum Group, the Creekside Singers from Pine Ridge, the SDSO's chamber orchestra, and bass-baritone Stephen Bryant. The concert is free and open to the public, with donations taken at the door supporting the SDSO's Music Composition Academy in Sisseton in the summer of 2019.
The program centers on themes of leadership, exploring the impact of elders and mentors native and non-native culture. Chickasaw composer Jerod Impichchaachaaha' Tate's "Victory Songs" celebrates the qualities of several warriors: Red Cloud, Two Strike, Sitting Bull, and Crazy Horse. Examples of traditional repertoire from the drumming groups and chamber orchestra are featured to illustrate the qualities of leadership explored in the program. Tribal Elder Chris Eagle Hawk of Pine Ridge will guide audiences through the subjects of the program.
"Ten years ago, we humbly embarked upon a program which addresses racial prejudice and attempts to contribute to the process of cultural understanding and healing," said Delta David Gier, Music Director of the SDSO. "For those of us at the South Dakota Symphony, this has been a wonderful journey of learning, sharing, and connection. We count it a privilege to partner with so many people from Lakota and Dakota communities and look forward to continuing our collaborations far into the future."
In Sisseton, a free community meal will follow the concert at the Sisseton Middle School's Multipurpose Room.
Support for the performance is provided by the Sisseton Arts Council, the Sisseton Wahpeton Sioux Tribe, the Bush Foundation, the Goulder Family Foundation, the South Dakota Arts Council, and the National Endowment for the Arts.
For more information, please visit www.sdsymphony.org.