BWW Review: MAMMA MIA! I think I fell in love again!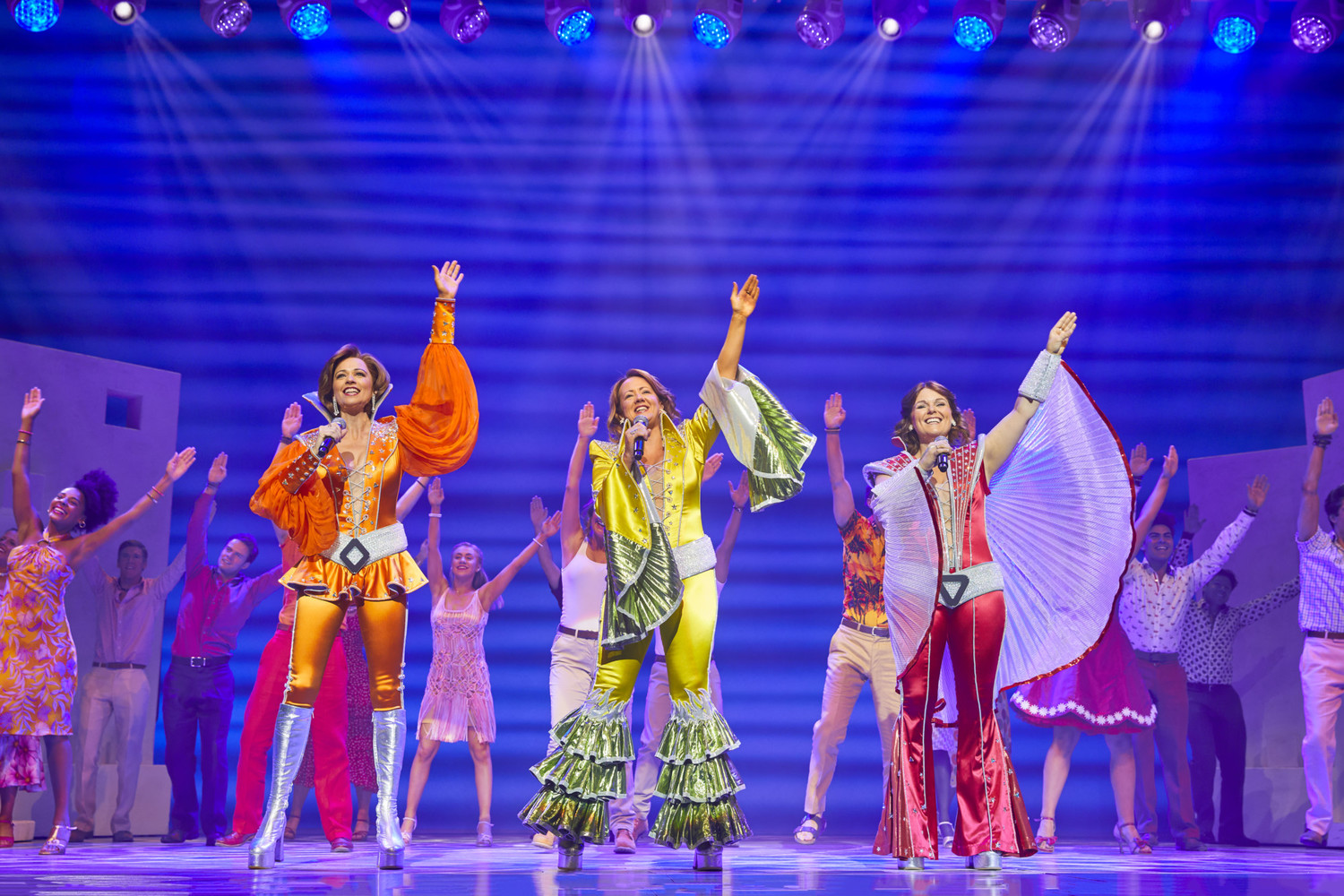 The wildly popular jukebox musical, Mamma Mia! is back in Singapore and this second run proved to be certainly better than the first. Bring with it are the iconic 70's ABBA hits that got us grooving in our seats, the fun flamboyant costumes complete with platform boots and wide-legged pants, and a good mix of slapstick and sexual innuendos much to our delight.
The first time the show was in town back in 2014, it lacked in a couple of areas especially the key numbers which I felt did not quite live up to expectations. So, last Wednesday, with an open mind and my mum with me, we eased into our seats in the stalls, to watch it for the second time at the Sands Theater at Marina Bay Sands.
The hugely successful International Tour, since premiering in Dublin in September 2004, has visited 85 cities across 38 countries and sold over 5 million tickets. To date, the sensational feel-good musical has been seen by over 60 million people in 50 productions in 16 different languages. When it was released in 2008, Mamma Mia! The Movie, starring Meryl Streep, became the highest-grossing live-action musical film of all time. A second film, Mamma Mia! Here We Go Again was released worldwide in July 2018 as a follow-up.
The familiar story, written by Catherine Johnson, directed by Phyllida Lloyd and choreographed by Anthony Van Laast, with music & lyrics by Benny Andersson & Björn Ulvaeus, is fresh in our minds. Under the direction of Resident Director Nikki Davis Jones and Musical Director Carlton Edwards, a heartwarming mother-daughter story, of feminism, strength and independence was brought to life.
The story, purely fictional with the sequence of events is mainly used as a tie up to the songs, tells of the days leading up to twenty-one-year-old Sophie Sheridan's wedding to fiancé Sky, (Lucy May Barker) on a small paradise island off Greece. Desperate to find her father and have him walk her down the aisle, Sophie sends invitations to three different men who were ex-lovers of her mother Donna Sheridan (Shona White) without Donna's knowledge in hopes that when she sees her father, she will recognise him right away. A couple of days to the wedding and drama unfolds all three men, Swedish adventurer and writer Bill Austin (Matthew Rutherford), British banker Harry Bright (Daniel Crowder) and Irish-American architect Sam Carmichael (Tamlyn Henderson) shows up on the island. Also, reunited with her best friends, Tanya (Helen Anker) and Rosie (Nicky Swift), Donna gets their help in managing the situation.
We also enjoyed the return of the girl group, "Donna and the Dynamos" the trio were once part of, first at the hen party, and once again at the end of the show where the performers are revealed wearing brightly coloured ABBA-inspired costumes much to the delight of fans in the audience.
There are parallels in Donna's relationships with her encouraging and supportive friends reflected in Sophie's relationships with her own best friends, while both mother and daughter were going through significant milestones. Donna having a child and Sophie getting married at a young age reminds us how ironically similar life could be.
I loved the message of female empowerment and feminist overtones that the show brings out. Then men take a supporting role in the show while the ladies shine. There is also no shame on Donna's promiscuity and that it is possible and liberating to see a single mother and her child portrayed on stage living a happy life. Though on that note, I felt that some of the songs, while paying homage to ABBA, could be reinvented to suit the theme of the show better, like "Money, Money, Money" to give more fluidity and sense.
The poignant moments in the show, started with the comedic yet sad "Chiquitita" that makes your heart go out to Donna, followed by the reminiscent summer fling theme song "Our Last Summer" and finally builds up to the heart-wrenching ballads of "The Winner Takes It All" and "Slipping Through My Fingers". I must say that mother, and I got teary at that point. Despite minor pitch issues and speakers that are a tad too loud, Lucy May Barker, Helen Anker, Nicky Swift and Shona White were on point, immortalising the iconic numbers with their crisp, strong vocals, which plays a considerable part to the success of this production.
Show stealers are the dynamic duo, Helen Anker and Nicky Swift who played Tanya and Rosie. Their comedic routine in "Chiquitita" to their solo numbers in "Does Your Mother Know" and "Take A Chance On Me" were crowd favourites that night.
I am glad that I took a chance on Mamma Mia! this time around, because this production sure did not disappoint. It is a show for everyone, both my mum and I both fell in love with this feel-good show with excellent performances from the company, accompanied with catchy tunes for two fun and glorious hours that allowed us to immerse and soak up the ABBA magic.
MAMMA MIA! is playing at the Sands Theatre at Marina Bay Sands till 18th November 2018.
Image Credit: MAMMA MIA! 2017-18 UK Tour Cast Press/Publicity Photos by Brinkhoff/Mögenburg
Related Articles