Slave Play on Stage Videos - Broadway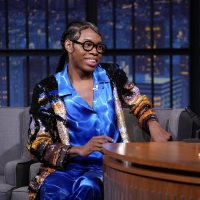 by Stage Tube - Oct 30, 2019
Jeremy O. Harris was a guest on Last Night with Seth Meyers to talk about his Broadway show, Slave Play. During the interview, Harris talks about his love for Rihanna, her music in Slave Play, and receiving texts from her during the show. Harris also talks to host Seth Meyers about how he wants to make Broadway more affordable and how he scams people to get free tickets to theater shows.
by TV - Opening Night Special - Oct 7, 2019
The best of Broadway gathered at the Golden Theatre last night, October 6, to celebrate the arrival of Slave Play, the acclaimed new play by Jeremy O. Harris, directed by Robert O'Hara, opens tonight, October 6, at Broadway's Golden Theatre (252 West 45th Street). Broadway World was there for the big night and we're taking you inside the festivities below!