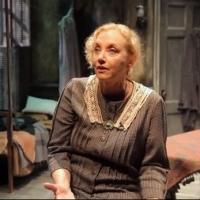 by Stage Tube - Oct 18, 2013
Off-Broadway's award-winning Irish Repertory Theatre launches its 26th season with a revival of Sean O'Casey's JUNO AND THE PAYCOCK, directed by Irish Rep Artistic Director Charlotte Moore. With a cast that features, among others, J. Smith-Cameron as Juno Boyle, Ciaran O'Reilly as 'Captain' Jack Boyle, and John Keating as Joxer Daly, JUNO AND THE PAYCOCK opens on Sunday, October 20th on the Francis J. Greenburger Mainstage of the Irish Repertory Theatre (132 West 22nd Street). Click below for a look behind the scenes!

by Stage Tube - Oct 16, 2012
In Pigeon House by Honor Molloy opens tomorrow night, October 17th and runs through November 18th, 2012 at the Den Theatre (1333 N. Milwaukee Avenue) in Chicago. Get a preview of the show in the video below!