Whorl Inside a Loop - 2015 - Off-Broadway Tickets, News, Info & More
A well-regarded actress agrees to teach six inmates how to tell their stories behind the bars of a men's maximum security prison. Sharing intimate and sometimes hilarious details of their former lives, this unlikely group forms a bond -- even as the actress' life outside spins out of control. And when what happens in prison doesn't stay there, no one is sure who to trust.
From the team that brought you Everyday Rapture, this new play features Sherie Rene Scott and six men playing two dozen characters in a constant shifting of scenes, ages, genders and races. WHORL INSIDE A LOOP explores the fine line between convicted felons and the criminal inside each of us, the viability of forgiveness and the unreliability of redemption.
Video preview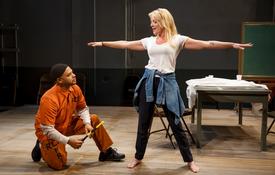 Schedule
Running Time:
One hour and 40 minutes, with no intermission
Whorl Inside a Loop Off-Broadway Cast