Tuck Everlasting - 2016 - Broadway
Good girl Winnie Foster's world has been safely contained behind the picket fence that surrounds the house she shares with her mother and grandmother. Yearning to break free, Winnie runs deep into the woods behind their house where she discovers the Tuck family and the secret they've been keeping. That secret sets Winnie and the Tucks out on an adventure that will test what they believe and challenge them to truly be alive, now and forever.
Video preview
Photo preview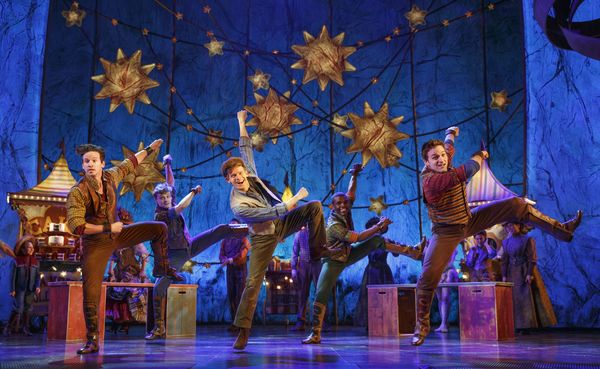 Schedule
Running Time: Two hours and 30 minutes, with one intermission
Featured Reviews For Tuck Everlasting
'Tuck Everlasting' musical a whirlwind adventure - amNY
The Fountain of Youth is just a spring hidden in the backwoods of a rural community in "Tuck Everlasting," the G-rated, surprisingly well-crafted new Broadway musical based on Natalie Babbitt's 1975 coming-of-age novel...Its whirlwind adventure plot touches upon serious themes like mortality and loss. Claudia Shear and Tim Federle's book for the musical successfully expands upon these themes. The folksy score (by composer Chris Miller and lyricist Nathan Tysen) emphasizes a child's sense of wonder, along with some tender spots..."Tuck Everlasting" is refreshingly free of camp and flash...Lewis makes an assured, professional debut, capturing Winnie's eagerness and vulnerability.
Theater Review: Tuck Everlasting May Not Be for the Ages - Vulture
The age of a show's protagonist often provides a clue to the age of the audience the show is pitched to: Patrick in American Psycho is 27; Jenna in Waitress is "in her thirties"; the character Frank Langella plays in The Father is 80 going on dead. So perhaps we should be grateful that Winnie, the heroine of the 1975 "young adult" fantasy novel Tuck Everlasting, has been bumped up from 10 to 11 for the musical adaptation that just opened on Broadway: She is that much more bearable. But whether the work of so many talented people in effecting the adaptation has added anything of value beyond that one year is another matter; this is, almost until the end, a ruthlessly by-the-book treatment of a high-concept, low-wattage fairy tale. Those nostalgic for their seventh-grade enthusiasms may love it; I found it to be a musical for the child in someone else.
Tuck Everlasting Broadway Cast