The Visit - 2015 - Broadway
Based on the satirical play by Friedrich Durrenmatt as adapted by Maurice Valency, The Visit is about greed, love, and one woman's carefully plotted revenge. The oft-widowed Claire Zachanassian (Chita Rivera), richest woman in the world, returns to the hardship-stricken town of her birth. The locals pray that her wealth will bring them a new lease on life, but her arrival carries a dreadful price. Tony Award winner Roger Rees co-stars as Anton Schell, the man who scorned Claire years ago. Sardonic and morally complex, The Visit asks "What can your heart afford?"
Video preview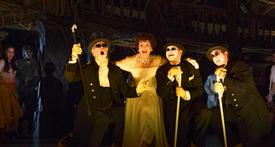 Photo preview
Schedule
Running Time: One hour and 35 minutes with no intermission
Featured Reviews For The Visit
'The Visit' review: Chita Rivera stars in shoulda-been-better Kander and Ebb musical of revenge - NY Daily News
Revenge is a dish served tepid in "The Visit." The warmth hobbles this stark musical fable by John Kander, Fred Ebb and Terrence McNally. With this team, the show is certainly worthwhile. But it could really send shivers -- and doesn't. "The Visit" pulls its punches...The score echoes earlier rhythms and melodies of Kander and Ebb and provides an evocative backdrop. Rivera's husky voice and high-watt charisma go a long way here. And it would have worked even better if director John Doyle's staging was less polite. Scott Pask's skeletal set and Ann Hould-Ward's raggedy clothes scream decay. But the performances don't go there...Wildcat? No. Claire and "The Visit" are too domesticated for their own good.
Chita Rivera stars in the Kander and Ebb musical 'The Visit' on Broadway - Star-Ledger
The work is both recognizable Kander and Ebb style and a departure and is the last they created together...it comes across as something of a morality play or fable. Its book by Terrence McNally relies on symbolism and ideas more than multifaceted characters. Director John Doyle's staging and the music both call to mind a contemporary oratorio, with the company facing front for much of the staging and a score that pulls in dissonance, percussive noise and intricate textures. The form is fascinating, as are the central issues and the strangeness of the piece...But the book and lyrics can be blunt and redundant...As Claire...Rivera...savors her dry punch lines. Still, at this stage in her venerable career, she's mostly speak-singing, even when there's an appealingly eerie chorus of her countertenor eunuchs to back her. Roger Rees telegraphs excitement in his scenes with her, and we feel the weight on him as he considers his possibilities.