The Visit - 2015 - Broadway
Based on the satirical play by Friedrich Durrenmatt as adapted by Maurice Valency, The Visit is about greed, love, and one woman's carefully plotted revenge. The oft-widowed Claire Zachanassian (Chita Rivera), richest woman in the world, returns to the hardship-stricken town of her birth. The locals pray that her wealth will bring them a new lease on life, but her arrival carries a dreadful price. Tony Award winner Roger Rees co-stars as Anton Schell, the man who scorned Claire years ago. Sardonic and morally complex, The Visit asks "What can your heart afford?"
Video preview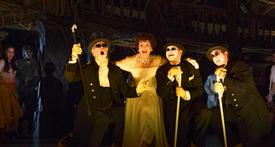 Photo preview
Schedule
Running Time: One hour and 35 minutes with no intermission
Featured Reviews For The Visit
'The Visit': Chita Rivera stars in Broadway musical about revenge - Chicago Tribune
Watching Rees and Rivera...On Broadway, it feels far sadder and more plaintive, and perhaps a commentary on Europe's less than stellar record with outsiders. Most of all, though, "The Visit" now feels to be about the pain of growing older and, however rich we may or may not have grown, our inability to assuage our past mistakes, or even stop the demons that thud in our chests...It remains a weird musical, of course...Rivera is older now, and thus her Claire's determination for finality, her lack of any fear of anyone's death, makes more sense, especially when surrounded by Rees' cagey sadness (his performance is so complex and credible, it unlocks much previously hidden). Doyle, as one might expect from his past work, eschews literal staging. That works for this piece, aside from a few too many swings of a coffin.
'The Visit': Theater Review - Hollywood Reporter
It's an arresting vehicle for the indomitable Chita Rivera...she remains a uniquely steely stage presence at 82 -- graceful, dignified and commanding...The dramatic weak point is Anton. While Rees is a fine, sensitive actor, there's something unsatisfying about the way his role is drawn...Doyle and company access the mordant absurdist humor of Durrenmatt's work, but the chilling social and political critique...is diluted in the streamlined show...The big issue is one of repetitiveness, as McNally treads similar ground from character to character, without much complexity...Even Kander's score, with its lethargic but insistent Kurt Weill-style oom-pah circus rhythms, has a sameness at times...One of the production's rewards is the thrilling choral singing and exquisitely textured harmonies. But unquestionably, the reason to see The Visit, even with its flaws, is the star, whose brittle vocals cut like ice.