The Velocity of Autumn - 2014 - Broadway
Academy Award winner Estelle Parsons (Bonnie and Clyde, August: Osage County) and two-time Tony Award winner Stephen Spinella (Angels in America) earned rave reviews from critics and audiences alike in the new American Play The Velocity of Autumn at the Arena Stage in Washington D.C. Now this powerhouse duo is bringing their extraordinary chemistry to Broadway!
The Velocity of Autumn swirls around Alexandra, a 79-year-old artist in a showdown with her family over where she'll spend her remaining years. In Alexandra's corner are her wit, her volcanic passion and the fact that she's barricaded herself in her Brooklyn brownstone with enough Molotov cocktails to take out the block. But her children have their own secret weapon: estranged son Chris who returns after 20 years crawls through Alexandra's second floor window, and becomes the family's unlikely mediator. No sooner are the words "Hi, Mom" uttered than the emotional bombs start detonating. The Velocity of Autumn is a wickedly funny and wonderfully touching discovery of the fragility and ferocity of life.
Video preview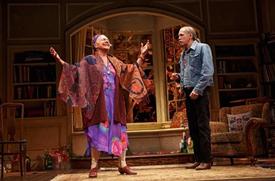 Featured Reviews For The Velocity of Autumn
The Velocity of Autumn: Theater Review - Hollywood Reporter
At 86, Estelle Parsons is almost too sprightly and vigorous to fully convey the indignities of aging in The Velocity of Autumn, Eric Coble's two-hander play now receiving its Broadway premiere after a previous engagement at Washington, D.C.'s Arena Stage. Playing Alexandra, a 79-year-old woman armed with dozens of homemade Molotov cocktails who has barricaded herself in her well-appointed Brooklyn brownstone rather than accede to her children's desire for her to move into a nursing home, the Oscar-winning actress delivers a memorable turn in an otherwise forgettable, schematic play.
STAGE REVIEW The Velocity of Autumn (2014) - Entertainment Weekly
Parsons is always the blazing focal point of the show, even when she's sharing the stage with Spinella and a glowingly orange tree. With seeming effortlessness, she plays a woman who's mind is failing her despite flashes of wit and rage and pettiness and compassion. Spinella plays her foil lovingly -- both as an actor and character, he can't contain his delight and amusement with his costar. Both performances are engaging enough to power through what's otherwise well-worn terrain. For a breezy 90 minutes in Parsons' company, we're happy to be held hostage. B+
The Velocity of Autumn Broadway Cast