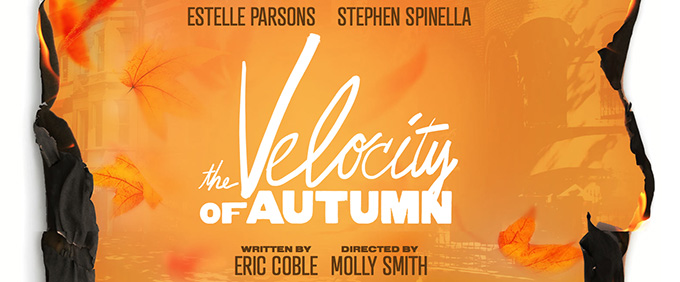 Update - Broadway Shutdown Extends To September 6 - Click Here
The Velocity of Autumn - Broadway
Academy Award winner Estelle Parsons (Bonnie and Clyde, August: Osage County) and two-time Tony Award winner Stephen Spinella (Angels in America) earned rave reviews from critics and audiences alike in the new American Play The Velocity of Autumn at the Arena Stage in Washington D.C. Now this powerhouse duo is bringing their extraordinary chemistry to Broadway!
The Velocity of Autumn swirls around Alexandra, a 79-year-old artist in a showdown with her family over where she'll spend her remaining years. In Alexandra's corner are her wit, her volcanic passion and the fact that she's barricaded herself in her Brooklyn brownstone with enough Molotov cocktails to take out the block. But her children have their own secret weapon: estranged son Chris who returns after 20 years crawls through Alexandra's second floor window, and becomes the family's unlikely mediator. No sooner are the words "Hi, Mom" uttered than the emotional bombs start detonating. The Velocity of Autumn is a wickedly funny and wonderfully touching discovery of the fragility and ferocity of life.
Video preview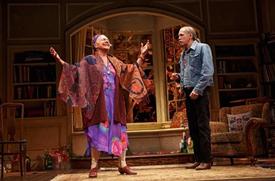 Featured Reviews For The Velocity of Autumn
Theater Review: The Velocity of Autumn Ticks Off Every Item on the Bad Playwriting Checklist - Vulture
This new Broadway production is ridiculous not just on the copyright page of the script by Eric Coble but also on every page thereafter...The play proceeds to tick off every item on the bad playwriting checklist (not to mention fans of good theater). Purple prose? How about Alexandra's ode to her father's Zippo: "The flame is pure. Primal. It's like going back to where we came from. Like home." Overwrought existential imagery? In a long monologue Alexandra compares life, with its spiraling perspectives, to the Guggenheim Museum...Deploying every trick she knows, Parsons miraculously makes this whirlwind of clichés coherent, but nothing can make her believable. And Stephen Spinella, in a sad ponytail wig as Chris, is essentially her caddy: carrying the lumpy bags of exposition and teeing up her shots. Nor can the director Molly Smith -- whose one big gesture, an aural cataclysm before the curtain, is a gross overreach -- do much to improve the texture of a play that's so synthetic it slips out of your memory even as you watch it.
Review: B'way's 'Velocity of Autumn' wry, spirited - Associated Press
Not many old people who fear being shipped off to a nursing home fight back with a home arsenal and bomb threats. However, the inimitable Estelle Parsons has gleefully unleashed her inner anarchist with gusto to do just that in the dark comedy "Velocity of Autumn," which opened Monday night in a wry, spirited Broadway production at the Booth Theatre. Playwright Eric Coble presents the aging decay of the human mind and body as a necessary process replete with mordantly humorous and empathetic moments. He lightens the potentially depressing subject matter by providing plenty of comedic zingers to both Academy Award-winner Parsons -- here powerful and ingratiating -- and to her co-star, the equally skilled Stephen Spinella. Both of these pros imbue their characters with genuine poignancy, rueful humor and their own adept timing. Molly Smith's deft direction also creates a sense of urgency during the 90-minute showdown about a seeming no-win situation.
The Velocity of Autumn Broadway Cast