The Scottsboro Boys - 2010 - Broadway
The Scottsboro Boys is based on the notorious "Scottsboro" case in the 1930s, where nine African American men were unjustly accused of attacking two white women on a train in Alabama. The young men were convicted by an all-white jury and spent years in jail, while the case was tried and retried. In the tradition of their classic musicals Cabaret and Chicago, Kander and Ebb explore this dark chapter of American history in a daringly inventive and startling entertainment.
Video preview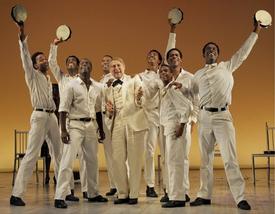 Schedule
Running Time: 1 hour and 45 minutes, with no intermission
Featured Reviews For The Scottsboro Boys
'The Scottsboro Boys' is powerful, provocative - Associated Press
What has emerged is an absolute marvel. The creators - including director and choreographer Susan Stroman and book writer David Thompson - walk a fine line between satire and alienation, but emerge with what surely must be the edgiest play on Broadway.
'The Scottsboro Boys' at the Lyceum Theatre - Los Angeles Times
"The Scottsboro Boys" rises in pathos as the fate of the imprisoned men is revealed. Not everyone in the audience will be able to trust their teary emotion—is this another of the musical's subversive traps?—but it's one of the few times that the show seems to belong on Broadway.
The Scottsboro Boys Broadway Cast