The Realistic Joneses - 2014 - Broadway
Will Eno's new play The Realistic Joneses comes to Broadway starring Golden Globe and Emmy Award-winner; Academy Award and Tony Award-nominee Toni Collette ("Hostages," "United States of Tara," The Sixth Sense, The Wild Party), Golden Globe and Screen Actors Guild Award-winner Michael C. Hall ("Dexter," Chicago), Tony Award-winner Tracy Letts (Who's Afraid of Virginia Woolf?; August: Osage County; "Homeland"), and Academy Award-winner and Gold Globe-nominee Marisa Tomei (My Cousin Vinny; The Wrestler; Salome). The production is directed by Obie Award-winner Sam Gold, who was recently represented by Fun Home at the Public Theater.
This new American play comes to Broadway after a critically acclaimed run at the Yale Repertory Theatre in 2012. The Realistic Joneses is produced by Jeffrey Richards, Jerry Frankel, Jam Theatricals, Stacey Mindich, and Susan Gallin/Mary Lu Roffe.
Further details about this production will be announced at a later date.
In The Realistic Joneses, we meet Bob and Jennifer and their new neighbors John and Pony, two suburban couples who have more in common than their identical homes and their shared last names. As their relationships begin to irrevocably intertwine, the Joneses must decide between their idyllic fantasies and their imperfect realities. This contemporary comedy explores how our joys and sorrows - and how we choose to face them - can come to define our lives.
Video preview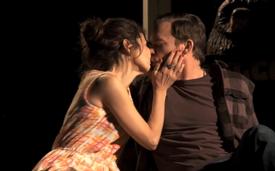 Schedule
Running Time: 1 hour and 30 minutes
Featured Reviews For The Realistic Joneses
The Realistic Joneses: Theater Review - Hollywood Reporter
The absurdist intellectual humor of playwright Will Eno is very much an acquired taste, provoking as much discomfort as laughs, and placing him somewhere between Samuel Beckett and Edward Albee. But theatergoers willing to dive into the sea of ellipses in this mordant, melancholy existential sitcom will find the waters bracing...Is The Realistic Joneses an ideal fit for Broadway? Not if the uncomfortable audience behavior at a press performance a few nights prior to opening was any indication. The anxious smattering of applause during scene changes seems a symptom of a crowd unsure how to react but conditioned to believe that star talent demands some noise. While the play is stuffed with droll wordplay and wry comic observations that hit the mark, you can also feel much of its humor and poetry not quite landing - getting lost in the airy space of a large auditorium. A work in which the awkwardness of intimacy is a key theme might seem more at home someplace cozier.
NY Review: THE REALISTIC JONESES - Philadelpia Inquirer
Will Eno, theater's reigning prince of snarky anomie, has two new plays on in New York, one his Broadway debut, The Realistic Joneses, and one off, The Open House. His signature style--established with Thom Pain (based on nothing)--is deadpan wordplay. This off-kilter dialogue is even stranger when it's in the mouths of the starry cast: Marisa Tomei, Toni Collette, Tracy Letts and Michael C. Hall, who all turn in remarkable performances, given that they have to deliver lines that seem to defy all the expectations of coherent stage speech. Sam Gold directs the proceedings with an admirably straight face, although the audience found the play hilarious.
The Realistic Joneses Broadway Cast