The Real Thing - 2014 - Broadway
$67-$137 excluding holidays
The Real Thing returns to Broadway in a stirring and sensual new production helmed by critically acclaimed director Sam Gold (Roundabout's Picnic, Seminar). Starring two-time Golden Globe nominee and Olivier nominee Ewan McGregor (Trainspotting, Moulin Rouge) in his Broadway debut, this Tony Award-winning play by Tom Stoppard (The Coast of Utopia, Arcadia) first seduced audiences in London and New York nearly 30 years ago, when it was called "not only Stoppard's most moving play, but also the most bracing play that anyone has written about love and marriage in years" (Frank Rich, The New York Times).
Henry (McGregor) is a playwright not so happily married to Charlotte, the lead actress in his play about a marriage on the verge of collapse. When Henry's affair with their friend Annie threatens to destroy his own marriage, he discovers that life has started imitating art. After Annie leaves her husband so she and Henry can begin a new life together, he can't help but wonder whether their love is fiction or the real thing.
Delectably witty and deeply affecting, The Real Thing takes a daring glimpse at relationships, fidelity, and the passions that often blur our perception of love.
Video preview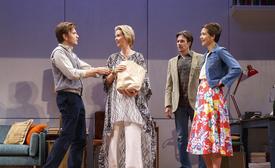 Schedule
Running Time: Two hours and 10 minutes
Featured Reviews For The Real Thing
When the Head Leads the Heart - New York Times
Do not be misled by the title. Authenticity is conspicuous only by its absence in the tinny revival of "The Real Thing"...Evidence of real feelings, real chemistry and real life in general is dishearteningly scarce in this interpretation of Tom Stoppard's 1982 comedy...Despite a talented big-name cast...this Roundabout Theater Company production is one of those unfortunate revivals that make you wonder if the play in question is worth revisiting...This latest version, though, never acquires a pulse beyond the rhythmic thrust and parry of bandied bons mots. As directed by the estimable Sam Gold..."The Real Thing" often feels as teeth-grindingly brittle as a summer stock production of a W. Somerset Maugham drawing-room comedy.
Maggie Gyllenhaal, Ewan McGregor Find 'The Real Thing' Elusive In Broadway Debuts - Deadline
Tom Stoppard's 1984 dazzler gets the matinee-comedy treatment from director-of-the-moment Sam Gold in a revival that leaves its attractive stars, both in their Broadway bows, deeply in the lurch. Glib and weirdly chilly for a literate comedy-drama about love, commitment, the sanctity of words and the enduring perfection of "You've Lost That Loving Feeling," the Roundabout Theatre Company production is as full of ideas as the play itself -- all of them wrong.
The Real Thing Broadway Cast