The Pitmen Painters - 2010 - Broadway
Direct from a sold-out engagement at London's National Theatre, this funny and fascinating new play by Tony Award winner Lee Hall (writer of Broadway's mega-hit Billy Elliot) comes to Broadway with its entire original London cast intact.
The Pitmen Painters is based on the triumphant true story of a group of British miners who discover a new way to express themselves and unexpectedly become art-world sensations! An arresting and hilarious salute to the power of individual expression and the collective spirit, The Pitmen Painters takes you on an unforgettable journey from the depths of the mine to the heights of fame.
Video preview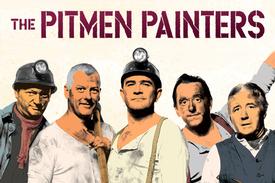 Schedule
Running Time: 2 hours and 30 minutes, with one intermission
Featured Reviews For The Pitmen Painters
The Pitmen Painters - NY1
There's another dimension to this story that adds to the "Pitmen" lore. All eight actors in the show hail from the same mining region where the play is set. And they've stayed with it since the play debuted there three years ago. And each of these loyal performers, like their characters, are phenomenal talents. They're also astute critics because they knew they had the makings of a masterpiece on their hands.
Two British Plays Put Society In The Spotlight - USA Today
Suffice to say that Shaw, this ain't. Hall fairly bludgeons us with his populist message, and the characters can border on cartoonish in their conformity to broad, familiar stereotypes. Still, the actors are game and adroit; standouts include Michael Hodgson, wryly appealing as a wisecracking socialist, and Brian Lonsdale, who does deft double duty as the unemployed young man and an effete painter.
The Pitmen Painters Broadway Cast