The Pitmen Painters - 2010 - Broadway
Direct from a sold-out engagement at London's National Theatre, this funny and fascinating new play by Tony Award winner Lee Hall (writer of Broadway's mega-hit Billy Elliot) comes to Broadway with its entire original London cast intact.
The Pitmen Painters is based on the triumphant true story of a group of British miners who discover a new way to express themselves and unexpectedly become art-world sensations! An arresting and hilarious salute to the power of individual expression and the collective spirit, The Pitmen Painters takes you on an unforgettable journey from the depths of the mine to the heights of fame.
Video preview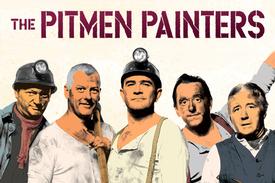 Schedule
Running Time: 2 hours and 30 minutes, with one intermission
Featured Reviews For The Pitmen Painters
Tough Miners Morph Into Brainy 'Pitmen Painters' - Bloomberg News
The language can suddenly switch from country bumpkin to a level of sophistication well beyond the credible, as when Harry, a Marxist, says one moment, "Nebody's deing what we de"; at the next, "This is just the start. This place'll be an academy. In years to come it'll be teeming with artists in here." And George proclaims, "They're not ganna leave yer Shakespeare and Goethe just for the upper classes now -- it's ganna belang to us."
They Can't Dance (So Don't Ask) - Wall Street Journal
You may have guessed that I didn't expect to like "The Pitmen Painters," which by all rights should have been ludicrously heavy-handed. Sometimes it is, but more often Mr. Hall has rung fresh changes on his familiar formulas, and the result is a satisfying piece of entertainment that makes its points without leaving you too badly bruised about the head and shoulders.
The Pitmen Painters Broadway Cast