The Merchant of Venice Broadway
Tony, Emmy, Golden Globe and Academy Award winner Al Pacino and Tony Award winning director Daniel Sullivan reunite to bring the Public Theater's critically acclaimed production of William Shakespeare's The Merchant of Venice to Broadway following a sold-out run in Central Park.
Pacino and Sullivan expertly tackle one of Shakespeare's most controversial plays, offering modern audiences a new, shattering take on this rarely performed play.
The must-see event runs for only 78 performances! Don't miss this legendary production that the Wall Street Journal declared "cries out to be seen by everyone with a passion for truly great theater. The best Merchant I have ever seen!"
Due to a film commitment in Mr. Pacino's schedule, THE MERCHANT OF VENICE went on hiatus following the performance on Sunday, January 9 (when it was originally scheduled to close) and resumed performances on Tuesday, February 1 for an additional three week run through Sunday, February 20.
Video preview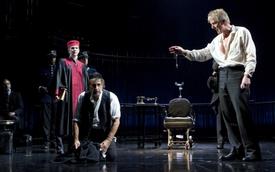 Schedule
Running Time: 3 hours, with one intermission
Featured Reviews For The Merchant of Venice
Heiress glitters, outwits Jew in golden 'Venice' - New York Post
Yet Pacino has gone bigger, unnecessarily turning up the volume since the summer, and losing subtlety in the process. Looking bedraggled, his shirt half hanging from his shapeless pants, Shylock makes a pitiful figure next to the Christian establishment, haughty tormentors in crisply pressed suits and spotless spats. That Shylock would channel his humiliation and disappointment into vengeful rage is understandable, if not excusable. But does it need to be so obvious?
The Merchant of Broadway - Wall Street Journal
I must point out, however, that what Mr. Sullivan has done all but turns on its head the plain meaning of the text of "The Merchant of Venice." For my part, I prefer to see the play directed in an unsparingly harsh manner that doesn't paper over its ugliness, the way that Barbara Gaines staged it for Chicago Shakespeare Theater in 2005. But Mr. Sullivan's softer-edged interpretation works on its own terms, and no matter how you think "The Merchant of Venice" ought to be done, this version will sweep you along with such hell-bent momentum that you'll forget there was an intermission.
The Merchant of Venice Broadway Cast