The Merchant of Venice - 2010 - Broadway Tickets, News, Info & More
Tony, Emmy, Golden Globe and Academy Award winner Al Pacino and Tony Award winning director Daniel Sullivan reunite to bring the Public Theater's critically acclaimed production of William Shakespeare's The Merchant of Venice to Broadway following a sold-out run in Central Park.
Pacino and Sullivan expertly tackle one of Shakespeare's most controversial plays, offering modern audiences a new, shattering take on this rarely performed play.
The must-see event runs for only 78 performances! Don't miss this legendary production that the Wall Street Journal declared "cries out to be seen by everyone with a passion for truly great theater. The best Merchant I have ever seen!"
Due to a film commitment in Mr. Pacino's schedule, THE MERCHANT OF VENICE went on hiatus following the performance on Sunday, January 9 (when it was originally scheduled to close) and resumed performances on Tuesday, February 1 for an additional three week run through Sunday, February 20.
Video preview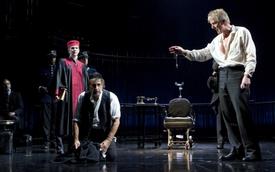 Schedule
Running Time:
3 hours, with one intermission
Featured Reviews For The Merchant of Venice
Pacino's Fiery Shylock Burns in Broadway 'Merchant of Venice' - Bloomberg News
Courageously, director Daniel Sullivan avoids making the revenge-thirsty moneylender more assimilated and sympathetic, or the duplicitous Christians less anti-Semitic. Essentially, we have here a comedic Jew, as the playwright no doubt intended him, in a part that today comes close to the tragic.
Al Pacino and Lily Rabe illuminate a dark 'Merchant of Venice' - New Jersey Newsroom
Her musical voice pitched low and conversationally, Rabe depicts a very smart Portia who's well aware of the princess image she needs to project in Belmont, which interestingly makes her later decision to masquerade as a young scholar seem natural. Portia's amused composure during the challenge scenes — nice to see Charles Kimbrough's cameo as an elderly dandy — turns flustered and deeply ardent when she encounters Bassanio.
The Merchant of Venice Broadway Cast