The Country House - 2014 - Broadway
Pulitzer Prize-winning playwright Donald Margulies (Time Stands Still, Sight Unseen) returns to Broadway with his tenth MTC production, a new comedy about a deeply dramatic family.
Tony and Emmy winner Blythe Danner (The Commons of Pensacola, Meet the Parents) stars as Anna Patterson, the matriarch of a brood of famous and longing-to-be-famous creative artists who have gathered at their Berkshires summerhouse during the Williamstown Theatre Festival. But when the weekend takes an unexpected turn, everyone is forced to improvise... inciting a series of simmering romantic jealousies, outbursts and passionate soul-searching.
This witty and compelling new play provides a piercing look at a family of performers coming to terms with the roles they play in each other's lives. Tony winner Daniel Sullivan (The Columnist, Good People, Time Stands Still) directs.
THE COUNTRY HOUSE is a co-production with The Geffen Playhouse. THE COUNTRY HOUSE was commissioned by MTC through the U.S. Trust New American Play Commissioning Program. Special thanks to The Harold and Mimi Steinberg Charitable Trust for supporting Manhattan Theatre Club.
"One of the MOST SATISFYING NEW AMERICAN PLAYS to reach Broadway in the past decade."
-The Wall Street Journal
Video preview
Photo preview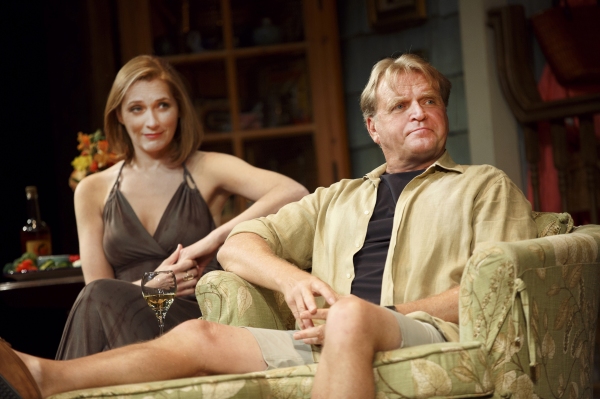 Schedule
Running Time: Two hours and 20 minutes
Twitter watch
@mtc_NYC
08/04/2020 11:06am
? #GoodListen alert ? @HarveyFierstein's fabulous writing and performance of #BELLABELLA was immortalized by… https://t.co/ulG3CvWzHv
Featured Reviews For The Country House
'Vanya' and 'Seagull' and Mash-Up and Spite - New York Times
It's not that Mr. Margulies...has forsaken his usual high ambitions...But here, the elements seem to have come from different jigsaw puzzles, and the pieces feel jimmied into place...Like Chekhov, Mr. Margulies is a specialist in rueful regrets and misty glimpses of roads not taken. But his usually astute ear for matchingly wistful dialogue falters..Ms. Danner aside, the attractive cast members register as a little sheepish, as if self-conscious about trying to make ersatz Chekhov sound like the real thing while maintaining the rhythms of laugh-track banter. ..The most satisfying and exasperating aspect of "The Country House" is Ms. Danner's performance. Because this actress is so good at playing an actress, she makes us long for another, deeper play that would allow her fuller range. As it is, Ms. Danner still commits fully to every trait, both magnetic and repellent, that Anna is meant to embody.
'The Country House,' theater review - NY Daily News
The curtain rises on "The Country House" by Donald Margulies to reveal a snazzy living room -- and you just know things will get ugly. That's standard operating Broadway procedure: Cozy interior, turbulent encounters. And aside from one exceptional performance, this clichéd, but ultimately harmless, comedy-drama directed by Daniel Sullivan is an old-fashioned, by-the-numbers affair...Margulies skimps on character details but gives his creations the gift of gab...The cast proves capable. Danner is solid in a role that's not much of a stretch. Lange turns on the emotions as required when the story takes a turn to "Ordinary People" territory. Sunjata adds appeal as a sudden celebrity. Best of all, Steele transforms her character from more than a wounded, walking wisecrack into the show's heart and soul.
The Country House Broadway Cast